Car Guides
What the experts say about the 2018 Jaguar F-Type
Two editors and a publisher weigh in.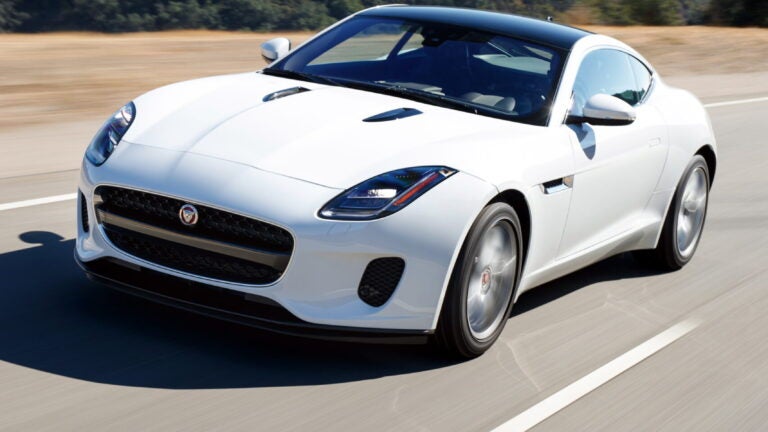 Boston.com Cars is your go-to resource for coverage of local car news, events, and reviews. In the market for a car or truck? Check out our new car specials and used car specials curated by our local dealer network.
In this ongoing series, Boston.com talks with automotive authorities about why you should consider driving — or avoiding — a specific model.
2018 Jaguar F-Type
Cars like the Jaguar F-Type don't come around often. The aluminum two-seater thrives on contradictions: slinky yet muscular, polite yet menacing, coupe or convertible. But fire up the engine, and you'll see that the British sports car hits on all cylinders: power, beauty, and comfort — delivered with a seductive growl.
For 2018, Jaguar has expanded the F-Type's range to 24 variants based on trim level, transmission, and drivetrain. New for this year, the F-Type's entry-level model runs on a turbocharged, four-cylinder engine that delivers 296 horsepower. Three trims use supercharged V6 engines to deliver 340, 380, and 400 horsepower. The R and top-of-the-line SVR trims draw from a supercharged V8 to achieve 550 horsepower and 575 horsepower, respectively. The SVR is the fastest of the bunch, hitting a top speed of 200 mph and zipping from 0 to 60 mph in 3.5 seconds. An eight-speed automatic transmission is standard, and some trims come with the option for a six-speed manual, as well as all-wheel drive.
Whether the roof is fixed or down, the F-Type's aluminum-trimmed, low-to-the-ground cabin is designed with one purpose: for the driver to commune with the car. The sculpted, hip-hugging seats offer snug support on twists, turns, and straightaways and provide the confidence to dial it up to 11. Jaguar's InControl Touch Pro infotainment system comes standard with an 8-inch touchscreen. Dashboard technology is not the F-Type's forte: the interface for the infotainment system feels dated, especially compared with rivals such as Porsche's Boxster and Cayman. But if you're sitting in this car, you shouldn't be looking to the center stack for your entertainment, anyway.
The F-Type has not been crash-tested by either of the two federal safety ratings agencies. Lane departure warning and emergency braking come standard on 2018 models. Options include lane keep assist and a park-assist function designed to facilitate parallel parking and guide the car out of a parking spot, as well.
The base model delivers 23 mpg around town and 30 mpg on the highway. Fuel economy drops depending on the drivetrain configuration. Models equipped with the V8 engine eke out 15 mpg in the city and 23 mpg on the highway.
Starting prices for the 2018 Jaguar F-Type range between $59,900 for the base model coupe and $125,000 for the high-performance SVR convertible.
What the experts are saying
Instant icon
"Jaguar's F-Type sports car is an instant icon, one that immediately grabs your attention and leaves a lasting positive impression. Both coupe and convertible models are simply stunning to behold, their rakish lines speaking to both elegance and aggression. The F-Type has graced American roads for a few years now, but I still look twice every time I see one go by. It's wonderful to see Jaguar expanding the F-Type range in recent years. The F-Type now comes with four-, six-, and eight-cylinder powertrains, and there isn't a dud among 'em. With all-wheel drive, the F-Type can be both a formidable canyon carver, as well as an all-out track assault weapon. And the sound. The sound. Especially with its V6 and rip-snorting V8 engines, the F-Type continues to be a benchmark for automotive aural delight. A Porsche Cayman may offer a more precise sports car experience, but I bet I'll have more fun in the Jag." – Steven Ewing, managing editor at CNET Roadshow
Race car heritage
"The quality of Jaguar's product has never been higher, and vehicles like the F-Pace and I-Pace represent the brand's future as the global market moves toward SUVs and EVs. Thankfully, the F-Type serves as an engaging reminder of Jaguar's performance heritage. A viable alternative to Porsche's brilliant 911, the F-Type offers superb performance, stunning looks, and arguably the best exhaust note on the planet." – Karl Brauer, executive publisher at Kelley Blue Book and Autotrader
Indulgence performance
"It's brash, loud, and not especially practical, but we wouldn't have the Jaguar F-Type any other way. Offered as a convertible or fixed-roof coupe, with power that ranges from respectably quick to irresponsibly fast, this British two-seater remains one of our favorite sports car indulgences. Jaguar can always be counted on to deliver a stunning shape, and the F-Type is no exception. A long, sleek front end sweeps back to meet muscular rear fenders, creating the kind of elegant proportions that Jaguar nails with such consistency. The F-Type is a different cat than you might expect, though. It's no cushy, long-distance cruiser or serene commuter balm. The F-Type rides like a proper sports car, with a rigid body and suspension that enables excellent handling and stability. It won't beat you up, but look elsewhere for a car that soaks up the road's imperfections. Low-slung seats mean more effort getting in and out, and minimal outward visibility forces extra caution when changing lanes. Porsche's Boxster/Cayman duo make a compelling alternative, as does the Mazda Miata for drivers simply seeking a sporty roadster. But for power, style, and elegance, the F-Type can't be beat." – Dan Frio, automotive editor at Edmunds