Car Guides
All of the latest Land Rovers, ranked from worst to best
Our guide to picking the right model.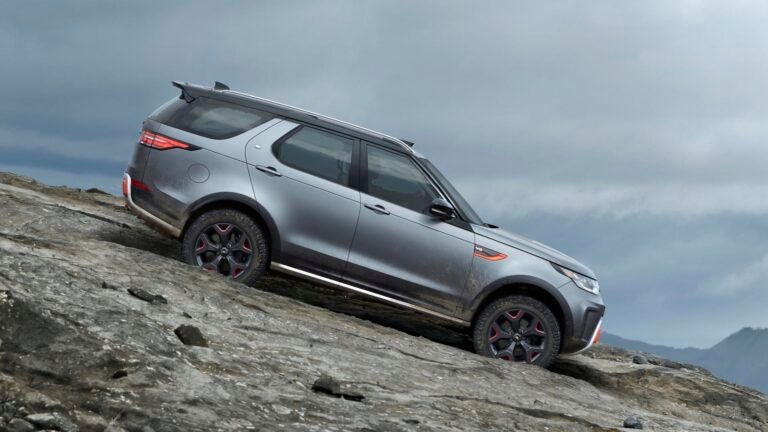 If you're considering a luxury SUV, kudos. It's a great time to be in the market. But while high-end sport utility vehicles offer all-weather capability and premium interiors, not all brands are created equal. Among luxury SUVs, few have serious off-road chops. That is, except for Land Rover.
Land Rover offers first-rate cabins, the latest infotainment and safety technology, and the ability to traverse terrains that many other SUVs wouldn't dare.
But which Land Rover model is best? Though some are objectively better than others, some are better tailored to certain drivers. Here, we rank all of the recent Land Rover models from the 2018 model year from worst to best.
6. Land Rover Discovery Sport ($37,795)
The Discovery Sport has a solid interior but lacks the wow-factor of other Land Rovers. It's modern and well-equipped, but the cabin isn't a work of art like the top-end Range Rover. However, it does provide plenty of other features, including three USB ports, an 8-inch touch screen, and a 10-speaker audio system. It also features a smooth, hushed ride with two turbocharged four-cylinder engines. The base engine makes 237 horsepower, while the upgraded version makes 286 horsepower.
Unfortunately, the "Disco Sport" has below-average fuel economy and uninspired handling. Part of the reason is the transmission, which sometimes features poorly-timed shifts. Additionally, the infotainment system isn't very user-friendly, and future updates to the touchscreen are needed.
5. Land Rover Range Rover Evoque ($41,800)
Land Rover can thank the Evoque for much of its resurgence. Playing into the burgeoning compact luxury SUV market, the Evoque has a high-end cabin, taut handling, and powerful engine options. The Evoque's impressive off-road abilities allow it to live up to the Range Rover name. The Evoque shares engine options with the Discovery Sport. The base four-cylinder engine makes 237 horsepower, and there's an optional engine making 286 horsepower.
Of course, all of this quality comes with a tall base price. And just like the Discovery Sport, it has less-than-ideal fuel economy and some jumpy transmission shifts.
4. Land Rover Range Rover Velar ($49,900)
The Velar is the youngest member of the Land Rover lineup, but it's also the cleanest, most dramatic expression of Range Rover styling, both inside and out. It features the innovative Touch Pro Duo infotainment system, making Land Rover one of the few automakers to employ dual touchscreens successfully.
The Velar might not offer a V8 engine and has limited visibility, but it provides lots of cargo space. It also has great fuel economy for its size and delivers a refined, quiet ride.
If you are into driving performance, the supercharged P380 model might be the most attractive, but when it comes to off-road capability, it's not as "dialed-in" when cornering due to its standard adjustable air suspension.
3. Land Rover Discovery ($52,090)
If you have a family and are considering a Land Rover, the Discovery is the way to go. It's incredibly spacious, offers three rows of available seating, and has plenty of head and legroom in all rows. The Discovery combines all of this with capable off-road attributes, such as an adjustable air suspension and off-road crawl control.
The Discovery features a potent lineup of powertrains, including a supercharged V6 with 340 horsepower. It also offers a turbodiesel V6 with just 254 horsepower but an impressive 448 pound-feet of torque. The Discovery can tow up to 8,201 pounds.
The diesel engine returns up to 26 miles per gallon on the highway, but the gas engine's fuel economy is subpar.
2. Land Rover Range Rover Sport ($66,750)
The Range Rover Sport is the ultimate blend of thrilling on-road performance and rugged off-road capability. The Sport features a potent lineup of engines, from a 340-horsepower supercharged V6 all the way up to supercharged V8 making 575 horsepower.
For 2018, the Range Rover Sport features slightly updated styling inside and out. The cabin is extremely well built with high-quality materials and standard features such as advanced automatic emergency braking, dual-zone climate control, leather seating, and dual 10-inch touchscreens.
Of course, all of that performance comes at a price, and fuel economy suffers, too. The Range Rover Sport is also short on cabin space, and available options will push the price into the area of the larger Range Rover.
1. Land Rover Range Rover ($87,350)
If you have the means, it's hard to beat the immense styling, high-end cabin, and incredible off-road capability of the full-size Range Rover. It features a lineup of powerful engines and a sophisticated suspension, which allows the massive vehicle to handle like a much smaller SUV. Engine options range from a 340-horsepower, supercharged V6 as the base engine up to a supercharged V8 engine making 557 horsepower.
Of course, this vehicle has a high price and less cargo space than some rivals, but the good outweighs the bad here with a massive list of standard features. Plush leather interior, 19-inch alloy wheels, heated front seats, and Meridian audio system all come as standard features.