Car Guides
What the experts say about the 2018 Kia Stinger
A writer, an editor, and a dealer weigh in.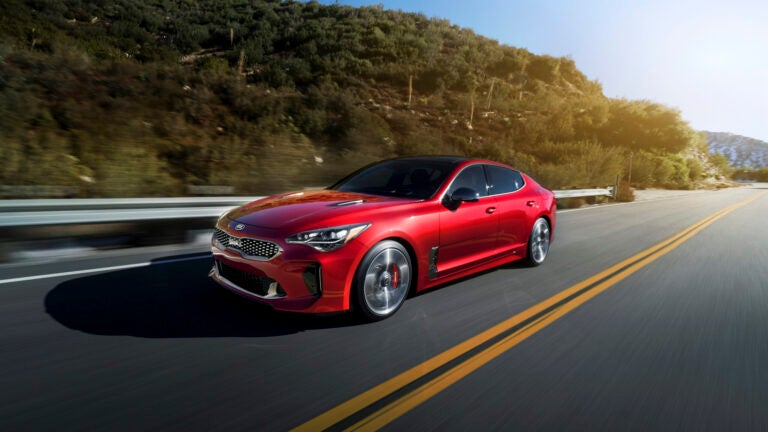 Boston.com Cars is your go-to resource for coverage of local car news, events, and reviews. In the market for a car or truck? Check out our new car specials and used car specials curated by our local dealer network.
In this ongoing series, Boston.com talks with automotive authorities about why you should consider driving — or avoiding — a specific model.
2018 Kia Stinger
Hyundai's Kia brand is staging a quiet revolution. With the introduction of the high-performance, new-for-2018 Kia Stinger, the often-overlooked marque has finally won a beachhead in the luxury sport-sedan market.
The highest-performing sedan in the company's history packs a powerful punch. It's available in three trims: base, Premium, and GT. Within the Gran Turismo trim, buyers can upgrade to the GT1 or GT2. The standard powertrain is a 255-horsepower, turbocharged 2.0-liter four-cylinder engine with rear-wheel drive. GT models come equipped with a 3.3-liter twin-turbo V6 that delivers 365 horsepower. Buyers of any trim can opt for all-wheel drive. All models come with an eight-speed automatic transmission with paddle shifters.
The Stinger's extended wheelbase permits a roomy cabin with a backseat that can fit two adults fairly comfortably. Unlike segment staples such as the BMW 3-Series or Mercedes-Benz C-Class that come standard with synthetic leather upholstery, the Stinger is upholstered with genuine leather. (The GT2 is trimmed in a softer Nappa leather.) Heated front seats and a leather-wrapped, heated steering wheel come standard, also. All models are equipped with Bluetooth, Apple CarPlay and Android Auto, satellite radio, and Kia's UVO infotainment system with a seven-inch touch screen. The Premium trim adds navigation, a moonroof, an eight-inch touch screen, and a 15-speaker Harman Kardon sound system.
The Kia Stinger has not yet been evaluated by either of the two federal safety-ratings agencies. It comes standard with a rearview camera and front and rear parking sensors. A host of optional collision avoidance systems are available, as is lane-keep assist, lane-departure warning, and a feature that alerts the driver when his or her attention begins to flag.
The model's bugbear is its relatively weak fuel economy, with rear-wheel drive models delivering 22 miles per gallon in the city and 29 on the highway. City mileage falls slightly for all-wheel drive versions. Models equipped with the V6 engine get 19 miles per gallon in the city and 25 on the highway.
The 2018 Kia Stinger is priced from $31,900. The Premium and GT trims begin at $37,100 and $38,350, respectively. Prices for the GT1 and GT2 start at $43,250 and $49,200.
What the experts are saying
Luxury competitor
"The 2018 Kia Stinger delivers far more than its price and badge suggest. Recent models from Kia scored points in the style department, thanks in large part to design chief Peter Schreyer, formerly from Audi, but their driving dynamics left many wanting. With the recent acquisition of BMW's chief engineer, Albert Biermann, Kia has stepped up its game in terms of performance. The Stinger performs on a level with vehicles from BMW, Porsche, and Audi, but at a price that is far more accessible. Even a fully loaded $52,000 Stinger costs significantly less than the European rivals, though we're well aware that most buyers won't be cross-shopping with Kia. More likely, the Stinger may lure shoppers from Infiniti, Lexus, and Acura, and Kia's advantage holds up in these matchups as well. At long last, there's a Kia with the driving dynamics to match its good looks, and the future is bright for this Korean automaker." — Mark Takahashi, senior writer at Edmunds
Gran Turismo performance
"The Kia Stinger is the real deal for the GT market. I first saw the concept at the Kia convention in Las Vegas back in 2014, and couldn't wait until they finally gave it the green light for production. The concept GT4 Stinger was just one of those cars that looked fast sitting still. I'm so glad they stuck with the lines of the original concept vehicle and actually improved on it by giving it four doors, a coupe look, and a hatch rear. Kia has done an amazing job pricing the Stinger out so that it gives the car so much value, whether you're looking at the well-equipped base model or the top-of-the-line GT2. You can easily spend twice the price when looking at competitive models."— Senee O'Connell, general manager for Herb Chambers Kia of Burlington
Under the radar
"The Stinger represents the unlikely — a direct shot, by the Koreans, into the heart of the fiercely contested European sport-sedan rivalry. Strategically aimed, brilliantly engineered, and impressively executed, the five-door Stinger is a roomy grand tourer that is powerful (in GT trim) and enjoyable to drive, whether traveling to the grocery store, along your favorite twisty back road, or across the country. While its premium appointments and long list of standard features are sure to inspire, the Kia still lacks cachet— an essential selling point in this upscale segment."— Michael Harley, executive editor for Kelley Blue Book