Car Guides
What the experts say about the 2018 Mercedes-AMG S65
Two editors and a writer weigh in.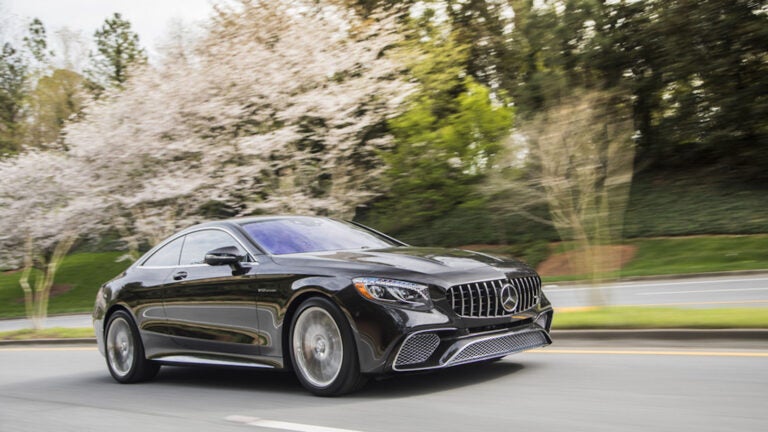 Boston.com Cars is your go-to resource for coverage of local car news, events, and reviews. In the market for a car or truck? Check out our new car specials and used car specials curated by our local dealer network.
In this ongoing series, Boston.com talks with automotive authorities about why you should consider driving — or avoiding — a specific model.
2018 Mercedes-AMG S65
The bad news is the Mercedes-AMG S65 coupe slices through pavement with such grace that it's easy to exceed the speed limit. The good news is that this car is so beautiful that it impressed a police officer and helped me avert a ticket.
Built to compete against the Bentley Continental GT and Rolls-Royce Wraith, the AMG S65 is the zenith of Mercedes's flagship S-Class lineup. Also available as a sedan or cabriolet, the S65 is underpinned by a handcrafted AMG 6.0-liter V12 biturbo engine that delivers 621 horsepower and a top speed of 186 mph. With its AMG-specific seven-speed transmission, the S65 unfurled the asphalt on my five-hour drive from the Martha's Vineyard ferry terminal to JFK Airport with the ease of a knife parting melted butter (perhaps, in the police officer's estimation, a little too much ease). You don't necessarily get that in the smaller AMG S63, whose 4.0-liter V8 biturbo makes 603 horsepower, or the base S560 4MATIC that delivers 463 horses.
Quilted leather upholstery on the seats and dashboard lend the feeling of being wrapped inside a leather baseball glove. The S65 also comes equipped with 64-color ambient lighting, Mercedes-Benz's ENERGERIZING Comfort wellness program with massage and music functions, and the brand's COMAND navigation system.  
Neither the Insurance Institute for Highway Safety nor the National Highway Traffic Safety Administration evaluates the Mercedes-Benz S-Class family, but the car comes loaded with the safety equipment and semi-autonomous technology befitting the top of the Benz lineup. Its sensors recognize lane markings, road signs, and cars and pedestrians in the vicinity.
The S65 sedan and coupe deliver around 13 mpg in the city and 21 on the highway. The cabrio gets slightly better performance around town.
The 2018 Mercedes-AMG S65 begins at $229,500 for the sedan and $238,900 for the coupe. The starting price for the cabrio is $250,900.
What the experts are saying
Costly AMG upgrade
"Along with the Maybach variants, the AMG S65 represents the pinnacle in the S-Class lineup with a 621-horsepower V12 and a starting price north of $230,000. That's quite a bit more than the $90,000 S450 or $100,000 S560. As impressive as that power sounds, it doesn't turn the S-Class into a fire-breathing beast or significantly change its demeanor. It gets up to speed with more authority, but it won't pin you to the seat like a sports car. Besides the added performance, that S65 money gets you a few additional comforts and conveniences which are available on the supporting models. With this in mind, I have a hard time justifying the cost-to-benefit ratio of the S65. The S560 is a supremely capable luxury sedan with more power than the vast majority of drivers will ever need. You can get one fully loaded for about $70,000 less than the base AMG S65. I see the S65 as an unnecessary exercise in one-upmanship and conspicuous consumption. The typical answer to 'Why would you buy one?' is usually, 'Because I can,' and that isn't good enough for me. If it were my quarter-million to spend, I'd get the S560 and a soul-stirring sports car next to it." – Mark Takahashi, senior writer at Edmunds
Strongman engine
"Some cars just have it. Call it curb appeal, desirability, je ne sais quois, or even just 'gimme, gimme,' certain vehicles move you beyond the bounds of reason and into the realm of automotive lust. Every single one of us could get to work just fine in a Prius or a minivan or whatever. Thankfully there are dozens and dozens of cars on sale that both quicken the pulse and tug on those heartstrings. The Mercedes-AMG S65 coupe is one such machine; it just happens to cost a bit more than most of the others. What do you get for your near-quarter-of-a-million dollars? A lot. The strongman of a twin-turbo V-12 for one. A deco interior good enough to be buried in for another. There are people out there, kids mostly, who will tell you that the big personal luxury coupe from AMG to get is the S63 because it costs less, comes with all-wheel drive, and is marginally quicker in a straight line. But while the S63 coupe is very nice, I've never found myself day dreaming about one. Can't say the same for the big boy, two-door inimitable S65." – Jonny Lieberman, senior features editor at Motor Trend
Grand opulence
"The AMG S65 coupe is an opulent four-wheeled land yacht. It arrives in grandeur, boasting the automaker's most advanced technology, most luxurious interior, and most innovative driving assist features. Powerful, smooth, and eerily quiet, it consumes highway and city miles while its occupants worry about other less trivial matters – driving, and riding, in the S65 is anything but a chore. But yachts do have downsides. This Benz is massive and heavy and far from being fuel efficient. Of course, most affluent owners care about none of that." – Michael Harley, executive editor at Kelley Blue Book