Car Guides
Here are all of the parking bans for the 2018 World Series victory parade
Look out for these parking restrictions on Tuesday and Wednesday.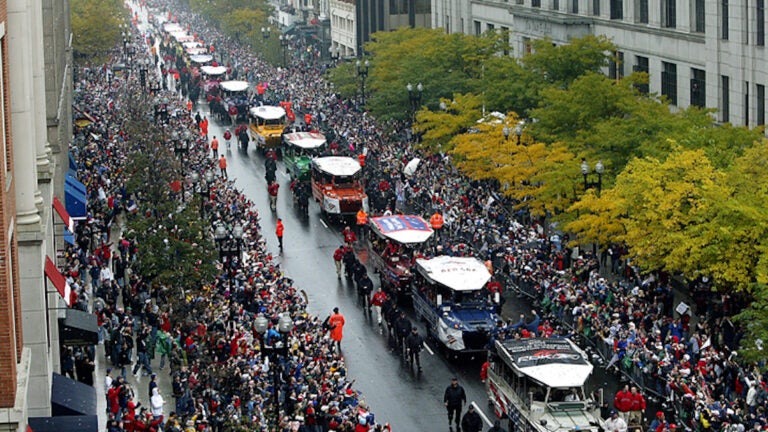 The city will fire up the duck boats for the Red Sox' 2018 World Series victory parade starting Wednesday at 11 a.m., so commuters and eager fans should plan accordingly for the rolling rally.
"Do not try to drive to the parade," Mayor Marty Walsh said Monday morning. "Take public transportation."
Many of Boston's parking restrictions will begin at 12 a.m. Tuesday, when towing will begin, and last through Wednesday; others will be in effect Wednesday only. If you must drive and park anywhere near the parade route, which begins at Fenway Park and ends downtown, pay close attention to the "No Stopping Boston Police Special Event" signage.
The following parking bans are in effect on Tuesday and Wednesday:
— Lansdowne Street: Both sides, from Brookline Avenue to Ipswich Street
— Van Ness Street: Both sides, from Ipswich Street to Kilmarnock Street
— Jersey Street: Both sides, from Boylston Street to Brookline Avenue
— Ipswich Street: Both sides, from Charlesgate East heading toward Fenway Park to Boylston Street (near CVS)
The following parking bans are in effect on Wednesday:
— Brookline Avenue: Both sides, from Park Drive to Commonwealth Avenue
— Dalton Street: Both sides, from Belvidere Street to Boylston Street
— Gloucester Street: Both sides, from Newbury Street to Boylston Street
— Boylston Street:
Both sides, from Park Drive to Ipswich Street
Both sides, from the Fenway (DCR) to Tremont Street
— Exeter Street: Both sides, from Newbury Street to Boylston Street
— Clarendon Street: Both sides, from Newbury Street to Boylston Street
— Berkeley Street: Both sides, from Saint James Avenue to Boylston Street
— Providence Street: Both sides, from Arlington Street to Berkeley Street
— Arlington Street: Both sides, from Newbury Street to Boylston Street
— Charles Street South: Both sides, from Park Plaza to Boylston Street
— Tremont Street: Both sides, from Boylston Street to Cambridge Street
— West Street: Both sides, from Washington Street to Tremont Street
— Temple Place: Both sides, from Washington Street to Tremont Street
— Bromfield Street: Both sides, from Washington Street to Tremont Street
— Cambridge Street: Both sides, from Tremont Street to Blossom Street
— Beacon Street: Both sides, from Somerset Street to Tremont Street
— New Sudbury Street: Both sides, from Cambridge Street to Congress Street
— Congress Street: Both sides, from New Sudbury Street to State Street
— State Street: Both sides, from Congress Street to Court Street
— Court Street: Both sides, from Tremont Street to Cambridge Street
— New Chardon Street: Both sides, from Cambridge Street to Merrimac Street (Congress Street)
— Staniford Street: Both sides, from Cambridge Street to Merrimac Street
— Plympton Street: Both sides, from Albany Street to Harrison Avenue
— East Dedham Street: Both sides, from Harrison Avenue to Albany Street
— Columbus Avenue: Both sides, from Melnea Cass Boulevard to Douglas Park