Car Guides
What the experts say about the 2018 Audi Q5
A safety official, an editor, and a writer weigh in.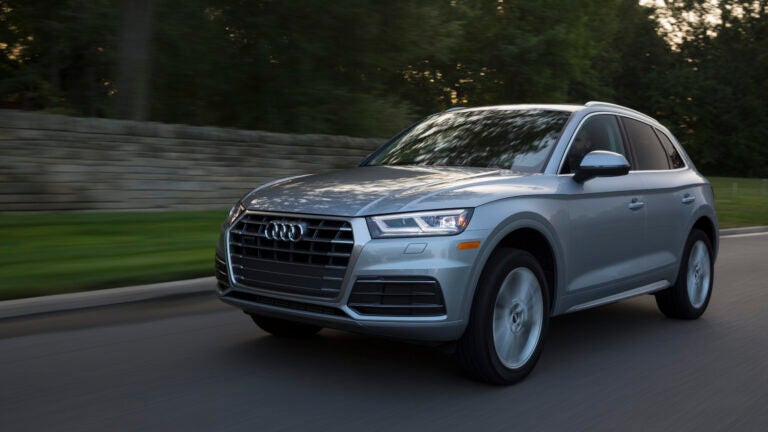 Boston.com Cars is your go-to resource for coverage of local car news, events, and reviews. In the market for a car or truck? Check out our new car specials and used car specials curated by our local dealer network.
In this ongoing series, Boston.com talks with automotive authorities about why you should consider driving — or avoiding — a specific model.
2018 Audi Q5
Festooning suburban driveways coast to coast, the Audi Q5 midsize crossover has reigned over the German automaker's portfolio for the past five years. Spend some time behind the wheel, and it's easy to see why: luxury, comfort, and performance converge in the Goldilocks of Audi's light truck lineup.
The five-passenger SUV comes with a turbocharged, 2.0-liter, four-cylinder engine that puts out 252 horsepower, a seven-speed automatic transmission, and Audi's quattro all-wheel-drive system. Buyers can boost their on-road presence with the high-performance SQ5 version that sports a 3.0-liter V6, good for 354 horsepower and lightning-quick lane changes.
The Q5 crossover is offered in Audi's familiar trim trio: Premium, Premium plus, and Prestige. Standard features include leather seats, eight-way power-adjustable front seats, three-zone automatic climate control, a voice control system, dual USB ports, and a 10-speaker stereo system. Base models also come equipped with a crisp 7-inch infotainment display, Apple CarPlay and Android Auto integration, and Bluetooth. Premium Plus includes a panoramic sunroof, while Prestige gets a larger, 8.3-inch infotainment screen.
The Q5 earned top overall ratings from the Insurance Institute for Highway Safety and the National Highway Traffic Safety Administration. The SUV comes standard with the manufacturer's suite of advanced driver-assistance features. The Audi pre-sense basic system tightens front seat belts and closes windows when it senses an impending collision, while Audi pre-sense city software flashes dashboard warnings and applies the brakes. Top trims add protection against side and rear collisions. The Prestige trim comes with a bird's-eye-view camera to assist with parking.
The 2018 Audi Q5 starts at $41,500. The Premium Plus and Prestige trims begin at $45,500 and $50,800, respectively.
What the experts are saying
Dim headlights
"The Audi Q5 is a top performer in most of our tests, but it falls short in one of our newest evaluations: headlight performance. Headlights are important safety equipment, especially if you do a fair amount of driving at night. The problem is that the headlights on many vehicles don't light up the road as well as they could, or they produce a lot of glare for oncoming drivers. The best available headlights on the Q5 are rated only marginal on a scale of good, acceptable, marginal, or poor. That's even with the extra credit we give for headlights with high-beam assist technology that automatically switches between low beams and high beams depending on the presence of other vehicles. Like most other midsize luxury SUVs, the Q5 excels in the institute's crashworthiness evaluations and has a standard, superior-rated front crash prevention system. But if you need a vehicle that is able to better help you see trouble ahead in night driving, there are other models that deliver a higher level of headlight performance and earn our Top Safety Pick or Top Safety Pick+ designations." –Russ Rader, senior vice president of communications at the Insurance Institute for Highway Safety
Minimalist chic
"The Audi Q5 plays in a crowded sandbox, but it has no trouble standing out. Its styling is minimalist chic and screams luxury without arrogance. Whether driving around town, whipping down the coast, or heading off road, it has a confident, planted feel compared with other small luxury crossovers. The option for gray leather on the interior also is a nice departure from other automakers' standard black and brown color wheel. Though it's a small package, Audi has taken care to include flexible cargo space. The 40/20/40 spilt in the rear seat makes it an ideal candidate for tackling adventures that require bulky equipment like surfboards or skis. Also helpful for weekend jaunts is the placement of the high-def navigation behind the wheel. Top trims come with a hefty price tag, but the juice is worth the squeeze." – Carly Schaffner, managing editor at Trucks.com
Overall competence
"The Q5 is Audi's best-selling vehicle, and for good reason. Redesigned for the 2018 model year, this compact luxury SUV is one of our favorites for its combination of attractive design, smart technology, a comfortable ride, and generous storage space for passengers and cargo. Features like the available digital gauge cluster ("Audi virtual cockpit") and a touch-sensitive control pad that recognizes handwriting give the interior a modern look and feel, while standard Android Apple and Apple CarPlay support makes connecting and using your phone easy. When it comes to driving, the Q5's car-based underpinnings return a good balance of compliance and maneuverability, and the turbocharged, four-cylinder engine delivers plenty of zip on tight freeway on-ramps. Similarly priced luxury SUVs have their own strengths, like the Mercedes-Benz GLC-Class's breadth of engine choices and the BMW X3's simpler towing integration. The Audi Q5 compares well with these vehicles, providing an overall competency that's hard to ignore." – Carlos Lago, senior writer at Edmunds