Car Guides
These are 4 of the best performance cars on the market today
Performance cars put smiles on drivers' faces, and set lap times at the racetrack.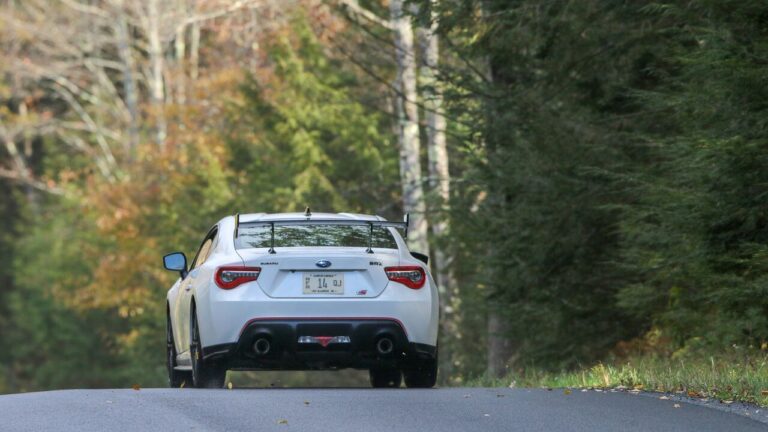 Today's tech-focused auto industry often overshadows the most thrilling category of automobile: the performance car. Performance cars are focused on horsepower, handling, steering, braking, aerodynamics, and pure excitement. They're not purchased for practicality or value retention, they're bought because they put a smile on the driver's face, and set lap times at the racetrack.
After driving dozens of performance vehicles at Monticello Motor Club during IMPA Test Days in late October, we picked four of our favorites to discuss what makes each so special. Here they are — in no particular order.
Subaru BRZ tS
The Subaru BRZ tS, which stands for "tuned by STI," is the most hardcore version of the BRZ. The tS keeps the 205-horsepower, 2.0-liter Boxer four-cylinder from the standard BRZ, but offers better control and stability thanks to STI-tuned front and rear SACHS dampers as well as flexible V-braces in the engine bay. Steering response is improved with the addition of draw stiffeners, which were added to the chassis and subframe.
The tS is the only BRZ to come standard with 18-inch wheels wrapped in track-ready Michelin Pilot Sport 4 tires. Brembo brakes at all four corners complete the performance upgrades and bring the 2,798-pound coupe to a screeching halt.  
No performance car would be complete without visual cues to indicate its capabilities. The tS adds more aggressive front and rear bumpers, a massive adjustable rear spoiler, and red accents throughout. Oh, and tS badges — lots of them, inside and out, in case you forget what you're driving.
The tS is a blast to drive on the road and the track. It's a back-to-basics lightweight sports car that puts a priority on fun. Just 500 were made, though, and with a price of $34,355, it has to be justified over a standard BRZ, which starts at $25,795. 
Honda Civic Type R
Critics are quick to attack the Civic Type R's styling and front-wheel-drive layout rather than focusing on its driving dynamics. Under the hood, the Type R comes with a 2.0-liter VTEC turbocharged four-cylinder that pumps 306 horsepower and 295 pound-feet of torque to the front wheels through a six-speed manual transmission. It is the most powerful Honda ever sold in America and holds the front-wheel-drive lap record on the Nürburgring.
Any criticism of choosing front-wheel-drive — rather than all-wheel-drive like many other hot hatchbacks — disappears the first time you put the pedal down. A sophisticated active damper system, limited-slip differential, and dual-axis strut front suspension system work in conjunction to eliminate torque steer that's otherwise common in high-horsepower, front-wheel-drive cars. The aforementioned active damper system is linked to three drive modes: Comfort, Sport, and +R. The system continuously modifies damper stiffness, throttle response, and steering feedback based on the driver's preference.
There are enough vents, splitters, scoops, ducts, and spoilers to make a teenager think twice about wanting a Type R, but Honda assures critics that every piece of the Type R exterior is functional for cooling and aerodynamics. Still, the looks might be the worst part about the Type R, which only really matters if you care about what other people think. After all, you can't see what it looks like from the driver seat — which is extremely comfortable, by the way.
The 2019 Civic Type R costs $35,700 plus destination fees. We'll even go as far as saying that the Type R is more fun than the Ford Focus RS, Subaru WRX STi, and Volkswagen Golf R. In a heated hot-hatch segment, the Type R is our winner, and it's a much more practical alternative to the BRZ tS for less than $1,500 more.
Cadillac ATS-V
Since 2016, the ATS-V has been America's attempt to fight German super coupes like the BMW M4, Mercedes-Benz C 63 AMG, and Audi RS5. Built on the GM Alpha platform, the ATS-V shares its sharp handling characteristics with the Chevrolet Camaro, and this is a good thing. For 2019, the ATS-V is only available in a coupe, and it is unclear if the purpose-built performer will survive or be replaced in the near future.
A 3.6-liter twin-turbocharged V6 sends 464 horsepower and 445 pound-feet of torque to the rear wheels and propels the ATS-V from zero to 60 miles per hour in 3.8 seconds. A six-speed manual comes standard and an eight-speed automatic with steering wheel-mounted paddle shifters is optional. Unfortunately, our test car came with the automatic, which suffers from slight delays between shifts. They're just long enough to notice and frustrating enough to wish you were shifting gears yourself. The manual makes driving stick easy, with active rev-matching.
The ATS-V proves to be capable with magnetic ride control, performance traction management, Brembo brakes, launch control, and an electronic limited-slip differential. Optional extras like a Bose surround-sound system remind you that you are in a Cadillac, but the most important box to tick is for the 16-way Recaro performance seats. They are the perfect combination of comfort and capability, and make marathon drives feel like sprints.
With a starting price of $67,795, the 2019 ATS-V isn't cheap, but it's right in line with the BMW M4 ($69,150) and Mercedes-Benz C 63 AMG Coupe ($67,500). Service costs will likely be lower than the German rivals, too. Although, for $2,500 more, you could have both the BRZ tS and the Civic Type R.
Nissan GT-R NISMO
As if the standard GT-R weren't enough, Nissan upped the ante with the NISMO. The NISMO gets 35 more horsepower for a total of 600 from the 3.8-liter twin-turbocharged V6, along with 481 pound-feet of torque. All of that power is sent to the ground through an independent rear transaxle all-wheel-drive system, and rockets the NISMO to 60 miles per hour in less than three seconds.
More than just an increase in power, the NISMO features an enhanced body structure, specific suspension tuning, and adhesive bonding and spot welding to improve rigidity. Like many six-figure supercars, the NISMO replaces traditional materials with carbon fiber. The front and rear bumpers, lower front undercover, trunk lid, and spoiler are all made of carbon fiber. Lightweight Recaro seats are standard, and the three-spoke steering wheel is wrapped in alcantara for maximum grip.
The NISMO is essentially a racecar made legal for street driving. The six-speed dual clutch transmission is among the fastest shifting transmissions we've ever tested. There is never hesitation, and lightning-fast shifts allow for staggering acceleration and uncompromised control on a racetrack. NISMO models come equipped with 20-inch forged RAYS wheels and sticky Dunlop tires made specifically for this car.
It accelerates and brakes harder than almost anything on the market while simultaneously being fairly easy to drive. We've never tested a car with 600 horsepower that inspires as much confidence as the NISMO does. In just two laps at Monticello Motor Club, we hit nearly 130 miles per hour on the short back-straight. It's a point-and-shoot monster thanks to all-wheel-drive and extremely advanced electronics. It's not the smallest car, but its size shrinks on the track, and the acceleration is quick enough to make you forget about any such shortcomings.
The Nissan GT-R NISMO is a limited production model with a price as-tested of $177,605. If you're doing the math, yes, you could have the BRZ tS, Civic Type R, and ATS-V with enough money remaining to buy an additional Type R — all for the price of one NISMO GT-R. But none of those cars can do what the NISMO can.