Car Guides
What the experts say about the 2019 Genesis G70
A publisher, an analyst, and a writer weigh in.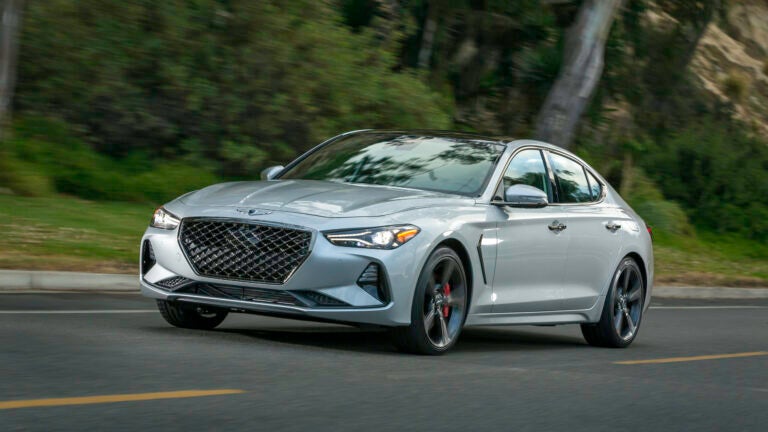 Boston.com Cars is your go-to resource for coverage of local car news, events, and reviews. In the market for a car or truck? Check out our new car specials and used car specials curated by our local dealer network.
In this ongoing series, Boston.com talks with automotive authorities about why you should consider driving — or avoiding — a specific model.
2019 Genesis G70
As the fledgling luxury sister brand to Hyundai and Kia, Genesis has gained its footing with its latest model, the Genesis G70. Built to rival compact sport sedans such as the BMW 3 Series and Audi A4, the G70 fuses Korean luxury and driving dynamics with entry-level appeal.
The five-passenger car runs on a lively powertrain developed by a former engineering executive for BMW's high-performance M badge. The base model delivers 252 horsepower — more than its competitors — via a 2.0-liter, turbocharged, four-cylinder engine. Buyers can upgrade to a 365-horsepower, 3.3-liter, twin-turbo V6. Both engines are mated to an eight-speed automatic transmission, but a six-speed manual transmission is available with the smaller engine. All-wheel drive can be added to upper trims for an additional $2,000. Built on the Kia Stinger GT platform, the car feels nimble around town and fast on the outskirts. Get it out in the open and it can clear 0 to 60 in as little as 4.5 seconds.
Hyundai's luxury aspirations for the winged Genesis logo are evident inside the cabin. The base model comes equipped with leatherette seats, a power-adjustable driver's seat, dual-zone automatic climate control, and an 8-inch touch screen with Apple CarPlay and Android Auto. Upper trims add amenities including Nappa leather upholstery, heated rear seats, and a head-up display. The Sport trim, which comes with the manual transmission, gets Brembo brakes, 19-inch alloy wheels, and a sportier exhaust.
The G70 has not been rated by either of the two federal safety agencies. Standard safety equipment includes blind-spot monitoring, adaptive cruise control, automatic emergency braking, forward-collision avoidance assist with pedestrian detection, lane-keeping assist, and driver-attention alert. All models come with parking sensors with the exception of the base trim.
The 2.0-liter, turbocharged engine achieves 22 mpg in the city and 30 mpg on the highway. V6 versions deliver 18 mpg around town and 25 mpg on the highway.
The 2019 Genesis G70 starts at $34,900. Models equipped with the V6 engine begin at $43,750.
What the experts are saying
Bona fide BMW rival
"The Genesis brand has clearly targeted the most iconic luxury car on the planet, BMW's 3 Series, with its new G70. The vehicle doesn't just share a similar style and size, it offers driving dynamics straight out of Bavaria. That's a very good thing, of course, as the G70 is now one of the most engaging luxury sedans available. Other luxury brands have tried to knock off the 3 Series for years, with some getting closer than others. For Genesis to get this close on its first attempt reflects well on the brand's future. However, the long-term viability of Genesis won't be based on the G70, no matter how well it's been received by the automotive press. The real battle for market share, and profit, lies in SUVs, and Genesis needs them ASAP." – Karl Brauer, executive publisher at Kelley Blue Book
New luxury
"The Genesis G70 is an exemplary entry-level luxury sports sedan. It handles and steers with the finesse of a BMW 3 Series — and even better in some ways. The interior is top notch, and the cabin strikes a balance between sumptuous luxury and driver-oriented excitement. There's just one problem: Luxury sedans are being decimated by crossovers. Genesis is fully aware of this and is hard at work on several SUV models, but, until then, the brand's three-car lineup will continue to build Genesis's credibility in the luxury space, setting the stage for the Genesis SUV models' arrival." – Ed Kim, vice president of industry analysis at marketing research and consulting firm AutoPacific
Lively driving
"Genesis may be a new brand, but they've consistently impressed with their offerings. The G70 faces stiff competition in the small luxury car class, but it manages to stand out thanks to its lively driving characteristics, pleasing interior design, and relatively affordable pricing. Genesis put a lot of thought into how the G70 feels on the road, and they've made a car that's engaging and exciting, especially with the optional 365-horsepower V6. But it's also comfortable, with some thoughtful design touches like quilted leather upholstery that make it feel more upscale inside. Perhaps the G70's biggest weakness is its back seat, which adults are likely to find cramped. Its small form pays dividends in driving dynamics, but it does come at the cost of rear-passenger space. Dollar for dollar, the G70 delivers a great value in terms of luxury, features, and fun." – Will Kaufman, staff writer at Edmunds