Car Guides
Lincoln celebrates the Continental's 80th birthday with Coach Door Edition that has 60s-style rear-hinged doors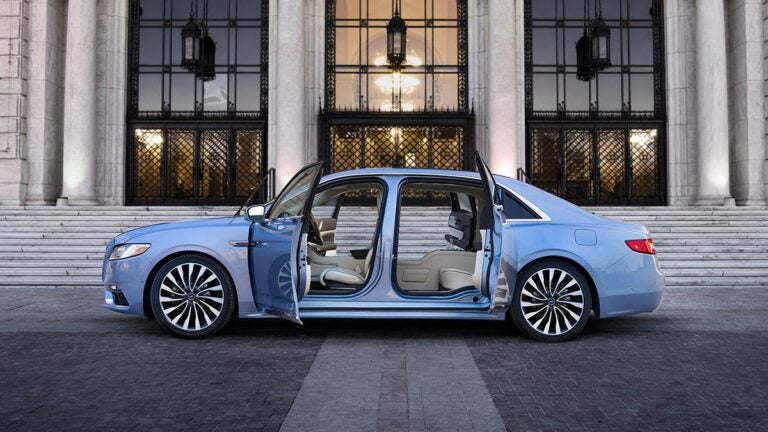 Exiting the rear seats of any vehicle can be awkward, especially when your wardrobe prevents you from using your legs as separate limbs. To prevent paparazzi faux pas, and to celebrate a special anniversary, Lincoln debuts a limited production version of its flagship sedan, the 2019 Continental 80th Anniversary Coach Door Edition.
Hearkening back to the glamorous, Upper East Side style of Lincolns in the 1960s, the rear-door hinges are moved from the center B-pillar of the car to below the rear C-pillar, so that the doors open coach style, to 90 degrees. Culturally, this design is commonly referred to as "suicide-style," as it recalls the morbid past of bank robbers who would use the doors as a shield from gunfire.
If you've always dreamed of owning a vehicle with a rear-hinged door, the Continental will be a relative bargain compared with certain Rolls Royce four-doors, which are currently the only other cars with the feature. Historically associated with glamorous vehicles, this design has also been used on vehicles such as the Saturn Ion Quad Coupe, the Mazda RX-8, and extended-cab pickup trucks.
The 2019 Lincoln Continental Coach Door Edition also gets a six-inch wheelbase stretch, making rear passengers even more comfortable than they already were. This allows Lincoln to claim that this new version of the Continental offers best-in-class rear legroom. Features such as a pass-through center console with a charging pad, a tablet holder, and a folding tray table are exclusive to this trim.
Additionally, you get all the privileges of Lincoln's Black Label designation, which means top-of-the-line materials, as well as annual vehicle detailing, carwashes whenever you want, and a concierge service.
In 2019, Lincoln will produce only 80 versions of the 80th Anniversary Coach Door Edition. The company says it will make a few more in 2020 as well. Prices have yet to be announced, but you can bet it will be less than a Roller.