Car Guides
15 affordable trucks, SUVs, hatchbacks, crossovers, and sedans
We picked 15 of the best deals on the market right now.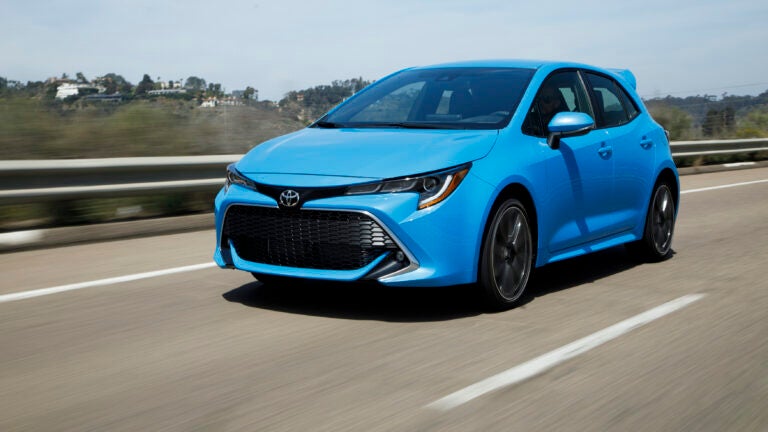 You're excited about shopping for your next new car, but you have a price point that takes luxury vehicles right off the list. Don't worry. Just because you have a budget doesn't mean you can't get a great new car.
Affordable choices are available for every buyer from sporty little hatchbacks to sleek sedans to rugged trucks.
Here are 15 affordable cars to consider as you start shopping:
Hatchbacks
2019 Honda Fit $17,110 – The Honda Fit comes with an affordable starting price, and it keeps its affordability over time with EPA-estimated fuel economy of up to 33 miles per gallon in the city, 40 on the highway, and 36 combined. There's 16.7 cubic feet for cargo behind the rear seats or flip them down for 52.7 cubic feet of space.
2019 Toyota Corolla $19,990 – The Toyota Corolla hatchback is all-new for 2019 with a 2.0-liter four-cylinder that boasts 168 horsepower, making this a sporty choice. It gets great fuel economy with up to an EPA-estimated 32 miles per gallon in the city, 42 on the highway, and 36 combined.
2019 Volkswagen Golf $21,845 – The Volkswagen Golf is powered by a 1.4-liter turbocharged four-cylinder with 147 horsepower and 84 pound-feet of torque that makes this small car another sporty yet affordable option. Standard features include a leather-wrapped multifunction steering wheel and safety features like forward collision warning and autonomous emergency braking, blind spot monitor, and rear traffic alert.
Sedans
2019 Ford Fiesta $14,620 – The Fiesta is a small sedan that offers room for five passengers and gets excellent fuel economy with up to an EPA-estimated 27 miles per gallon in the city, 37 on the highway, and 31 combined. It's a great choice as a commuter car or for those with long treks in their future.
2019 Kia Rio $15,390 – The Kia Rio has standard features including an infotainment system with a 5-inch screen, Sirius satellite radio, and Bluetooth connectivity. Even the top trim comes in at an affordable starting price of $16,190 with additional features like a 60/40 split-folding rear seat and a 7-inch infotainment display.
2019 Hyundai Elantra $17,100 – The Hyundai Elantra has enough space for five passengers and a good-sized trunk with room for 14.4 cubic feet of cargo. It also gets great fuel economy with up to an EPA-estimated 29 miles per gallon in the city, 38 on the highway, and 33 combined.
Crossovers
2019 Nissan Kicks $18,540 – The Nissan Kicks was all-new last year, adding an affordable small crossover to the Nissan lineup. Despite its low price point, the Kicks comes with standard automatic emergency braking across the lineup, which is a feature often reserved for only more expensive models.
2019 Jeep Renegade $23,275 – The Jeep Renegade is ready for off-road adventures. This year there's a new 1.3 -liter turbocharged engine along with a choice of capable four-wheel drive systems that let you take the Renegade wherever you want to go.
2019 Buick Encore $24,195 – The upscale Buick Encore includes a well-appointed interior even in the base trim. There's a standard six-way power driver's seat, 8-inch infotainment touchscreen, cruise control, and a leather-wrapped steering wheel.
SUVs
2019 Chevrolet Equinox $24,795 – The Chevrolet Equinox is a good choice for families with four USB ports to keep everyone connected along with Teen Driver, which helps parents coach their teens toward better driving habits.
2019 Subaru Forester $25,495 – The Subaru Forester has standard all-wheel drive and up to 35.4 feet for cargo, making it a great choice for those with active lifestyles. It also comes with standard EyeSight driver assist technology that includes adaptive cruise control, pre-collision braking, lane departure and sway warning, and lane-keep assist.
2019 Hyundai Santa Fe $25,500 – The Hyundai Santa Fe has a good range of standard safety features which include forward collision-avoidance with pedestrian detection, driver attention warning, blind spot collision warning, lane-keep assist, and rear cross-traffic collision warning.
Trucks
2019 Nissan Frontier $18,990 – The Nissan Frontier is available with rear-wheel or four-wheel drive, and it can tow up to 6,620 pounds with a maximum payload of 1,460 pounds.
2019 Chevrolet Colorado $21,300 – The Chevrolet Colorado offers impressive capability. It can tow up to 7,700 pounds of cargo, which is more than any other truck in its class.
2019 Ford Ranger $24,300 – The Ford Ranger makes its grand return this year with a towing capacity of up to 7,500 pounds and a maximum payload of 1,860 pounds.