Car Guides
What the experts say about the 2019 Honda Insight
A writer, an editor, and a safety official weigh in.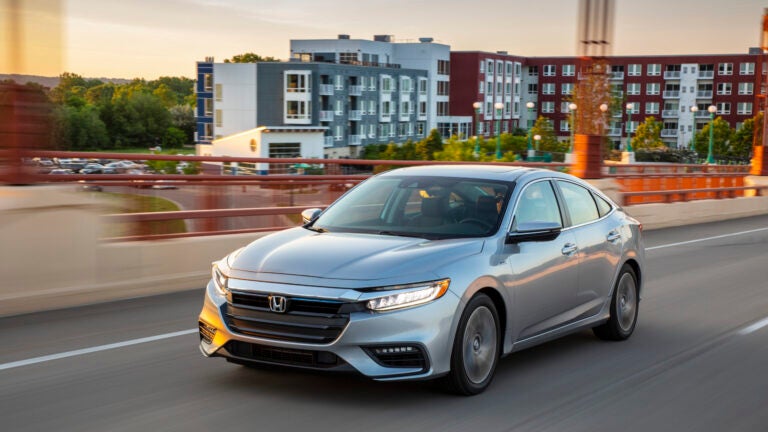 Boston.com Cars is your go-to resource for coverage of local car news, events, and reviews. In the market for a car or truck? Check out our new car specials and used car specials curated by our local dealer network.
In this ongoing series, Boston.com talks with automotive authorities about why you should consider driving — or avoiding — a specific model.
2019 Honda Insight
Returning to the market after a five-year hiatus, the Honda Insight hybrid now sports four doors and fuel economy to rival the top dog Toyota Prius. Starting at a smooth $22,930, the five-passenger sedan delivers up to 55 mpg in the city and 49 mpg on the highway, significantly reducing time at the pump and the pull on your wallet.
The Insight runs on a 1.5-liter, four-cylinder engine and a pair of electric motors to produce 151 horsepower and more zip than the typical hybrid. Offered in three trims — LX, EX, and Touring — the sedan sports a sleek exterior design with standard LED headlights that lend a premium look without the price tag. A quartet of driving modes — Normal, ECON, SPORT, and EV — customize performance based on road conditions and driver preference.
Based on the stalwart Honda Civic midsize sedan, the Insight measures slightly larger, with above-average space for four adult passengers and three suitcases. The base model's list of standard equipment includes Bluetooth, a USB port, and a 5-inch display screen. The EX and Touring trims get an 8-inch touch screen with navigation, satellite radio, and Apple CarPlay and Android Auto, as well as a Wi-Fi hot spot and second USB port. The Touring trim comes with leather-trimmed seats, heated front seats, a leather-wrapped steering wheel, and an eight-way power adjustable driver's seat.
The 2019 Honda Insight earned top ratings from the Insurance Institute for Highway Safety and the National Highway Traffic Safety Administration. All models come equipped with Honda Sensing, the automaker's package of advanced safety features. That includes forward-collision warning, automatic high beams, lane-departure warning, traffic sign recognition, and adaptive cruise control — all at a price that undercuts the competition.
What the experts are saying
Upscale sedan
"We really like the Insight. It combines the best parts of the Civic on which it's based and the larger Accord. The result is an upscale look and feel whether you're inside or out. It's more like a luxury version of the standard Civic that also happens to get great fuel economy, too. The Insight's fuel-economy rating may not match a Toyota Prius, but the difference is small enough that your wallet wouldn't notice. And unlike the Prius and other hybrids at this price range, the Insight has the benefit of not looking overtly like a hybrid. It doesn't wear its mpg on its sleeve. The Insight also packs more power and torque than similarly priced hybrids, so it feels zippier when you hit the accelerator. On the downside, the engine is noisy to the point of annoyance during prolonged acceleration, like up a freeway on-ramp. Overall, the downsides aren't enough to overcome the Insight's overall attributes. Along with everything else, it's storage space and smart cabin layout make the Insight our favorite hybrid at this price range." – Carlos Lago, senior writer at Edmunds
Sporty hybrid
"If you're shopping Honda Civic, but really want a hybrid, then you might really, really want a 2019 Honda Insight sedan. Based on the venerated Civic and priced in the low $20Ks, the new Insight is blessed with great fuel economy — as high as 49 mpg on the highway — and just enough power to stay competitive and up to speed on that highway. Your body will enjoy surprising roominess in the Insight cabin, and your peace of mind will appreciate its quietness. Quick safety bonus: Honda Sensing, which includes adaptive cruise control and forward-collision mitigation with automatic braking. In fact, even if you aren't looking for a hybrid, you may want to look at the Honda Insight." – Richard Homan, senior vehicle evaluation editor at KBB.com
Outstanding ratings
"The 2019 Insight is our highest-rated small car in safety tests. The Insight performs well across the board for crash protection and crash prevention, earning the Top Safety Pick+ designation. Unlike buyers of many other new vehicles, people looking at the Insight don't have to hunt through dealer lots or pony up extra money for expensive options to get an Insight equipped to meet our safety criteria. Good-rated headlights and a superior-rated front-crash prevention system are standard equipment. The Insight's automatic emergency braking system, designed to help drivers avoid the kinds of front-into-rear collisions that happen frequently in stop-and-go commuter traffic, prevented crashes in our 12 and 25 mph track tests. In addition to how this car excels in our safety tests, parents should be pleased with its easy-to-use child restraint attachment hardware. The tether anchors are easy to find, and the lower anchors are positioned so they're not too deep in the seat, easy to maneuver around, and don't require a lot force when attaching a child seat." – Russ Rader, senior vice president of communications at the Insurance Institute for Highway Safety