Car Guides
What the experts say about the 2019 Mercedes-AMG E63 S
Two editors and a safety official weigh in.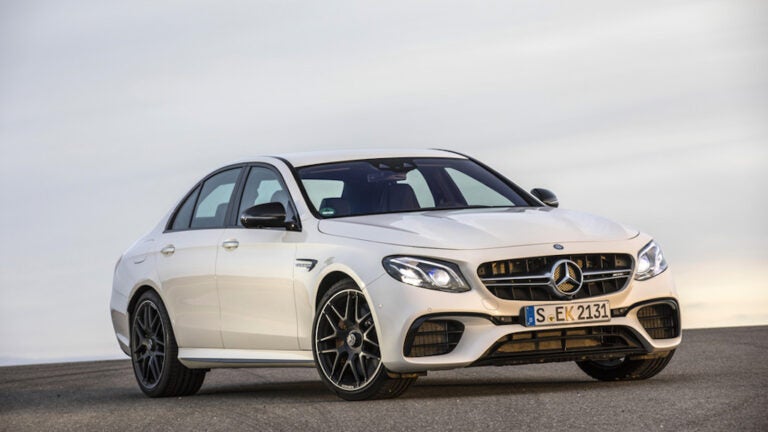 Boston.com Cars is your go-to resource for coverage of local car news, events, and reviews. In the market for a car or truck? Check out our new car specials and used car specials curated by our local dealer network.
In this ongoing series, Boston.com talks with automotive authorities about why you should consider driving — or avoiding — a specific model.
2019 Mercedes-AMG E63 S
The 2019 Mercedes-AMG E63 S resembles an unflappable duck, sitting pretty in its quilted leather cabin while its biturbo engine and butter-smooth transmission work overtime below. Equally pleasing in highway traffic or on a winding mountain pass, the sportiest version in Merc's mid-size E-Class sedan family is a six-figure delight.
The 603-horsepower, five-passenger sedan from Mercedes-Benz's high-performance AMG division runs on a handcrafted 4.0-liter, biturbo V8 mated to an automatic, nine-speed transmission. Also available as a wagon, the E63 S features all-wheel-drive grip, sharp steering, and zero-to-60 acceleration in 3.3 seconds. Depending on the drive mode — flip between Comfort, Sport, Sport+, Race, or Individual settings — buyers get a supercar experience wrapped in a respectable-looking sedan. Through a sequence of shift-paddle taps while in Race mode, the driver can also activate a Drift mode, which engages full rear-wheel-drive power and manual shifting.
Inside, the Mercedes-AMG E63 S goes heavy on the plush fabric, quilted leather, and shiny aluminum accents. Supportive seats ease discomfort during long drives, especially when buyers upgrade to the AMG Performance Seats with side bolsters. Normally optional in Mercedes's sedans, the brand's signature widescreen cockpit — formed by a pair of 12.3-inch display screens joined under a single pane of glass — comes standard. One screen manages the driver display while the other regulates Mercedes's COMAND infotainment system. All models come equipped with dual-zone automatic climate-control and a Burmester Surround Sound premium audio system. A full-color head-up display, a Wi-Fi hotspot, heated arm rests, a heated steering wheel, and the Burmester High-End 3D Surround system are optional. The sedan's 13.1 cubic-foot trunk holds a couple of suitcases, and its split-folding rear seat can accommodate awkwardly-shaped cargo.
Federal safety ratings agencies have not tested the Mercedes-AMG E63 S specifically, but the 2019 Mercedes-Benz E-Class earned top overall ratings from the Insurance Institute for Highway Safety and the National Highway Traffic Safety Administration. Automatic emergency braking comes standard, and buyers can add Mercedes's Driver Assistance package, which includes lane-change assist, adaptive cruise control, and active blind-spot assist. The Exterior Lighting package adds LED headlights with automatic high-beams.
The 2019 Mercedes-AMG E63 S delivers 15 mpg in the city and 23 mpg on the highway.
The starting price is $106,350 plus $995 for destination and delivery.
What the experts are saying
Daily driver
"Sport sedans are going the way of the dinosaur, but the Germans are showing no sign of slowing or slacking with their flagship models. Case in point is the brutally powerful Mercedes-AMG E63 S — a 603-horsepower, all-wheel-drive, five-passenger four-door that delivers performance to shame most dedicated sports coupes. Drop your kids off at school in the morning, beat a Porsche at an impromptu stop light drag race, drive three clients to lunch, and then roll down the windows and take the long windy route home while basking in a boisterous V8 soundtrack." — Michael Harley, executive editor at Kelley Blue Book
Super sedan
"The E63 is the merger of a supercar, muscle car, all-weather wagon, and refined luxury sedan. Its 603 horsepower, all-wheel drive, and launch control make for staggeringly quick acceleration; we clocked 0-60 mph in 3 seconds and a quarter-mile pass in 11.1 seconds at 124.1 mph. But you can also disable the all-wheel-drive system to enable burnouts and powerslides that would make any muscle car fan proud. But the E63 is still a Mercedes. So when you're done making plumes of tire smoke or going triple-digit speeds, you can relax in a comfortable and sharp-looking interior. Change the drive mode back to default, and this sedan gets downright comfortable." — Carlos Lago, features editor at Edmunds
Upgraded headlights
"The Mercedes E-Class is one of our top-rated luxury cars, and the safety ratings also apply to the AMG version. Earning our Top Safety Pick+ designation, the E-Class gets good ratings across the board for crashworthiness. That means this car is rated good in each of our six crash tests simulating the most common crash scenarios. The E-Class earns a superior rating for the performance of its standard front-crash prevention system with automatic emergency braking. Car buyers may not think much about headlights, but headlights are an important safety feature when the road is dark. In this case, the top award only applies to E-Class models equipped with optional upgraded headlights. The best-performing headlights on the car have a curve-adaptive feature that automatically swivel as the vehicle turns. They also have high-beam assist that can increase high-beam use by automatically switching from low beams depending on the presence of other vehicles." — Russ Rader, senior vice president of communications at the Insurance Institute for Highway Safety