Car Guides
What the experts say about the 2020 BMW 8 Series
Two editors and a dealer weigh in.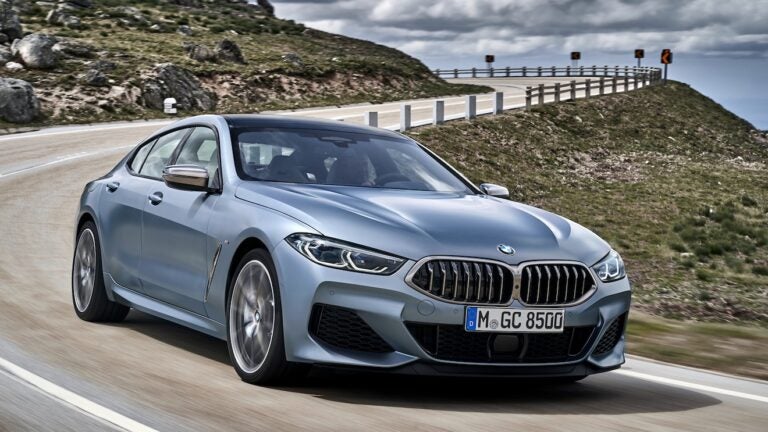 Boston.com Cars is your go-to resource for coverage of local car news, events, and reviews. In the market for a car or truck? Check out our new car specials and used car specials curated by our local dealer network.
In this ongoing series, Boston.com talks with automotive authorities about why you should consider driving — or avoiding — a specific model.
2020 BMW 8 Series
Every now and then, a new head-turner comes to town, the kind of car that the valet likes to leave out front. Right now, it's the return of BMW's flagship 8 Series grand tourer after a two-decade hiatus.
The German automaker has introduced a handful of body styles and high-performance versions for the two-door sports car's revival: coupe, soft-top convertible, M8 coupe, and M8 convertible. A new-for-2020, four-door Gran Coupe model goes on sale in September. The curvaceous, low-slung 8 Series swaps the naturally-aspirated engines of the late '90s for a beefy twin-turbo V8 that delivers 523 horsepower. (The Gran Coupe, which raises seating capacity to five, also comes as a 335-horsepower inline six.) An eight-speed automatic transmission provides a cushioned, composed ride befitting a grand tourer. All xDrive models come with all-wheel drive, active steering, and an adaptive suspension. The 600-horsepower M version can zip from 0 to 60 in a Porsche-challenging 3.1 seconds on its way to a top speed of 155 mph. It's a suitable daily driver if you don't mind attention — or ever need to fold adults into its cramped rear seats.
The four-passenger, Vernasca leather-clad cabin features a sparkly, crystal-sheathed shifter; a sleek central control panel composed of a 10.3-inch display screen and 12.3-inch instrument cluster; and BMW's easy-to-use iDrive 7 infotainment system. All models come with a 16-speaker Harman Kardon audio system, navigation, a Wi-Fi hot spot, and Apple CarPlay smartphone integration.
The 8 Series has not been rated by either of the two federal safety agencies. Standard equipment includes a surround-view camera, automatic emergency braking, adaptive cruise control, blind spot monitoring, lane departure warning, front and rear parking sensors, rear cross traffic alert, forward collision warning, a head-up display, and pedestrian detection. BMW's optional Active Driving Assistant package includes front cross traffic alert, lane keep assist, and night vision assist with animal detection.
The 8 Series delivers 18 mpg in the city and 25 mpg on the highway.
The 2020 BMW 8 Series coupe begins at $87,900. The M8 coupe starts at $111,900.
What the experts are saying
Broad appeal
"The new BMW 8 Series checks all the boxes for what I expect and desire from a luxury touring coupe. From the outside, it has classic coupe proportions with its long hood, graceful roofline, low-slung stance, and short tail. It has a head-turning presence without seeming desperate for attention, yet is far from commonplace. There's plenty of theater, courtesy of a burly twin-turbo V8 that delivers silky smooth acceleration or a wallop of furious power, depending on the weight of your right foot. On the inside, you're wrapped in a modern leather-covered cocoon that fits like a tailored suit. The M850i is packed with tech, but it's all very easy to use, thanks to the continual evolution of BMW's iDrive infotainment system. The ride is pleasantly smooth for hours of comfortable touring, but the suspension remains inspiringly athletic to satisfy more spirited drivers. For the rather exclusive class of cars, the 8 Series balances all of these aspects in an uncommon manner that gives it a broad appeal for a variety of drivers. Really, the only drawback is the lack of rear passenger space, but some of its closest rivals don't fare much better." — Mark Takahashi, senior reviews editor at Edmunds
True GT
"BMW pulled a fast one with the 8 Series. It's a replacement for the 6 Series that's below the 7 Series mechanically and in terms of size, but above it in price, and it worked! Fooled me at least. Much more than just a two-door version of the 5 Series sedan, the new M850i is actually a sports car trapped in a leathery, luxury coupe body. Or should I say 'wrapped,' because all that Bavarian elegance makes the 8 Series a true GT. Got a continent to cross? BMW has you covered. That said, bring on the M8!" — Jonny Lieberman, senior features editor at MotorTrend
Rich history
"The BMW 8 series is one of the most iconic models in BMW's rich history of grand tourers. The design of the 8 Series was legendary, as well as a dramatic shift from BMW's past. With its wedge shape, pop-up ellipsoid headlights and lack of B-pillar, it became one of the most recognizable cars of the '90s. Fast forward 20 years, and the all-new BMW M850 is breaking the styling mold again. With its sleek and aggressive lines, the M850 has the performance to match, courtesy of a turbocharged, 4.4-liter V8. With adaptive suspension and standard rear-wheel steering, this grand tourer is not only comfortable for a long trip but it also can hold its own on the racetrack." — Giovanni Tosti, general sales manager at Herb Chambers BMW