Car Guides
What the experts say about the 2020 Lexus LX
An engineer, an editor, and an analyst weigh in.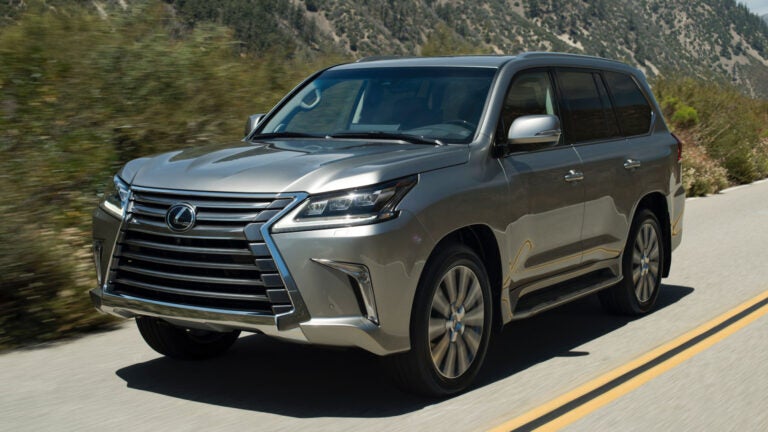 Boston.com Cars is your go-to resource for coverage of local car news, events, and reviews. In the market for a car or truck? Check out our new car specials and used car specials curated by our local dealer network.
In this ongoing series, Boston.com talks with automotive authorities about why you should consider driving — or avoiding — a specific model.
2020  Lexus LX
A barrel-chested SUV happiest in the muck, the Lexus LX has proven its staying power despite remaining more or less unchanged for more than a decade. The full-size, flagship version of the Toyota Land Cruiser can accommodate seven passengers when outfitted with an optional third row.
The boxy, body-on-frame LX 570 is propelled by a 383-horsepower, 5.7-liter V8 married to an eight-speed automatic transmission. The rectilinear truck, which can tow up to 7,000 pounds, feels heavy but solid on pavement. But take it off road, and watch the 4×4 spread its wings. The SUV's multi-terrain system comes with five modes — Rock, Rock and Dirt, Mogul, Loose Rock, or Mud and Sand — that route power to individual wheels to increase traction. Best of all, the LX can reconnoiter wild topography on its own without driver input beyond the push of a button. Press the Crawl Control button, and the LX will creep steadily over whatever lies in its path. Active Height Control can raise the body by three inches for more clearance, and a Turn Assist function tightens the turning radius to navigate narrow jams. 
The SUV seats five adults on standard leather upholstery. An optional third row sacrifices cargo space to seat seven. The LX comes equipped with the segment's expected luxury accoutrements: four-zone automatic climate control, Bluetooth, satellite radio, USB ports, a nine-speaker stereo system, and the Lexus Enform infotainment system with a 12.3-inch display. A 19-speaker Mark Levinson surround sound system, a head up display, and a wireless charging pad are available.
The 2020 Lexus LX has not been rated by either of the two federal safety agencies. Its standard Lexus Safety System+ suite of driver assistance features include a rearview camera, automatic emergency braking, automatic high beams, lane departure warning, lane keep assist, adaptive cruise control, forward collision warning, and pedestrian detection.
The 2020 Lexus LX delivers 12 mpg in the city and 16 mpg on the highway.
The Lexus LX 570 starts at $86,380. The three-row version begins at $91,380.
What the experts are saying
Off-road capability
"A traditional body-on-frame SUV tends to be more like a workhorse than a show pony, but the Lexus LX 570 seemingly melds the best of both qualities to make a seriously off-road capable luxury cruiser. No matter how many seats you opt for, you'll get the same comfortable and spacious interior, quiet highway ride, and gravity-defying off-road traction control system. Tech-wise, the LX 570 features a somewhat clunky smartphone integration system called Enform, tied to a joystick-controlled infotainment system. While the basic aspects of the system, such as navigation and audio, are relatively easy to use, advanced features are much trickier to access. There really aren't too many competitors here, but the obvious one is the Land Rover Range Rover and Lincoln Navigator. But compared to those competitors, the Lexus LX 570 has fewer permutations to consider at the dealership, an excellent record of reliability, and superlative on- and off-road comfort." — Calvin Kim, road test engineer at Edmunds
Resale value
"While mechanically nothing more than a gussied-up Toyota Land Cruiser, the Lexus LX 570 has nothing to apologize about. The time-proven LX is as capable as a Sherman tank, as reliable as a lead pencil, and as big as a one-car garage. Unfortunately, it is also about 20 years past its prime — all of its competitors are more spacious, more advanced, and more fuel efficient. Yet its blissful owners, smitten with strong resale values and abundant cachet, don't mind one single bit." — Michael Harley, executive editor at Kelley Blue Book
Toyota heritage
"The Lexus LX is, at this point, a pretty aged vehicle, but its Toyota Land Cruiser roots give it a ton of credibility for those who want a truly capable luxury SUV. The current LX, which debuted all the way back in 2007 when George W. Bush was president, is distinctly old school. Unlike most of its competitors, it rides on a separate frame and sports a solid rear axle like a real truck. It packs an old fashioned naturally aspirated 5.7L V8 that debuted in 2006 under the hood of the Toyota Tundra pickup. The infotainment is very outdated and doesn't even include Apple CarPlay or Android Auto smartphone integration. And while styling is subjective, it's not exactly pretty to this analyst's eyes. Toyota trucks have a very strong and loyal following due to their reputation for longevity and capability, and while the LX is sold under the Lexus brand, customers know full well that it's the legendary Toyota Land Cruiser under the skin. Still, Lexus can't afford to keep the LX in its current form forever. Luxury SUVs are all the rage and their popularity isn't likely to wane anytime soon, and the competition is formidable. Word on the street is that an all-new LX will debut in a couple of years, and while the current version isn't without its charms, its replacement can't come soon enough." — Ed Kim, vice president of industry analysis at marketing research and consulting firm AutoPacific