Car Guides
What the experts say about the 2020 Mercedes-Benz GLC
Two editors and a safety official weigh in.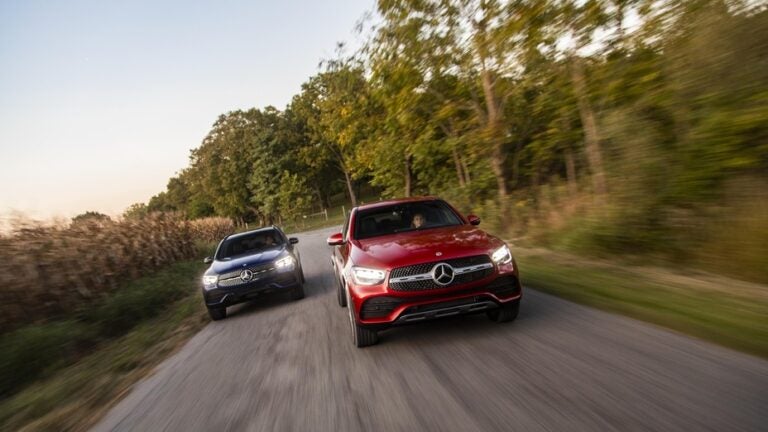 Boston.com Cars is your go-to resource for coverage of local car news, events, and reviews. In the market for a car or truck? Check out our new car specials and used car specials curated by our local dealer network.
In this ongoing series, Boston.com talks with automotive authorities about why you should consider driving — or avoiding — a specific model.
2020 Mercedes-Benz GLC
Once upon a time, few would imagine that Merc's most popular model in the U.S. would be an SUV. But the Mercedes-Benz GLC midsize crossover shot to the top of the lineup after launching in 2016 to rave reviews. Meanwhile, the GLC family has grown to include nine variants such as high-performance AMG models and a plug-in hybrid. For the 2020 model year, the nameplate gets a makeover and a quartet of sporty-looking coupe versions.
The 2020 Mercedes-Benz GLC 300 base model upgrades to a 2.0-liter, turbocharged, four-cylinder engine that makes 255 horsepower — that's 14 more than the previous model. The entry-level, five-passenger crossover, which rivals the BMW X3, Audi Q5, and Lexus RX, is also available with the brand's 4MATIC all-wheel-drive system. Additionally, the GLC nameplate comes in three high-performance AMG versions. The AMG GLC 63 is powered by a handcrafted 4.0-liter, biturbo V8 good for 469 horsepower. (A 2020 entry-level AMG version, the GLC 43, will arrive later this year.) The GLC 63, which targets BMW's X3 M and Porsche's Macan Turbo, zips from 0 to 60 mph in 3.8 seconds on the way to a top speed of 155 mph. The GLC 350e plug-in hybrid arrives early next year.
Meanwhile, four of these GLC variants are now offered in coupe form, with a sloping roofline and a sleek body. The top-of-the-line, 503-horsepower AMG 63 S is available only as a coupe.
The most significant addition to the 2020 model's dashboard technology is the enhanced Mercedes-Benz User Experience. The system — a Siri-like creature summoned with the wake word "Hey Mercedes" — uses artificial intelligence and natural speech recognition to learn user preferences. However, it can be overeager — responding any time someone mentions the word "Mercedes" — and bungle commands. The new model gets larger screens — a 12.3-inch display and a 10.25-inch touch screen — as well as Apple CarPlay and Android Auto, heated front seats, and dual-zone automatic climate control. Buyers can add a Burmester surround sound system, heated rear seats, tri-zone climate control, a heated steering wheel, ventilated front seats, and wireless device charging.
The GLC comes with adaptive cruise control that uses map data to reduce speed when approaching curves and highway exits. Optional safety equipment includes automatic emergency braking, lane change assist, lane keep assist, and blind spot assist with an exit warning that functions up to three minutes after switching off the ignition, for drivers who dilly-dally getting out of the car.
The 2020 Mercedes-Benz GLC 300 starts at $42,500. The Mercedes-AMG GLC 63 starts at $73,750. Coupe models begin at $50,000.
What the experts say 
Heavy-hitter
"The Mercedes-Benz GLC competes in one of the most highly contested segments in the industry — the luxury compact crossover. Battling heavy-hitters such as the Audi Q5, BMW X3, Porsche Macan, and Volvo XC60 is no easy feat, but the GLC delivers innovative engineering, turbocharged power, and a first-rate luxury cabin. Stylish inside and out, and incredibly competent on the road, the GLC is one of the best models in the Mercedes-Benz family. For those who really prefer to rock, opt for the performance-tuned AMG GLC 43 — impressive performance and a real hoot to drive." — Michael Harley, executive editor at Kelley Blue Book
Safety technology
"The Mercedes GLC is one of our top-rated midsize luxury SUVs. This model earns good ratings across the board in six IIHS crash tests that represent the most common crash scenarios, including three frontal impact tests, side impact, rear impact, and rollover evaluations. The GLC offers two front crash prevention systems and both the standard and optional systems earn our highest rating of Superior. Front crash prevention is based on automatic emergency braking technology that research confirms is preventing some kinds of crashes from happening altogether.  Headlights can also prevent crashes by helping drivers see better on dark roads. The GLC's optional LED project lights that are part of the Advanced Lighting package earn the top rating of good. The base halogen reflector headlights, however, are rated only marginal. Headlight performance is critical because half of all serious crashes happen at night or at dawn or dusk." — Russ Rader, senior vice president of communications at the Insurance Institute for Highway Safety 
Artful balance
"The current-generation Mercedes-Benz GLC-Class was introduced four years ago, but even as it reaches the halfway point in its life cycle, it remains our top pick in a class that includes newer rivals. That's due in no small part to the numerous updates every model year, and for 2020, it gets a significant refresh. We're particularly pleased that the new MBUX infotainment system has been incorporated, giving shoppers a chance to see why we consider it the best in the industry. That, along with an improved plug-in hybrid system and more powerful base engine are reason enough to keep the GLC at the top of your list. Even without these updates, the GLC would have had a firm foothold atop the small luxury SUV rankings. From the beginning, we've heaped praise on the GLC for its artful balance of performance and comfort, elegant interior, accommodating passenger space, and economical four-cylinder engine. With all of this taken into account, we wouldn't be surprised to see the GLC remain a class leader into its next generation." — Mark Takahashi, senior reviews editor at Edmunds