Car Guides
What the experts say about the 2020 Aston Martin DBS Superleggera
Two editors and an analyst weigh in.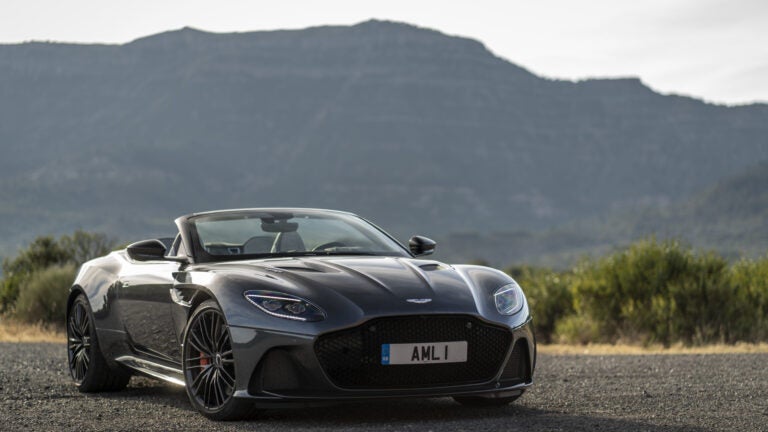 Boston.com Cars is your go-to resource for coverage of local car news, events, and reviews. In the market for a car or truck? Check out our new car specials and used car specials curated by our local dealer network.
In this ongoing series, Boston.com talks with automotive authorities about why you should consider driving — or avoiding — a specific model.
2020 Aston Martin DBS Superleggera 
The first thing to know about the Aston Martin DBS Superleggera is that it's the first of the brand's new twin-turbo, V12-powered grand tourers. Available as a coupe or convertible — that's "volante" in Aston Martin's parlance — the super car arrives during a sea change as the century-old British brand begins building SUVs and electric cars. In the meanwhile, the DBS Superleggera (Italian for "Superlight") is certainly a sports coupe befitting Bond.
The 2020 Aston Martin DBS Superleggera is powered by a 715-horsepower, 5.2-liter, twin-turbocharged V12 positioned low and far back in the chassis to optimize weight distribution and improve handling around race track corners or country road curves. A trio of drive modes — GT, Sport, and Sport Plus — help tune the car's dynamics to road conditions. The DBS Superleggera can accelerate to 62 mph from standstill in 3.6 seconds on its way to a top speed of 211 mph. The Volante's fabric top can be opened and closed remotely in about 15 seconds from the key fob when within six feet of the car.
Aston Martin's flagship grand tourer seats four adults, but only two of them comfortably. Its cabin can be outfitted with leather upholstery, custom paintwork, quilted stitching, and carbon fiber veneer, among other exotic materials, that can set you back tens of thousands of dollars. The DBS Superleggera comes with navigation with an 8-inch screen, Bluetooth, satellite radio, a USB port, and a premium audio system. Throw in a hearty, more premium Bang & Olufsen sound system for $8,330 and power seat bolsters for $750.
Federal safety rating agencies do not rate ultra-luxury cars like the Superleggera. All models come equipped with a 360-degree camera with front and rear parking sensors to help avoid fender benders and parking-related scratches. Standard rain-sensing windshield wipers help keep the view clear.
The sports car delivers 14 mpg in the city and 22 mpg on the highway.
The 2020 Aston Martin DBS Superleggera starts at $310,100 for the coupe and $328,100 for the convertible before destination, handling, and gas guzzler fees.
What the experts say
Segment stunner
"The Aston Martin DBS Superleggera is a standout in a class composed entirely of standouts, a bullet train of an ultra-premium grand touring coupe that fully justifies its $300,000-plus price. From its stunning exterior to its delectable interior materials and palettes to its poised-yet-easygoing ride, the DBS Superleggera never misses an opportunity to flaunt its pedigree. Its sonorous twin-turbocharged V12 engine builds smiles as quickly as it builds speed, lending a soundtrack that captures Aston Martin's unique combination of heritage, excitement, and refinement." — Nelson Ireson, senior editor at Automobile
Super lightweight
"The Aston Martin DBS Superleggera is a bit confusing, initially, to the untrained eye. It looks more or less just like the DB11, yet with about a $300,000 base price, it costs a lot more than the DB11's already significant $200,000-ish starting price. What makes the DBS Superleggera worth 50% more? The word "Superleggera" means "super lightweight" in Italian, and other previous exotics bearing that title tend to be hardcore and stripped down models with weight and content removed in the name of performance. But for a brand like Aston Martin, going that route would simply be uncivilized. An automaker worthy of the likes of James Bond could never sacrifice refinement for performance. And therein lies the DBS Superleggera's purpose. It ups the level of speed and handling, partly through more power out of Aston Martin's legendary V12 and partly through reduced weight through the use of carbon fiber. However, unlike many other lightweight performance models, the DBS Superleggera retains all of the brand's legendary class both inside and out." — Ed Kim, vice president of industry analysis at marketing research at consulting firm AutoPacific
Best-looking
"Yes, the Aston Martin DBS Superleggera has a twin-turbo V12 that makes a massive 715 horsepower. Yes, there's so much torque that engine computers have to reduce the motor's output in the lower gears — otherwise the rear tires would simply be overwhelmed. Yes, the DBS is an opulent, luxuriously appointed grand tourer designed for darting from London to Berlin in comfort and elegance. Yeah, it sounds pretty menacing, too. But forget all about that. All that matters is that the Aston Martin DBS Superleggera is the best looking production car of the last quarter-century. As I'm fond of saying, just look at it! 'Nuff said." — Jonny Lieberman, senior features editor at Motor Trend