Car Guides
My vehicle's headlights aren't bright enough
John Paul, AAA Northeast's Car Doctor, answers a question from a reader looking to improve the brightness of his SUV's headlights.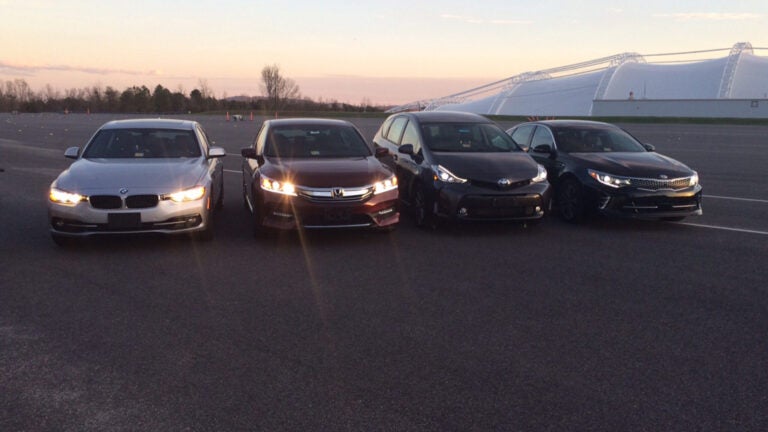 Q. I have a 2009 Nissan Rogue that my son uses while away at college. At night, the headlights are not bright compared to other cars. I have purchased a Honda CRV, and the brightness of the headlights is significantly better. Do you have any suggestions? Can the bulbs be changed to improve the brightness? 
A. Like any bulb. over time they can lose their intensity as they near the end of their life. Several lighting manufacturers make brighter bulbs — Sylvania, Hella, and GE are a few. My experience with brighter bulbs is that they are much better, but the overall life is considerably shorter. Additionally, some bulbs are not designed for on-road use and should never be used on a street vehicle. Many drivers have upgraded to LED bulbs. I have yet to try these bulbs, but the better-quality bulbs seem to have a long life, and although brighter, are well-focused to prevent blinding oncoming drivers. One final item: Make sure the headlight lens is clear. Over time, headlight lenses can become clouded and block as much as 80 percent of the light. 
Q. I just purchased a 1995 Ford F150 XLT with a 5.0 engine and dual fuel tanks. The tank selector switch was set for the rear tank and it started and ran fine. When I tried to start it with the switch set to the front tank, it wouldn't start — even though the tank was full. I also tried starting it with the switch on the rear tank, and after it started, I was able to switch to the front tank, and it would run fine. This worked until there was about half a tank of fuel left in the front tank. Now, it will stall out if I try switching from rear to front. Any idea on what could be causing this? 
A. Generally, what happens with these trucks is the fuel-tank switching valve is faulty. As you switch from one tank to the other, rather than fuel going to the engine, the valve pumps fuel to the other tank. The repair is to replace the valve. 
Q. I have a 2010 Hyundai Sonata with the four-cylinder engine. The car has 120,000 miles. In the last 6 months, I have had to replace the No. 4 ignition coil twice, and now maybe again. Is there a reason why only the No. 4 coil keeps misfiring after a few months? The same brand of coil is being used. Is it possible the aftermarket coil is of poor quality? What other possible issues could cause this? One last thing: Should all the coils have been replaced at the same time?
A. As a general rule, if you plan on keeping the car, replacing all of the ignition coils is money well spent. Ignition coils fail due to a variety of reasons, such as badly worn spark plugs, oil and water intrusion, and excessive heat. It is certainly possible the company making the ignition coil had a bad run of parts. The parts store could have purchased several from the same supplier all manufactured at the same time. At this point I would replace the spark plugs and use a different brand of ignition coil. 
Q. I own a 2005 Toyota Camry with 270,000 miles. I change the oil/filter every 3,000 miles. This is not my primary car; I use it for my side hustle to deliver food for two local takeout restaurants.  Recently, the oil light came on and there was no oil in the car.  I added oil, but now I have had to add about a quart of oil every 3-4 weeks. My mechanic said these Camrys are known for this problem and correcting it would be very expensive. What are my alternatives?
A. Some of the engines in Toyota products have been known to use some oil. That being said, at 15 years old and 270,000 miles, I'm not surprised the engine uses some oil. In my opinion, the most economical thing to do at this point is nothing. If this were my car, I'd check the oil on a regular basis, add oil as necessary, and drive the car in a reasonable manner.
John Paul is AAA Northeast's Car Doctor. He has over 40 years of experience in the automotive business and is an ASE-certified master technician. E-mail your car question to [email protected]