Car Guides
How do I keep squirrels out of my car?
John Paul, AAA Northeast's Car Doctor, answers a question from a car owner with a rodent problem.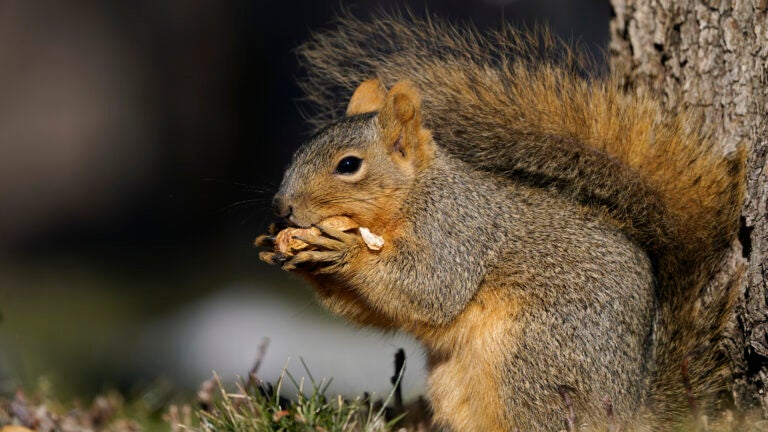 Q. Squirrels are getting into my car and storing their acorns there. I recently had several handfuls of acorns removed from the heater fan at a cost of $121, which I do not want to repeat often or ever again. But I have since heard a noise that sounds like acorns rolling around, so I guess the squirrels aren't done with me for the season. How can I prevent this from continuing? I have read about the use of mothballs, but I don't really know how or where to put them. Also, won't they create an awful smell inside the car?
A. Mothballs are not a good idea, since they are poisonous and pretty stinky. You could try fabric softener dryer sheets tied under the hood. Some other people have had good luck with oil of spearmint, which is not poisonous and smells pleasant. Some wildlife experts recommend using bitter apple spray or other spray-on animal repellents. I had an inventor on my radio program that developed a car cover that goes all the way to the ground and will keep out rats and mice, which  should work for squirrels. It is a bit bulky, but effective. The product is called Cover Seal. 
Q. I'm thinking of buying an electric scooter, maybe for quick trips but also to keep in the back of my SUV for emergencies. What do you know about e-scooters, and what do you think of the idea? 
A. I have seen e-scooters and rode a rental scooter, which was okay. I have seen some that claim speeds of up to 50 miles per hour with fairly long range. The average scooter in the $500-$1,000 range seems to have a range of about 25 miles and speeds of 15-20 miles per hour. The speed is less of a concern than power/torque and range. The idea of stopping from higher speeds (40-50 miles per hour) on tiny tires terrifies me. If I were to buy an e-scooter, I would be looking at range, motor power, overall weight (under 45 pounds), and carrying capacity. I would also want a scooter with some type of suspension to smooth out the ride, as well as a decent deck size for your feet.  
Q. I read an article about caring for your windshield in which you were quoted. The article was pretty thorough about improper cleaning, where the author talks about what not to do, but it did not go into what to do. How should you care for auto glass and proper cleaning? 
A. Here is the correct method to clean a windshield or any auto glass. Cleaning at extreme temperatures is difficult (below zero or over 90 degrees can cause issues with window cleaners). If the windshield is especially dirty or covered with tree sap, clean that first. Under normal circumstances start cleaning with a quality window cleaner (Mrs. Car Doctor likes Sprayway or Stoner Invisible Glass). Use plenty of paper towels. Once you are satisfied with the outcome, go over the window inside and out with a quality microfiber cloth. The microfiber cloth will pick up any missed filmy residue. Recently a listener to my radio show recommended Windex Electronic wipes. He said they did a great job of removing the film that builds up on the inside of the windshield. I have not tried those wipes yet. I have seen some shops buff the windshield with an electric buffer and specialized polishing compound to remove accumulated grime, grit, and even light scratches. To promote the life of the windshield, don't tailgate on the highway. Following other vehicles closely promotes sandblasting of the glass.  
Q. My 2008 Toyota Highlander has 80,000 miles on it. It runs great except that there are two warning lights that used to turn off after starting, but now stay lit. I took it to the dealership's service department for an 80,000-mile maintenance service and mentioned the issues. I was told that the sensor for the VSC would cost about $600 to replace and that the ABS could be another expensive fix. I had complete front and rear brakes replaced about 10 months ago. What do you recommend should be done?
A. I suspect the problem is related to one of the wheel sensors for the anti-lock brake system. The anti-lock brake system, although it works with the conventional braking system, is not something that is serviced during a brake pad/shoe replacement. When one of the wheel sensors fails, it will disable the anti-lock brake system as well as the vehicle stability control system and, in some cases, the four-wheel-drive system. If this were my car, I would want to get it repaired so all the systems work as they were designed. This is especially the case in winter. 
John Paul is AAA Northeast's Car Doctor. He has over 40 years of experience in the automotive business and is an ASE-certified master technician. E-mail your car question to [email protected]. Listen to Car Doctor on the radio at 10 a.m. every Saturday on 104.9 FM or online at northshore1049.com.