Car Guides
What's an inexpensive way to remove minor dents?
John Paul, AAA Northeast's Car Doctor, answers a question from a reader looking to get rid of some dings on his Corolla.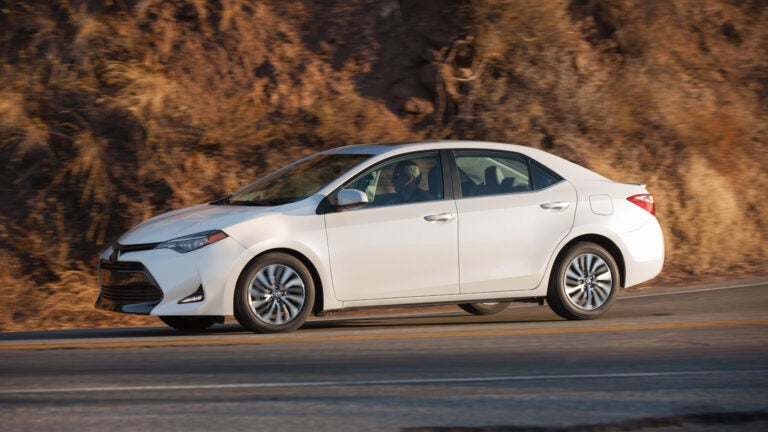 Q. My 2017 Corolla is in pretty good shape except for a couple of minor dings on the passenger and driver's doors. What is the best way to remove them without spending a fortune at a body shop? 
A. If it's just dents and dings, I've had good luck with paintless dent removal. In this procedure a technician pushes the dent out with a special tool from behind the dented body panel. If the paint is cracked or scratched, there are mobile paint touchup companies. Some dent shops and vehicle detail shops do this as well. If you cannot find one check with local car dealerships. Many dealers contract with these types of mobile services. 
Q. Somebody has been loosening lugnuts on vehicles parked outside in my driveway. My son was telling me about locking lugnuts. Before I invest in these for all our vehicles, I wanted to know what you know.
A. Locking lugs will at least keep you from having your tires stolen — usually. They use a specially designed lugnut that requires an adaptor/key to be used to remove them. You typically put one on each wheel. The only issue is that you need to hide the key in the car in case you get a flat tire and need to put on a spare. Many times, we end up towing a car because the owner can't find the key. At this point I would report the incident to the police, recheck all of the lugnuts for proper tightness (torque), and maybe buy a wireless security camera. 
Q. Last year I bought a 2019 Kia Soul with less than 4,000 miles. I noticed the engine makes a whirring sound when driving or when I take my foot off the gas. I mentioned it to a Kia dealer when I took my car in for an oil change. They said it is normal. Is it normal for this turbocharged engine to sound this way?    
A. When the turbocharger spools up it will make a unique noise, but it shouldn't be objectionable — noticeable yes, but not loud enough where you hear it over a radio set at normal volume. At this point you have it documented with the dealer (some of these models also had transmission issues which make a whining noise). If something happens, your used Kia has a very good warranty. If it gets louder, let the dealer know it is a problem and it needs to be repaired. 
Q. From time to time my 2008 Jeep Patriot's check engine light comes on and the gas pedal feels flat and unresponsive. I had the codes checked and the consensus is the engine needs a new throttle body. It is pretty expensive at about $400. Is there any other way around this? 
A. It certainly is possible the throttle body is faulty, and a used part or aftermarket throttle body may be a cheaper way to go. Before spending any money, check and clean all of the electrical connections to the throttle body. I have seen some poor connections that cause this exact issue.
Q. I own a hybrid 2013 Camry with only 27,000 miles and the dealer wants to power flush the transmission fluid and change the filter.  How can this be, since the owner's manual states the fluid has a 100,000-mile life unless you do heavy towing, which I don't? The dealer said the work needs to be performed because the car is eight years old and fluids have a shelf life.  They also stated the car needs a radiator flush and a brake fluid change. I said no. Did I do the right thing? 
A. According to the maintenance records I have for the Camry hybrid, there is no indication that the transmission fluid needs to be changed at this time. The brake fluid doesn't have a service interval and the coolant has a 100,000-mile service interval. Unless these vital fluids show signs of degradation, there is not a need to change them at this time. Although not directly related, there have been a couple of problems with the brake vacuum power booster leaking that may be worth watching. If you did opt to change the fluids, there wouldn't have been any harm other than to your wallet.
Q. Almost 15 years ago we purchased a Toyota RAV4. It has a four-cylinder engine and has only 99,000 miles on it. I took it in for the usual service and I had them check for a whining noise. They checked everything and agreed they heard it but couldn't find anything wrong. They checked the car from top to bottom and didn't find anything. The noise happens at low speeds and it is driving me nuts. Any ideas? 
A. I would start by driving with a technician so you can demonstrate the noise. Once they hear the noise I would remove the serpentine drive belt (just for a minute for testing) and see if the noise goes away. I suspect the issue is a noisy idler pulley. Over the years Toyota has come up with a new design pulley and mounting bolts and washers.
John Paul is AAA Northeast's Car Doctor. He has over 40 years of experience in the automotive business and is an ASE-certified master technician. E-mail your car question to [email protected]. Listen to Car Doctor on the radio at 10 a.m. every Saturday on 104.9 FM or online at northshore1049.com.