Car Guides
What to know about the new 2021 Jeep Wrangler, Grand Cherokee, and Wagoneer
Including features, price, and availability.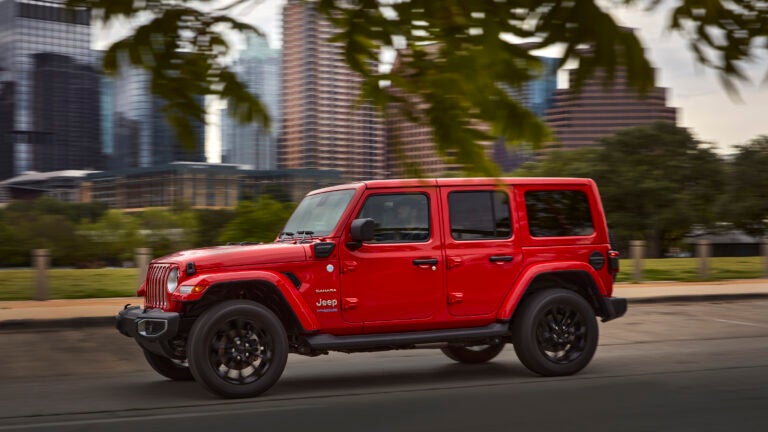 If you're in the market for a Jeep, there are some compelling new options from which to choose: the first plug-in hybrid available in the U.S., the introduction of a three-row Jeep, and the resurrection of an old nameplate that will bring new luxury to the Jeep brand.
Here's what's new from Jeep and when you can expect to see these vehicles at your local dealership.
2021 Jeep Wrangler 4xe
The Jeep Wrangler is an off-road superstar. It comes in a range of trims with a choice of engines, but those choices haven't included a hybrid. Until now: This year brings the introduction of the first plug-in hybrid Jeep Wrangler. It's called the 4xe, pronounced "four by e," and it adds a whole new dimension to off-roading.
Power comes from a 2.0-liter turbocharged four-cylinder engine and two electric motors with a 400-volt, 17kWh battery pack. This gives the Wrangler 4xe 375 horsepower and 470 pound-feet of torque. It's a responsive powertrain with instant torque delivery and a 0-60 miles-per-hour time of only 6 seconds.
It gets an EPA-estimated 49 miles-per-gallon equivalent with an all-electric range of roughly 21 miles. A choice of E Select drive modes lets you decide how to use that electric range. Hybrid mode switches between gas and electric as needed while electric mode uses the battery until it depletes. There's also eSave mode, which uses just the gas engine.
Holding onto the electric power until you're ready to off-road creates a wholly unique off-roading experience. Without the noise of the gas engine, all you hear are the sounds of the outdoors. Birds, crickets, and burbling creeks suddenly become a welcome backdrop to your drive. Jeep is even installing Level 2 chargers at select trailheads, which are free for 4xe owners, so you charge-up before you venture out.
The Wrangler 4xe is available only as a four-door in a range of three trims. Standard features include 20-inch wheels, leather-trimmed seats, LED lighting, 8.4-inch infotainment touchscreen, and nine-speaker Alpine audio system. There's also standard four-wheel drive with heavy duty wide axles, ground clearance of 10.1 inches, and the ability to ford up to 30 inches of water. The Jeep Wrangler 4xe starts at $47,995 and is available now.
2021 Jeep Grand Cherokee L
The Grand Cherokee is a full-size SUV with two rows with seating for up to five. The new Grand Cherokee L adds a third row and takes seating up to seven. It delivers a rich, upscale experience with a beautiful, roomy interior and, since it's a Jeep, you can still take it off road and tackle challenging terrain.
There are three available off-road systems, adjustable air suspension, and the ability to ford up to 24 inches of water. It also has 10.9 inches of ground clearance for conquering rugged off-road drives. This is a big, luxurious SUV that's ready to get dirty.
The generous third row easily accommodates two adults with enough room for even the six-foot crowd to get comfortable. There's also impressive cargo room with up to 84.6 cubic feet behind the first row along with a maximum tow rating of up to 7,200 pounds.
The Grand Cherokee L is available in a range of six trims with either rear-wheel or four-wheel drive. It ranges in price from $36,995 for the base Laredo and tops out with the ultra-luxurious Summit Reserve at $61,995. There's also a choice of either a 3.6-liter V6 or a 5.7-liter V8 engine with added horsepower and torque that's ideal for towing. Look for the Grand Cherokee L in dealerships this summer.
2022 Jeep Wagoneer and Grand Wagoneer
Jeep is bringing back a much-loved nameplate with the all-new Wagoneer and Grand Wagoneer, which have three rows of seating and room for eight people. These full-size luxury SUVs will sit at the top of the Jeep lineup and offer the capability of a Jeep, the versatility of an SUV, and the amenities of a luxury car.
The Wagoneer will be available in rear-wheel or four-wheel drive in a range of three trims. Pricing will start at $57,995 for the base Series I and climb to $72,995 for the Series III. Standard features on the top trim include Nappa leather, a heated second row, and a 10.1-inch infotainment touchscreen.
The Grand Wagoneer will be four-wheel drive only and come in a range of four trims. Pricing starts at $86,995 with standard features including 24-way power front seats, premium 19-speaker audio system, and a 12.0-inch infotainment touchscreen. The top trim of the Grand Wagoneer comes in at $103,995 with a 10.2-inch front passenger screen, quilted Palermo leather seats with massage, front console cooler bin, and 23-speaker audio system.
These are true luxury SUVs, but with all the capability you'd expect from a Jeep. There's a choice of two V8 engines that provide the horsepower and torque to get up to speed and handle towing. Three available four-wheel drive systems with available air suspension ensure off-road terrain is no trouble. Whether its highway cruising or off-road adventuring, the Wagoneer and Grand Wagoneer have you covered. This vehicle is being released for the 2022 model year, so it'll likely be a few more months before it arrives in dealerships.
Newsletter Signup
Stay up to date on all the latest news from Boston.com