Car News
Hyundai plays catch-up with new subcompact SUV
Hyundai arrived late but now plans to increase its bet on SUVs.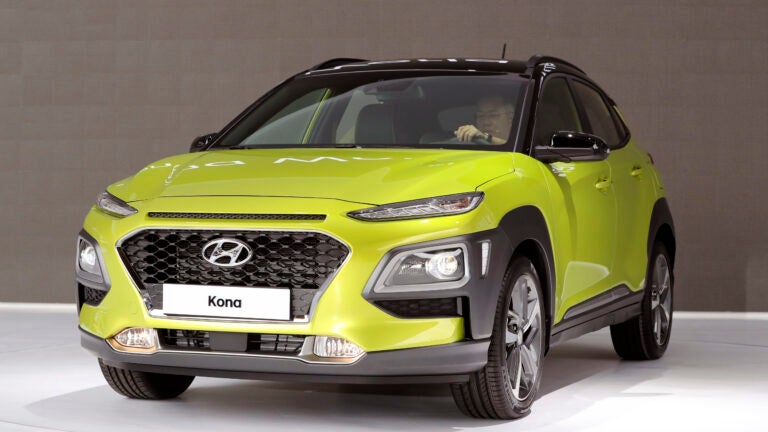 SEOUL, South Korea (AP) — Hyundai Motor Co. is playing catch-up in the fast-growing sport utility vehicle market with its first subcompact SUV targeting Europe and North America.
The South Korean automaker said Tuesday that the Kona will go on sale this month in South Korea before it launches in Europe and North America.
Hyundai Motor has long focused on the Sonata and other sedans, which helped build it a reputation in the West as a maker of cars that are excellent value. But in recent years, most growth in global auto markets, especially in China, has come from SUVs. Hyundai's deteriorating profitability and missing of its annual sales targets in recent years were attributed to its failure to respond to rising global demand for SUVs.
Hyundai arrived late but now plans to increase its bet on SUVs.
With the launch of the Kona, Hyundai is seeking a slice of the subcompact SUV market — the fastest-growing sector in the auto market. The sector snowballed by nearly 10 times from 2010 to 2016, Hyundai said, citing data from IHS Automotive. This year, the segment's annual growth rate is expected to be 19 percent.
Hyundai Motor has only four SUV lineups, including Creta, a subcompact SUV targeting emerging markets. Tucson and Santa Fe cater to buyers seeking medium and large SUVs. The company plans to expand its SUV models by 2020 by adding mini SUV and executive vehicles, among others. Before the summer of next year, it will launch a fuel-cell SUV and electric Kona.
Sales of Kona would be crucial to help counter Hyundai's eroding auto sales this year in the U.S. and China, where a backlash against South Korea's deployment of a U.S. anti-missile system hurt Korean businesses. In the domestic market, Hyundai has a challenge of having to restore its image following massive government-led recalls. Kona, equipped with a 1.6-liter gasoline or diesel engine, will compete with Ssangyong Motor's Tivoli, the leader in the subcompact SUV sector in South Korea.
Showing the importance of the Kona to the South Korean automaker, Chung Eui Sun, Hyundai's vice chairman and son of its chairman, took the stage Tuesday at a launching event north of Seoul. Named after a district in Hawaii, the Kona continues Hyundai's tradition of naming a vehicle after a particular region.