Car News
Why did those Mass. Pike lane closures end so early?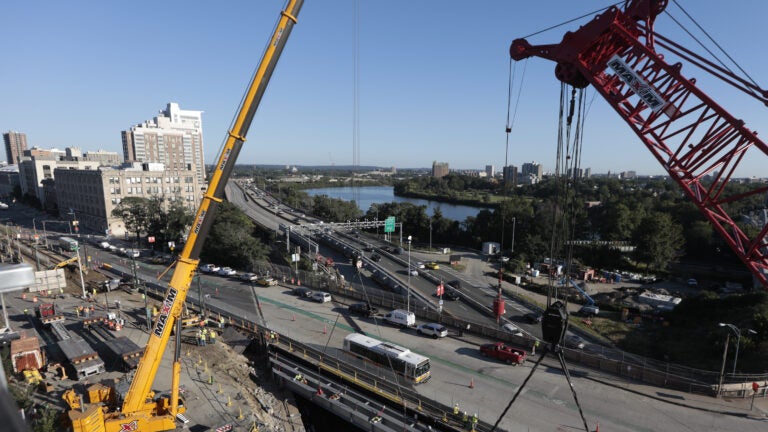 The Massachusetts Turnpike on Monday morning was back to its normal pace through Boston, with four lanes of traffic open in each direction.
Monday was always supposed to be a turning point for the Commonwealth Avenue bridge project that since late July has disrupted travel on the Massachusetts Turnpike, not to mention on Commonwealth Avenue and the stretch of the MBTA's Green Line that runs along it.
With the bulk of this year's bridge work complete, the highway was set to increase Monday morning from last week's setup of two lanes each way to three lanes through Aug. 28.
Instead, drivers were treated Monday morning to a full-capacity highway from the Allston-Brighton Interchange to the Beacon Street bridge.
So what gives? Why did all lanes reopen so early?
The state planned to stay at three lanes for three more weeks as workers cleared equipment, highlighted by a 157-foot, 440-ton red crane that has towered over the Pike during lane reductions and was supposed to quarterback the project. Prior to construction, acting highway administrator Jonathan Gulliver said the crane, shipped from Kentucky on 22 truckloads, was the largest deployed for roadwork in Massachusetts.
However, officials overestimated how much they'd need the crane and how long its removal from the road would take.
MassDOT spokesman Patrick Marvin said the crane was not needed as much as expected because officials were able to rely more on a smaller crane positioned on Commonwealth Avenue.
That allowed the state and its contractor, Walsh Construction Co., to adjust their strategy and begin removing the crane early. While officials had planned to break it down in small portions along the reduced-lane highway, workers instead disassembled it in larger sections throughout the day Sunday and took it off the road.
The state will still need to periodically reduce lanes as the project is wrapped up, but those reductions will be short-term and come during off-peak hours, Marvin said.
The section of Commonwealth Avenue that runs above the Pike and a stretch of the Green Line's B branch will remain closed for another week as new tracks, sidewalks, and surfaces are installed along the reconstructed bridge.
And this doesn't mark the end of Pikeapalooza, since only the eastbound portion of the bridge is being rebuilt this summer. The $82 million project will continue next summer when the other half of the bridge undergoes similar work, so Pike commuters may want to start preparing now for those 2018 closures.