Car News
Automakers build war chests to finance a self-driving future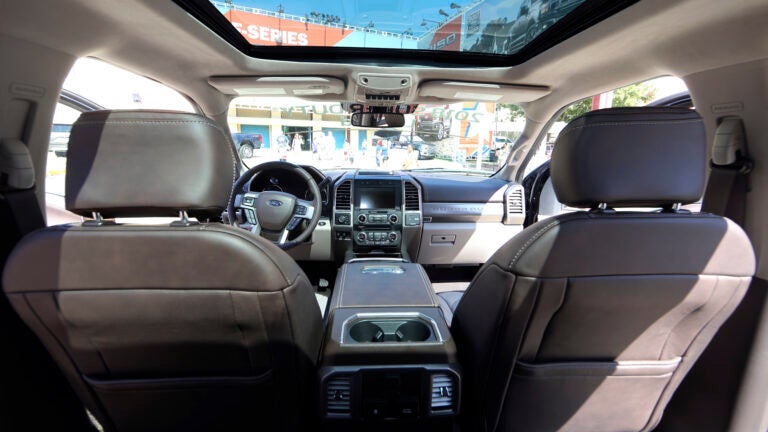 DETROIT — Detroit's Big Three automakers are showing a new sense of bottom-line discipline as they angle for any advantage in the race with Silicon Valley, and one another, to develop the cars of the future.
This week, the companies — General Motors, Ford Motor and Fiat Chrysler — reported earnings that highlighted the underlying strengths in their basic business of building mass-market vehicles, particularly hot-selling trucks and SUVs.
Ford was the latest to weigh in, announcing Thursday that robust sales of its bellwether F-series pickup had fueled a $1.6 billion profit for the third quarter, a 63 percent increase over the same period a year ago.
And like General Motors and Fiat Chrysler, which reported their results earlier in the week, Ford needs to keep squeezing more profits from mainstream products to finance the new technology necessary for electric and self-driving models.
"We have a clear path to leverage what we've done historically," said Jim Hackett, who became Ford's chief executive five months ago. "Our first priority is to restore revenue and attack costs."
Hackett's predecessor, Mark Fields, was ousted in May after he failed to deliver the high-tech strategy that investors were anxious to see for future growth.
Hackett has reorganized his management team with an eye toward incremental improvements in the more mundane aspects of the business, such as cutting material costs and streamlining production, as a prelude to making larger investments in electric-powered models driven by computers. It also announced a long list of senior management appointments and departures this week.
"We are committed to transforming our business," Hackett said of his company's efforts to bring new driverless technology to market. Yet he seemed most proud on Thursday that Ford had achieved 8 percent operating margins on vehicles it builds and sells in the North American market.
That is the type of performance that the Detroit companies must achieve to win over investors, who remain leery of the domestic manufacturers because of their roller-coaster financial histories.
It was just eight years ago that both GM and the former Chrysler needed bankruptcies and government bailouts simply to survive.
For its part, Ford weathered the last recession without the benefit of Chapter 11 or federal aid — but only after it borrowed heavily and sold off divisions to generate the capital it needed to stay alive.
Now all three manufacturers are committed to reining in costs, aligning production volumes with demand, and reducing unprofitable sales of slow-moving vehicles to corporate fleets and rental-car companies. The Chrysler half of the Italian-American company Fiat Chrysler has gone a step further by dropping most small and midsize passenger cars from its lineup.
Its focus on Jeep SUVs and Ram pickups helped Fiat Chrysler post record third-quarter earnings of about $1.1 billion, an increase of 50 percent over the same period a year ago.
The results drew praise from one analyst because of the company's aggressive approach to maximizing shareholder value. "Fiat Chrysler has continued a relentless restructuring of its brand portfolio to de-emphasize areas where it couldn't make money," the analyst, Adam Jonas of Morgan Stanley, wrote in a research note.
The earnings announcements this week were welcomed on Wall Street, with Ford's shares gaining almost 2 percent on Thursday.
But attacking costs and shifting investment to more popular products may not be enough for automakers to sustain strong profits if market conditions continue to weaken.
Overall sales of new vehicles in the United States have fallen about 2 percent so far this year, after back-to-back record years. An overhaul or abandonment of the North American Free Trade Agreement — which is being renegotiated by the United States, Canada and Mexico — could also upset the delicate balance of production and parts manufacturing spread over the region.
Competition is also getting stiffer, as companies such as the Japanese automaker Nissan expand their SUV lineups and underperforming automakers such as the German giant Volkswagen rev up their expansion plans.
Still, the healthy profit reports out of Detroit are becoming a proof point that the major domestic carmakers are better prepared than ever for a longer-term downturn in demand.
Some of the biggest changes are underway at GM, the nation's largest automaker. The company has made major moves in recent months, such as selling its unprofitable Opel-Vauxhall unit in Europe. Moreover, GM slashed its third-quarter production in North America by about 25 percent to respond to weak demand for many of its passenger car models.
The company reported a loss of $3 billion for the quarter, mostly because it is still absorbing hefty charges for the sale of the European assets to the French carmaker PSA Group. But GM reported 8 percent profit-margins on vehicles it did sell in its home market, and pledged to stay focused on selling fewer, but higher-priced, vehicles.
GM's chief financial officer, Chuck Stevens, told analysts on a conference call that the results demonstrated "the resilience of our core business" in the face of declining consumer demand. "This was a solid quarter even with significantly lower volumes," he said.
But as overall sales in the United States continue to slowly erode, the companies must maintain discipline on production schedules and refrain from piling sales incentives on poor-performing models. "The market is more challenging than expected," Stevens said.
Strong balance sheets are essential if the automakers are going to dedicate more spending and resources to expensive strategies for self-driving and electric cars. GM, for example, is continuing to build on its acquisition of the software firm Cruise Automation in its efforts to put fully autonomous vehicles on the road.
The company recently acquired a small laser-imaging company to augment Cruise's work on outfitting all-electric Chevrolet Bolts with the most advanced self-driving equipment. And GM is building more Bolts for autonomous-driving tests in New York and elsewhere.
Mary T. Barra, GM's chief executive, told analysts that the company was also looking at potential markets for self-driving vehicles outside the United States. "Absolutely, we are going to be looking globally," she said.
And even Fiat Chrysler, which has been slow to join the race to develop autonomous vehicles, served notice that it was now in position to accelerate its self-driving program in partnership with the German automaker BMW and suppliers like Delphi and Intel.
"We're not laggards here," the company's chief executive, Sergio Marchionne, said on an analyst call. "We've just chosen our spot carefully before we started playing."