Car News
Tesla's Elon Musk reassures investors over Model 3 delays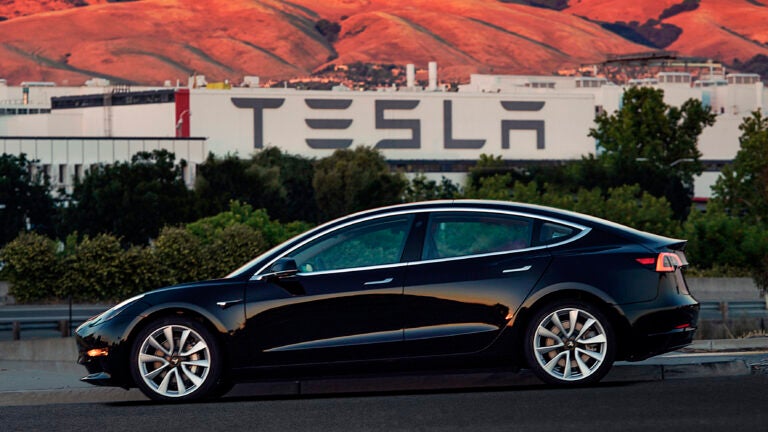 A year ago, Tesla's chief executive, Elon Musk, pledged to revolutionize auto manufacturing with a major expansion of the company's electric-car factory in Fremont, California.
But after disrupting the automotive world with innovative technology, stunning designs and its commitment to an all-electric lineup, Tesla is hamstrung on the most basic part of the car business: getting new vehicles built on time.
On Wednesday, Musk sought to calm investors over production delays in Tesla's first mass-market offering, the Model 3, portraying the problems as no more than temporary glitches associated with bringing a new vehicle to market.
In a letter to shareholders, Musk said he expected Tesla to be producing 5,000 Model 3 cars a week by early next year.
"While we continue to make significant progress each week in fixing Model 3 bottlenecks, the nature of manufacturing challenges during a ramp such as this makes it difficult to predict exactly how long it will take," he said.
The company attributed its slow pace so far to difficulties in producing battery packs at its Nevada plant, called the Gigafactory. It also said that welding processes and final assembly tasks in the Fremont factory were moving more slowly than other parts of the manufacturing system.
"The Model 3 production process will be vastly more automated than the production process of Model S, Model X or almost any other car on the market," said Musk, referring to the company's established models. "Bringing this level of automation online is simply challenging."
Getting to market with the Model 3, which will carry a base price of about $35,000, has been a humbling experience so far. Tesla built just 260 Model 3 sedans in its most recent quarter — considerably short of its target of 1,500.
And the sluggish pace has coincided with a rash of job cuts and allegations of lax safety standards on the assembly line from its workers.
While Wall Street analysts and media coverage have focused on the shortfall in Model 3 production, Musk concentrated Wednesday on the fact that Tesla expected to deliver record numbers of its higher-priced Model S sedans and Model X sport-utility vehicles in the last three months of the year.
But the company also reported wider losses than expected for the quarter that ended Sept. 30. Revenue from auto sales increased 8 percent to $2.08 billion, compared with the same period a year ago, but the company lost $619.4 million, versus posting a profit of $21.9 million in the third quarter of 2016.
Tesla shares were off about 4 percent in extended trading after the earnings report and the production update, falling below $308, more than 20 percent lower than their midyear peak.
And even as the company is making plans for a factory in China and possibly more plants in the United States, some analysts are questioning Tesla's overall competence in the intricate processes of mass vehicle production.
One analyst, Clement Thibault of Investing.com, said Wednesday that Tesla's vertically integrated manufacturing system — which includes building many of its own major components, like batteries and seats — is out of step with tried-and-true industry practices.
"There's a reason traditional car companies have an established decentralized business model," Thibault said. "Tesla believes it can centralize the process, but lacks any real world evidence to back up its claim."
Since it began production in late summer, Tesla has sold the new Model 3 only to its employees, rather than begin filling the hundreds of thousands of orders from buyers who have put down $1,000 deposits.
While Musk has said the employee-only sales strategy was meant to reward Tesla's workforce, analysts have surmised that it was also a way to discover and correct quality problems before the vehicle is made available to the public.
The bottom line, however, is that Tesla has yet to prove that it can meet the huge demand it has created for the new Model 3, and that it is capable of joining the big leagues of auto manufacturing.
Further delays will most likely benefit competitors such as General Motors and Nissan, which offer electric vehicles in the Model 3's price range. And new electrified models are in the works from automakers like Volkswagen, Daimler and Toyota.
"At this point in the game, all eyes are on the Model 3," said Akshay Anand, an analyst with the auto-research firm Kelley Blue Book. "Tesla needs to ensure its production volume is achieved. But perhaps more importantly, Tesla needs to ensure the vehicle is being produced in a quality manner."
Tesla is experiencing a number of labor-related issues as it works to increase its annual production output to 500,000 vehicles a year from about 100,000.
Last month, the company fired hundreds of workers for what it described as subpar performance. But some workers have said that they were dismissed because they supported a union organizing drive conducted with the help of the powerful United Automobile Workers, which represents hourly employees at the three big Detroit automakers.
One worker, Daniel Grant, said he had supported the union effort because of unsafe conditions in the Tesla factory — and he believed he had been fired for it.
"Management pushed us hard, and it created very real risks for us working on the line," Grant said in an email. "That's why I wore a union T-shirt, and that's why I handed out flyers."
The UAW has joined workers to file complaints against Tesla with the National Labor Relations Board, accusing the company of harassing and dismissing employees for their organizing activities.
"I don't believe I was fired for performance," said Grant, who said he had been injured on the job and fired a few days later.
Workers have said that Tesla's production systems can cause injuries linked to repetitive stress. Other employees say that they were not properly trained to handle some hazardous chemicals, and have experienced burns, rashes and eye injuries.
Tesla has said that the dismissals were based only on performance reviews and that it would never act against employees based on their union views. It will not discuss individual cases.
While Tesla acknowledges that the plant's injury rate has exceeded industry averages in the past, it says on-the-job injuries have been steadily declining.