Car News
Wheels drive auto industry forward, in showrooms and aftermarket shops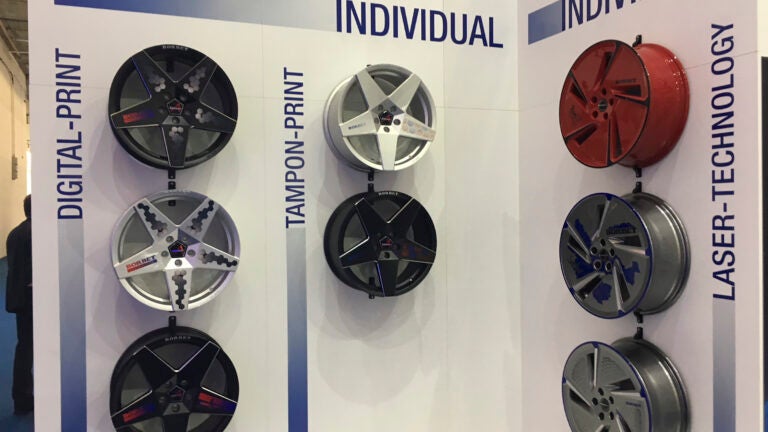 The inventor of the wheel is long lost to time, but Craig Donnelly sends his thanks anyway.
Donnelly, who runs the U.S. operation for the German wheel maker BBS, is driven by wheels: cast alloy, magnesium, forged aluminum, painted silver or black or titanium, large enough to fill a wheel well on a Ford truck or dainty enough to fit a decades-old MG sports car.
BBS is one of several companies that cover both sides of the automotive wheel world: making flashy stock wheels built specifically for carmakers, as well as aftermarket replacements for car owners who are seeking better performance or more personality. And the buyers are not necessarily the hot-rodders and street racers you would expect.
"Overall, wheel design and colors options and styling is more in line with where the market is nowadays," Donnelly said.
For many drivers, the spinning metal on our cars is a nonissue, usually worthy of attention only if it bends, or cracks, or breaks. Tires require more attention, with pressure warning lights and all the hazards that may illuminate them. Considering the abuses they suffer, tires are generally reliable on-the-road companions. But they are usually a sooty black, and often aren't much to look at.
But wheels, even in that same hue, are jewelry for your car.
"Black wheels, very popular," said Matt Edmonds, executive vice president of the Tire Rack, one of the nation's largest aftermarket wheel retailers. "Five-spoke wheels are resurrected. Mesh wheels. In the SUV market, people want an off-road racing look, with fake assembly bolts. It's like any fashion industry."
The Tire Rack has seen the benefits — its sales of aftermarket wheels have increased 25 percent since 2009, Edmonds said.
"The market mix has also changed in the past five years," he said. Demand for aftermarket car wheels is down, but sales of truck and sport-utility wheels are up 30 percent, he said.
At 72, John Nordquist, a real estate manager in Chicago, is always going for the right look. With five cars and trucks in his family, including a 1978 Chevrolet Corvette and a 1995 Chevy pickup, he buys wheels the way that some people buy sneakers.
Nordquist has 20 wheels on the road, plus spares, and at least another set of wheels and tires for each vehicle, usually going up in size for the replacements.
"When you're over 70, it's OK to look cool," he said. "I want my cars to look just a little different than the run of the mill."
Wheel aficionados — from classic car enthusiasts and dedicated racers to off-roaders — can choose from a dizzying array of looks and brands. And they don't necessarily have to leave the showroom to do it. Most original equipment manufacturers, or OEMs, offer customers upgraded wheel choices — larger rims, different colors, sexier designs — when they order the car.
"More often than not, buyers ask about the wheels on a new car," said Peter Fearon, a sales consultant at Helms Brothers Mercedes-Benz in Queens.
Ordering upgraded wheels has broad appeal. "While men are interested in doing that, many women are as well," Fearon said. A 2018 C Class sedan, for example, can be ordered with one of six optional wheel sets, ranging in size from 17 inches to 19 inches.
They can be a visible indicator of premium status when a new car rolls off the lot.
"Wheels are a key differentiator for AMG and play a major role in the purchase decisions of our customers," said Melina Evangelisti, a spokeswoman for Mercedes-Benz's AMG performance division. AMG's in-house engineers, like those at many carmakers, design the wheels for its vehicles and buy them from suppliers like OZ, Borbet and Enkei.
Aluminum alloys have replaced steel as the material of choice, making wheels lighter and reducing a vehicle's unsprung weight — the mass of its suspension components. Less unsprung weight, particularly in the wheels, is better: A heavier wheel is harder to get going and harder to stop once it is.
"That impacts the efficiency as well as the performance of the car," Edmonds said.
Dropping weight at the corners is crucial for race cars, and the quest to shave seconds off lap times has led engineers to use new materials, like forged magnesium and carbon fiber, which uses lightweight carbon fabric and special plastic resins to make feather-light wheels. Ford has developed carbon fiber wheels for its GT, and Porsche this summer introduced a set for its 911 Turbo S Exclusive Series that it claims are 20 percent stronger and lighter than normal forged alloys. The price in Europe for a set of four? Just under $18,000.
Donnelly may love wheels, but he's not sold on carbon fiber, yet.
"Magnesium is proven for racing, for OEM and the aftermarket, but carbon fiber doesn't have enough history yet in the marketplace," he said. "That will change rapidly. Resins will get better — they have a heat issue now — and the weave of the material will advance. And the price points will come down."
Buyers have reason to be cautious. While federal and state safety standards can be exhaustive for cars and SUVs, there are none that are enforced in the United States for wheels, Donnelly said.
"Germany and Japan have government regulations that require aftermarket wheels to meet certain quality standards and fit a vehicle correctly," he said.
That can make picking replacement wheels a tricky affair.
"You have to start with the vehicle," said Edmonds, the Tire Rack executive. "By doing that, you know what some of the technical specs have to be — not just the diameter and width, but also the bolt pattern, the offset, the load-carrying capacity of that wheel."
And then there are practical considerations. "If you're going to run those wheels in the winter, they need a finish that's durable and will handle the salt and the chemicals on the road," he said. "And the wheel needs to clear everything that's behind it, like the brakes and the suspension components."
The Tire Rack uses digital scanning equipment to create a three-dimensional model of the wheels it sells as well as the pieces behind them on specific vehicles.
"We can virtually fit the wheel on the car and ensure it will clear everything," Edmonds said.
For drivers who consider their car little more than an appliance, any rim will do. But for some, a wheel purchase is simply an exercise in expression.
"You have the people who want the vehicle to reflect themselves," said Rebecca Lindland, executive analyst at Kelley Blue Book. "We women notice jewelry, earrings. Wheels make a car that much more emotionally appealing."