Car News
Self-driving trucks may be closer than they appear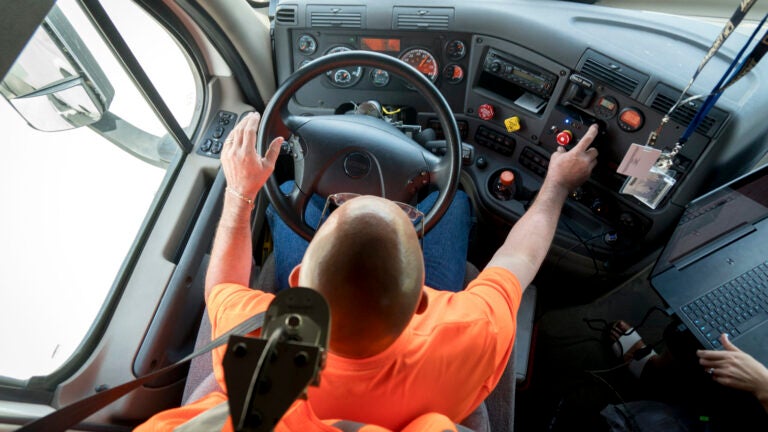 Trucks will someday drive themselves out of warehouses and cruise down freeways without the aid of humans or even a driver's cab — about that there seems little disagreement. The question is how soon that day gets here.
And while the answers vary — technologists, not surprisingly, are more bullish than truckers — billions of dollars and a growing parade of companies, from tiny startups to the country's biggest trucking operations, are betting it will be here sooner than most people think.
This year, companies and investors are on pace to put just over $1 billion into self-driving and other trucking technologies, 10 times the level of three years ago, according to CB Insights, which tracks the venture capital industry.
Tesla is widely expected this week to showcase an electric truck that will have some self-driving capabilities. And Embark, a Silicon Valley startup, is set to announce Monday that it has been testing its self-driving technology as part of a three-way partnership with the truck-leasing company Ryder and the appliance giant Electrolux.
"We are trying to get self-driving technology out on the road as fast as possible," said Alex Rodrigues, Embark's chief executive. "Trucking needs self-driving and self-driving needs trucking."
Unlike autonomous cars, which face questions about navigating chaotic urban streets, trucks spend a lot of time heading straight on desolate highways. And while the advent of the self-driving car will rest on the decisions of individual consumers, logistics companies are unemotional operators that will upgrade their fleets the moment it makes financial sense.
Trucking is a $700 billion industry that touches every corner of the economy. Trucks haul natural resources from mines and forests. They transport industrial building blocks from manufacturers and deliver goods to stores and homes. Virtually every physical product from food to paper towels and furniture has touched a truck several times by the time it gets to a consumer's hands.
The industry's size makes it a fat target for automation. Autonomous technology will help trucking companies reduce labor costs in the long run, first by extending the number of hours trucks are in operation, and later, by reducing the number of drivers. The industry spends billions of dollars a year on accidents that are largely caused by human error, and billions more on insurance premiums that should go down if and when self-driving technology is proven to be safer than human drivers.
The result is a furious race not just to develop self-driving trucks, but to get them on the road and making money. The chief executive of Waymo, the self-driving car unit owned by Google's parent company, has said that self-driving trucks may emerge before self-driving taxis. Uber has a self-driving unit — which was founded by a former Google engineer who is now at the center of a patent-infringement suit between the companies.
Even companies not explicitly chasing the goal of self-driving trucks are moving steadily toward a more automated future. The 7,000-plus trucks owned by US Xpress, one of the nation's largest trucking companies, have been updated with autonomous braking and collision-avoidance systems. Max Fuller, the company's co-founder and executive chairman, plans to upgrade them to have automated lane steering in three years.
"I'm putting building blocks into my trucks that each year gets us closer and closer," he said.
Companies have a lot to get through before they can start legally operating trucks without drivers. Beyond technical and regulatory hurdles, the industry is sure to be challenged by wild cards like how human drivers react to seeing a unmanned truck gliding down the highway and how regulators respond when the inevitable first deadly autonomous-trucking accident occurs. If such a backlash were to happen before the technology has been widely adopted, it could slow things for years.
But whenever self-driving trucks arrive, there will be economic ripples, affecting insurance premiums, truck stops, vocational schools and the roads themselves. "This is the most powerful thing to hit us since the building of the superhighways in the 1950s," said Noel Perry, an economist at FTR Research, which tracks the logistics industry.
Drivers Training Trucks
One afternoon in Florida, a 59-year-old career truck driver named Jeff Runions sat alertly in the cab of an 18-wheeler watching the road while his 11-ton cargo of stone tile made its way up the Ronald Reagan Turnpike. He was watching his steering wheel, too, but his hands were at his side: A computer was in control.
Runions works for Starsky Robotics, a San Francisco startup that for the past two years has been testing its self-driving technology by running freight up and down Florida. The runs help collect data and hone the technology, in hopes of convincing regulators and the company itself that self-driving trucks are ready for business.
There are still plenty of kinks. Sitting next to Runions was an Irish engineer named Rebecca Feeney Barry. As the vehicle spent hours driving past swamps and billboards for accident lawyers, Feeney Barry balanced a laptop on her knees and watched how the truck's sensors interpreted the road and nearby cars.
At one point the computer's "vision" briefly lost sight of the freeway because an overpass shaded the road. Later, the truck didn't take a turn hard enough, prompting Runions to grab the wheel. Feeney Barry logged all of it.
Later, after some computer code had been altered to tell the truck to tug the wheel a bit harder, it made a similar turn more smoothly.
"Sometimes it kind of messes me up when I go back to driving because now I'm used to the truck driving," Runions said.
Starsky's ultimate plan, of course, is to eliminate Runions' job. But they do not want him to be out of one. Stefan Seltz-Axmacher, Starsky's 27-year-old chief executive, foresees using self-driving technology to replace long-haul drivers on freeways, but having people like Runions navigate at either end of the trip with remote control consoles that look like an arcade racing game.
Drivers would go off to work in offices and might spend their day driving trucks through the last few miles of several different routes in several different cities before heading home for dinner.
"One driver can drive 10 to 30 trucks per day," Seltz-Axmacher said.
The March of Automation
Starsky's vision of a remote operation is unique. But the basic idea — having trucks drive themselves on highways and letting human drivers take over in complicated city environments — is something of an industry consensus.
"One of the big misconceptions about self-driving technology is that it is going to emerge and be able to drive all the time in all circumstances," said Alden Woodrow, product manager for Uber's self-driving truck unit.
As part of their partnership, Embark, Ryder and Electrolux are conducting what amounts to elaborate dry runs to imagine what self-driving-truck routes will look like. The runs start with human drivers leaving an Electrolux warehouse in El Paso and driving to the edge of the city, where they hitch the trailer to one of Embark's autonomous trucks.
From there the truck drives itself for 650 highway miles (with a safety driver in tow) to Ontario, California, where the Embark drivers transfer their trailer to another Ryder driver, who drives the final few miles to one of Electrolux's California warehouses.
"It's a mirror of what we would do if there weren't a driver inside," said Rodrigues, the Embark chief.
A few miles from Google's headquarters in Mountain View, California, a company called Peloton Technology is betting that there is a business to be built in a less radical version of automation. Peloton is on the cusp of rolling out a system that will make it easier and safer for trucks to travel one after the other on the highway, in a formation called platooning, helping them save gas by reducing wind drag.
Trucks with drivers already do this. But Peloton's technology aims to make platooning safer with a mix of cameras, sensors and networking equipment, allowing the trucks to talk to each other and helping to prevent the second driver from ramming into the first truck after a sudden stop.
Josh Switkes, the company's chief executive, said that because Peloton's technology helps drivers get better at doing something they are familiar with, he thinks it can be quickly commercialized.
"Our basic approach is let's bring real value to the fleet and society now," Switkes said.
Pitch to Drivers
Given that trucks are likely to need drivers for some time, it's no wonder that self-driving companies are almost universally pitching themselves as a friendly partner instead of a job killer. "You increase productivity, but also make the job more attractive," Rodrigues said.
And it's true: Trucking is a brutal job. Drivers endure long, tedious stretches where they are inactive but have to stay focused, and they spend weeks at a time away from home. For those and other reasons, the industry's biggest problem has been the scarcity and turnover of drivers, making it hard to keep up with shipping demand.
"We see this as a solution to the driver shortage and being able to redeploy them to the jobs they actually want," said Chris Nordh, senior director of advanced vehicle technologies at Ryder.
Goldman Sachs economists estimate that trucking will shed about 300,000 jobs per year — starting in 25 years. Clearly, that estimate is based on so many ifs that the precise number is not worth fretting over. The bigger point is that as technology gets better, it will start replacing jobs.
When Amazon went public in 1997, there was not much worry about huge job losses. Today, online retail companies require about one employee per $1 million of annual sales, versus 3.5 employees per $1 million at physical stores — a big reason that retail employment is falling by about 100,000 jobs per year, according to the Goldman report.
As the saying goes, predictions are hard — especially about the future. But you can learn a lot by looking at today's bets. Fuller, from US Xpress, has a 38-year-old son named Craig.
Last year Craig Fuller founded a company called TransRisk, which recently announced a $3.4 million venture capital investment. TransRisk logs millions of transactions and other market data to help trucking companies predict prices along with future supply and demand. Craig Fuller's bet is that as trucking becomes more automated, trucks will be in motion longer and routed by artificial-intelligence systems.
As that happens, he said, the business will be reshuffled. Companies like his father's — which exist, more or less, to manage armies of drivers — will compete with data companies that specialize in managing computers.
"When you take away the driver and have a business that is completely based on analytics, very few fleets will be able to survive that," he said. "I'm betting on data and information services. He's betting on owning equipment."