Car News
Automakers sought looser rules. Now they hope to stop Trump from going too far.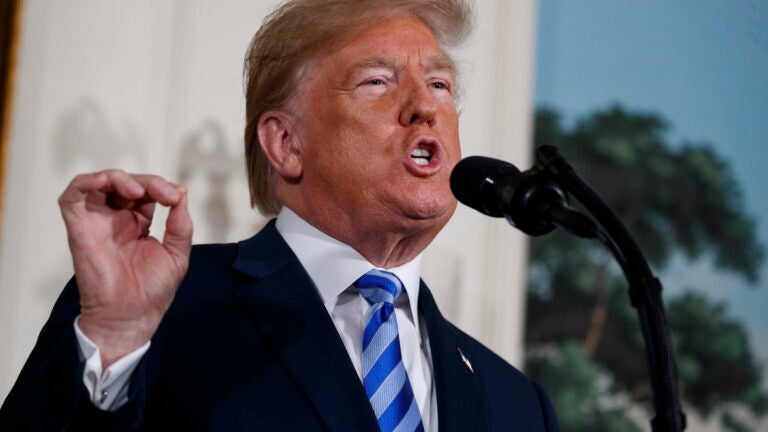 President Donald Trump on Friday is expected to meet with the chief executives of the world's major automakers to deliver a pointed message: Get on board with the administration's plan to dramatically roll back fuel economy requirements, according to interviews with four people close to the administration's thinking.
However, this past Tuesday in House testimony, Mitch Bainwol, the auto industry's top lobbyist, suggested that the automakers have a different message: They are continuing to urge the Trump administration, he said, "to find a solution that continues to increase fuel efficiency standards."
That sets up an awkward meeting with Trump. It is a tricky situation of the carmakers' own making.
"He has seen them on his side, and now there is disagreement about how far this should go," said Myron Ebell, who led the EPA transition team. The thinking was that "the automakers have succumbed to Stockholm syndrome" in their relationship to environmentalists, Ebell said. "They now identify with their kidnappers and need therapy to recover."
The auto industry, embracing Trump's promise of a more industry-friendly administration, lobbied aggressively for a relaxation of the strict Obama-era rules. But the administration ultimately went well beyond what the industry was seeking.
The administration's proposed fuel-economy rollback goes so far, in fact, that California and a dozen other states have said they will retain the stricter rules, threatening to split the U.S. auto market in two. Automakers are also facing a public backlash over their calls for looser pollution rules: The Sierra Club, the environmental group, said this week it had delivered a petition with more than a quarter-million signatures opposing the rollback to Ford's headquarters.
"Here we have a president who made a political decision and is about to browbeat industry to fall in line," said David Friedman, the acting administrator of the National Highway Traffic Safety Administration under President Barack Obama who is now director of cars and product policy at the Consumers Union, an advocacy group. "It indicates how political this is as opposed to analytical."
The automakers find themselves walking a tightrope.
On one hand, they are eager to stay in the good graces of a president who not only is intent on moving his deregulatory agenda forward but also is capable, if so inclined, of hurling insults at automakers on Twitter or pushing for damaging tariffs. At the same time, automakers are eager to find a way to work with California, which is intent on sticking with the Obama-era rules and has threatened to sue if the federal government gets in the way.
The White House did not respond to requests for comment.
Gloria Bergquist, a spokeswoman for the Alliance of Automobile Manufacturers, which represents major domestic and foreign automakers in America, said that "when the White House wants to meet with us about our sector and policy, we welcome the opportunity."
While declining to comment on specific arrangements being made with the White House, she said, "We will surely make this point to the president: We support continuous improvements in fuel economy but we need to align standards with market demand."
Bergquist added, "An agreement among the federal government, California and the auto industry is better than years of litigation."
The Environmental Protection Agency, which has led the regulatory rollback, has not yet made public its proposed standards to replace the Obama rules. However it has drafted a set of regulations together with the Department of Transportation that would freeze fuel-economy standards at 2020 levels for both cars and light trucks.
If adopted, the move would dramatically relax the Obama-era rules, which would have required new cars and trucks to average more than 50 mpg by 2025. (Because automakers can get credit for actions like using less-polluting refrigerants in air-conditioning units, the actual fuel economy of new vehicles was expected to be lower.)
The Obama-era rules would have cut oil consumption by about 12 billion barrels and reduced carbon dioxide pollution by about 6 billion tons over the lifetime of all the cars affected by the regulations, according to EPA projections.
Automakers had originally agreed to the rules with the proviso that the standards for the later years, 2022 to 2025, would be subject to a review. That review was in full swing in January 2017 when the Obama administration cut it short and finalized the standards, calling them "feasible, practical and appropriate."
The auto industry cried foul, and later that month executives from the Big Three automakers traveled to the White House to ask for more lenient emissions rules. That kicked off their rollback effort.
In its draft, the administration says that the technologies needed to increase fuel efficiency would raise the price of new vehicles, hurting car buyers. It also says that lighter, more fuel-efficient cars are less safe. And it challenges California's authority to impose its own vehicle standards.
A proposal set forth by California that remains on the table would keep the original fuel economy standards through 2025 but allow automakers to exploit more generous loopholes to meet those standards. In exchange, the Trump administration would commit to honoring California's authority to set stricter standards through 2030, which could set the tone for federal standards for those five additional years.
The administration's draft proposal, if adopted, would rule out such a compromise.
California's clean air regulator, the Air Resources Board, has said discussions with the Trump administration remain "unsubstantive."