Car News
As more cars plug in, utilities and makers juggle ways to power them
At the dawn of the automotive age, Henry Ford and Thomas Edison worked in tandem on projects involving motor vehicles and the electricity that made them possible.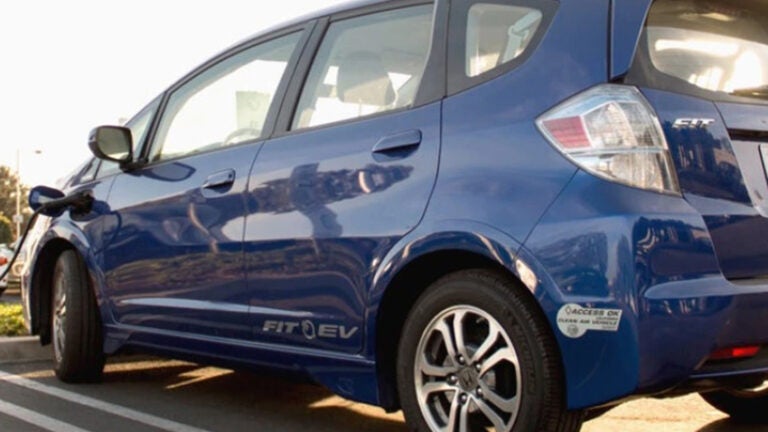 The car and electric power grew up together. At the dawn of the automotive age, Henry Ford and Thomas Edison worked in tandem on projects involving motor vehicles and the electricity that made them possible.
Soon Ford was cranking up his assembly lines, while Edison, with Ford in his employ early on, became a prime mover behind the power grid and the public utility companies that built it.
Now those utilities must not only supply the huge amounts of electricity that modern car factories consume, but also fuel the increasing number of electric vehicles coming out of them. If that electricity isn't generated with minimal carbon emissions and at a reasonable cost, the advantages of electric cars are diminished. And because most owners charge their vehicle in the early evening when they get home from work, demand peaks can be a significant problem.
Thus, automakers and utilities are again working hand in hand to ensure a good supply of clean, inexpensive electricity — while developing strategies for charging that don't overload circuits at peak periods — through improved efficiency, strategic charging and a greater reliance on renewable energy sources.
Honda and Southern California Edison have taken a step in that direction. They have developed a program, Honda SmartCharge, that helps owners charge electric vehicles when the greatest amount of renewable energy is available on the grid and when electricity prices, which can fluctuate significantly, are lowest.
The system relies on the vehicle's built-in communication ability and a software platform developed by eMotorWerks, a subsidiary of Enel, a multinational public utility that operates a diverse group of renewable energy power plants.
SmartCharge is in beta testing with Honda Fit owners in Southern California Edison's service area. Car owners download the free app and select preferred charging times. The software computes the best time to charge, considering the car owner's preference, how the electricity is being generated and pricing signals from the electric grid. Push notifications remind the car owner to plug in when the time is right.
Should the wholesale cost of electricity spike while the car is charging, the software can interrupt the process until the price drops. Car owners can opt out of a charging time if it doesn't suit their schedule, and they can opt out of the program at any time.
The program helps the Fit owner manage energy costs and currently offers a $50 bonus once five charging sessions have been completed. Additional $50 bonuses are awarded for every two months of participation. The effort helps Southern California Edison, too, by reducing demand at peak times.
Smart charging is almost certain to expand as the electric fleet grows and utility companies seek to balance demand.
BMW, which has a pair of all-electric models, is testing a charge-scheduling program, working with Pacific Gas and Electric in the Bay Area. It's limited to 350 vehicle owners at the moment.
General Motors also envisions an electric-powered future, and is laying the groundwork for it. In 2007, the automaker teamed with the Electric Power Research Institute and a group of U.S. utility companies to develop strategies for large-scale adoption of electric vehicles. The automaker is now collaborating with Consumers Energy, a Michigan public utility, in a pilot program that uses the OnStar communication system in GM vehicles to enable charging when electricity rates are low.
"Done right, EVs present an enormous load growth opportunity for utilities," said Britta Gross, director of advanced vehicle commercialization policy at GM. "Charging can be managed in such a way that it is advantageous to the grid, such as when the wind is blowing or the sun is shining, and it can be done without building new power plants."
The collaborative efforts of automakers and public utilities extend beyond charging cars. In a project that reflects the historical relationship of Edison and Ford, DTE Energy of Michigan is working with Ford Motor Company to develop an ultra-low-emission energy infrastructure for the automaker's Research and Engineering Center in Dearborn. When complete, the 600-acre installation will be home to 30,000 Ford employees in 20 renovated and new buildings.
An on-site power plant, owned by DTE, will provide 34 megawatts of electricity, much of it generated by low-emission gas turbines. Steam produced using the heat of the turbine exhaust will power another turbine generator. Ford will buy the excess steam and use it to replace high-emission boiler systems that heat older buildings. High-efficiency chillers will provide air conditioning for some buildings and cooling for equipment.
Rooftop solar arrays will supplement the power plant's electricity output. Ford's neighbors will benefit, too, as excess power will flow to the grid and can help prevent interruptions.
Across town, GM is collaborating with DTE Energy in an effort to reduce reliance on electricity generated at coal-burning plants. In 2016, GM teamed up with the utility to construct a solar array at its Warren, Michigan, transmission plant.
GM is also working with utilities and wind farms to power its Ohio and Illinois plants with 100 percent wind energy. GM plans to meet all its electricity needs with renewable power by 2050. That will require further collaboration.
In Germany, BMW is working with public utilities to make better use of the power grid. At its Leipzig factory — which, according to BMW, is among the most modern and sustainable car plants in the world — the automaker has built a battery storage farm using electric vehicle batteries.
Used batteries are removed from the company's research vehicles and repurposed in the storage system without modification. The power storage system can deliver enough electricity to power more than 500 average homes for a full day.
The system uses 500 new and used batteries as of now. As BMW's electric cars reach the end of their first life cycle, more used batteries will be added to the storage farm. Formal agreements with the electric power providers enable grid stabilization. Thus, both BMW and the public at large benefit.