Car News
The most expensive supercar at the New England Auto Show cost $1,105,087
A 2019 McLaren Senna comes in at over $1 million.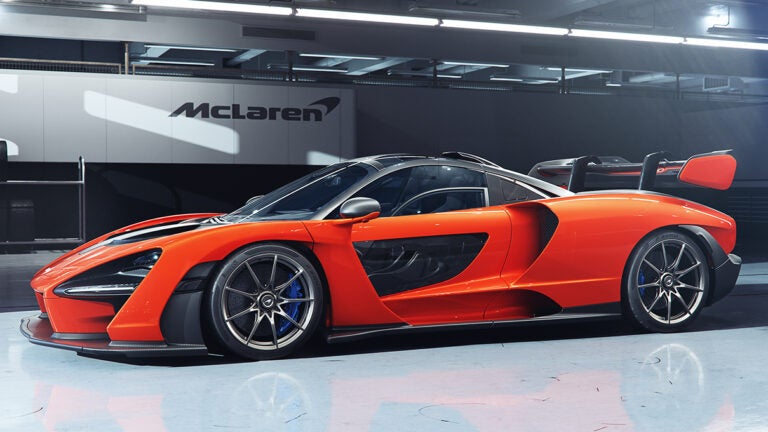 The New England Auto Show is back at the Boston Convention and Exhibition Center, giving you a chance to check out all the latest cars.
It's also a chance to get a look at some exclusive, expensive vehicles most could only dream of owning one day. This year's Supercar Speedway features a multi-million dollar collection of exotic vehicles from the likes of Bentley, Lamborghini, Rolls-Royce, and McLaren. (Disclosure: Boston.com is a media sponsor of this year's show.)
The most expensive supercar at the show is a 2019 McLaren Senna boasting a sticker price of $1,105,087. This is a limited-production vehicle; only 500 were produced, and it wasn't for sale to just anyone. McLaren offered the Senna to select buyers, and this particular car is currently in the collection of a private owner.
As mind-boggling as that price tag is, it's still less than you'd pay if you tried to get your hands on it now. If this collectable supercar went up for sale today, it would fetch in the neighborhood of $2 million, according to
"We're so excited to showcase the McLaren Senna with all of New England," Judge said. "I mean, how lucky are we to have one of only 500 cars in the entire world, right here in Boston?"
The Senna's base price was $958,966, but the buyer opted for a red and white Marlboro livery paint job, which added $100,346. There are also Rocket Red wheel center lock nuts for $3,659, Rocket Red aero blades for $4,390, and Rocket Red gas door struts for $1,830. Even the door sills are custom, which adds another $2,342.
Of course, plenty of luxury features come standard on a supercar, including a Carbon Black Alcantara steering wheel, touring seats, branded floor mats, and a cover to protect such an investment.
Interior options include a red six-point harness for $2,840, contrast stitching for $5,854, and a custom gas pedal for $1,830. There's also a Bowers & Wilkins seven-speaker audio system for $5,680.
Under the hood is a 4.0-liter, twin-turbocharged V8 with 789 horsepower and 590 pound-feet of torque that makes this the most powerful road car McLaren has ever produced. It accelerates from zero to 62 miles per hour in 2.8 seconds with a top speed of 208 miles per hour. It was designed for the track with a suspension system that incorporates technology developed for the P1. There's a Race mode that lowers the ride height, and the suspension reacts to your speed, stiffening for better handling as speed increases. The tires were specially designed for peak performance, too.
The 2019 McLaren Senna will be on display along with five more McLarens. These aren't the kinds of cars you'll see on your morning commute, so don't miss this rare chance to see them up close.
(Thursday, Jan. 17, through Monday, Jan. 21; Boston Convention & Exhibition Center. $15 for adults, $6 for children, and free for kids under six. Hours vary. Tickets and more info available at BostonAutoShow.com.)