Car News
'Everyday supercar': A new Corvette puts a target on Ferrari's back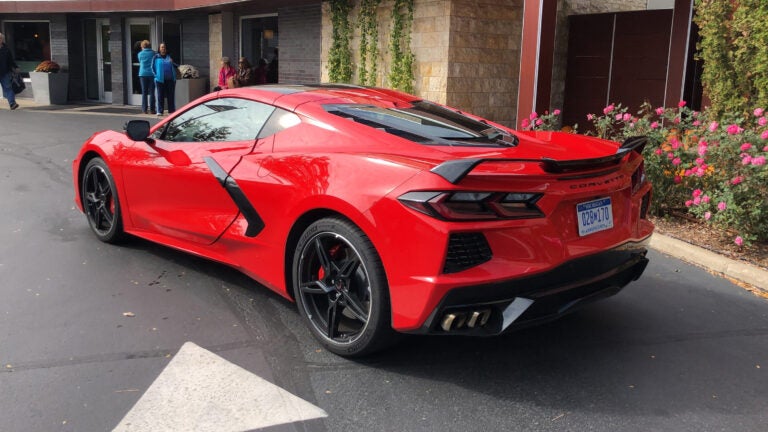 From its dream-car debut in 1953 at the Motorama show at the Waldorf-Astoria hotel, the Chevrolet Corvette has kept its engine up front, where sports-car tradition says it belongs.
But with sales of many fast, fun cars on the wane — blame the rise of dully practical SUVs, an aging boomer audience or a declining car culture — the Corvette's creators saw the need for a radical about-face. The 2020 Corvette Stingray has moved its engine behind the driver and passenger, adopting the physics-approved layout that brought Ferdinand Porsche his first racing successes in the 1930s. Today, this approach is associated with money-torching supercars from Ferrari, Lamborghini and McLaren.
The long-awaited "midengine" Corvette easily outruns its formidable predecessor, as I learned during a time-warping desert drive near Tortilla Flat, Arizona. The eighth-generation "C8" Corvette is earning rapturous reviews and dominating industry awards as a car that can take on European exotics that cost $200,000 and more but at a $59,995 base price that reads like a misprint.
"It's certainly a great moment in the car business," said Eddie Alterman, chief brand officer for Hearst Autos and a former editor-in-chief of Car and Driver. "It's nothing less than the democratization of the supercar."
At General Motors, that democratization includes a virtual decree that Chevy's relatively blue-collar baby generate vastly more sales than, say, its Porsche 911 nemesis, enough to earn its keep in profits. Yet sales of sports cars and muscle cars have plunged by nearly half since 2000, on track for just 230,000 this year, according to analysts at Motor Intelligence. A reborn Toyota Supra, despite huge fanfare, has found a lukewarm 500 buyers a month since its summer debut, fewer than one-quarter of the expected 25,000 to 30,000 first-year sales of the Corvette.
At Porsche, a single sport utility vehicle, the Macan, finds more buyers than all the brand's sports cars and Panamera sedans combined. Unsurprisingly, the world's speed merchants, including Lamborghini, Bentley and Jaguar, have developed SUVs into their bestsellers around the world, with entries from Aston Martin and Ferrari on the way. Some of those companies had vowed to never sully their names with a sport utility. Never mind.
Into this minefield steps Tadge Juechter. As just the fourth chief engineer in the Corvette's fabled 67-year history, Juechter holds one of the most scrutinized positions in the U.S. industry, his every utterance parsed for clues to the 'Vette's future.
The previous-generation Corvette, the first to wear the Stingray badge since 1968, also generated robust sales beginning in 2014. Yet Juechter and his team saw a car nearing its end, both in technical terms and its ability to win new buyers.
"We saw an aging demographic, the same faces at Corvette events year after year," he said.
That honking, 6.2-liter V-8 up front had become an Achilles' heel. The Corvette's top-shelf, $121,000 ZR1 edition was already pumping out 755 horsepower, keeping pace in an unprecedented industry horsepower war. Moving the engine aftward — shifting critical weight over driven rear wheels — became the only way to apply such monstrous force to the pavement while improving traction and stability.
The move risked alienating the Corvette's tradition-loving buyer base. At a design clinic for owners of various sports cars, Juechter discovered that current customers were split roughly 50-50 on the midengine switch. But among supercar owners that Chevy hoped to conquest, 90% favored it.
"We had to go for it," Juechter said. "We did it purely for physics rules, but the byproduct was that it would also appeal to a new generation. We try to respect the past but not be stuck in the past."
GM had teased the faithful for decades, experimenting with a midmounted layout in a series of fanciful prototypes, beginning with the CERV 1 (for Chevrolet Engineering Research Vehicle) in 1959. Finally, for the 2020 model year, the near-mythical midengine Corvette is here, including the coupe's Ferrari-esque view of its V-8, provocatively exposed below a glass cover.
The public's first glimpse of the car, in April, supported the Corvette engineering team's confidence. Juechter drove a prototype, its body work disguised by a black-and-white pattern, through a bustling Times Square, with Mary Barra, the GM chief, riding shotgun. Rolling, windows down, Juechter heard younger voices yelling, "Midengine Corvette!"
"We imprinted on young people a super passion for this car," he said. "Our job is to push that, that every drive can be a joy, an adventure."
Dodging Times Square tourists and Ubers in a 495-horsepower, roughly 190-mph sports car is one form of adventure. But in my Arizona test, including roller-coaster desert curves, this new model combined moonshot acceleration, handling, tech and versatility like no rival remotely near its price. That includes a 2.8-second catapult to 60 mph, on a par with a $250,000 Ferrari 488 GTB; a sharply improved, jet-fighter-inspired cockpit; and a GPS-based video data system that records street or track drives, overlays them with animated telemetry readouts and lets drivers analyze their performance with racing software.
"It doesn't have the operatic Sturm und Drang of a Ferrari or Lamborghini, but it really is an everyday supercar," Alterman said.
Fuel economy is surprisingly decent, roughly 26 to 28 mpg at a steady highway cruise. The Corvette is notably aerodynamic and can deactivate half its cylinders to save fuel. The latest driver-adjustable magnetic suspension, a GM-first technology now adopted by several European exotics, lets the 'Vette drive as smoothly as some luxury cars in its Touring mode, despite the sleeping-bear V-8 just over your shoulder.
"It couldn't be just a weekend toy," Juechter said. "A lot of people use this as their only car."
Perhaps because do-it-all SUVs are strong-arming sales — and definitely because today's fans won't put up with punishing rides or dodgy reliability — the worldwide trend is all about more practical sports cars that are safe and approachable for amateurs yet still rewarding for skilled pilots.
Many midengine exotics lack a trunk, because the engine hogs the space. Yet Corvette designers made room for a trunk that can fit two golf bags, in addition to the Porsche-style "frunk" up front where the engine used to go.
Even the carefree convertible model doesn't neglect its chores, with an ingenious powered soft-top that tucks away without stealing an inch of luggage space. Welcome practicality does bring a visual downside: The wide, chunky rear deck makes the 'Vette a bit back heavy.
Proper fits aside, wishful fans didn't find a little red-ribboned Corvette under their Christmas tree: A now-settled GM strike has delayed production until February. For Chevy's pampered halo car, only about 12 units each hour will roll off the production line in Bowling Green, Kentucky, down the road from the National Corvette Museum.
In anticipation of huge demand, more than 400 workers have been hired to fill a second daily shift, including employees laid off from Chevy's closed plant in Lordstown, Ohio. (GM plans to open a new battery plant there, part of a $2.3 billion joint venture with LG Chem of South Korea.)
Juechter is confident that Chevrolet can sell every Corvette it can build, for now. The real test comes after the initial frenzy subsides. Alterman points to an increasingly short, roughly 18-month shelf life for such high-profile performers, with fickle buyers and collectors always in pursuit of the hot new thing. He sees the Corvette borrowing from Porsche's ultra-profitable playbook, keeping the lineup fresh with myriad styles, performance upgrades and personalization options.
Although Juechter wouldn't comment on future models, the cottage industry of Corvette rumors cites development of a hybrid 'Vette with up to 900 horsepower.
The dominance of SUVs and the momentous shift to electrics has automakers playing offense.
Aside from an industry explosion of superpowered sport utilities, Ford ignited a controversy when it unveiled a Tesla-baiting electric SUV and called it the Mustang Mach E. The traditional Mustang is enjoying its own golden age of performance, including a bonkers Shelby GT500 with 760 horsepower and an affordable four-cylinder model that gets 32 mpg on the highway. Yet Mustang sales continue to tumble.
And while traditionalists are crying foul over the Mustang Mach E — first SUVs stole customers, now they're stealing legendary names — Alterman suggests that this heresy won't be the last. A five-seat, Corvette-branded SUV could be the most "everyday supercar" of all.
"You've got that sub-brand of the Mustang that's so evocative," he said, "so why not draw on it? There's an opportunity for Chevy to do the same thing."