Car Reviews
All-new 2018 Toyota Camry: A best-selling sedan gets a welcome upgrade
Toyota didn't hold back when it came time to introduce the all-new 2018 Toyota Camry.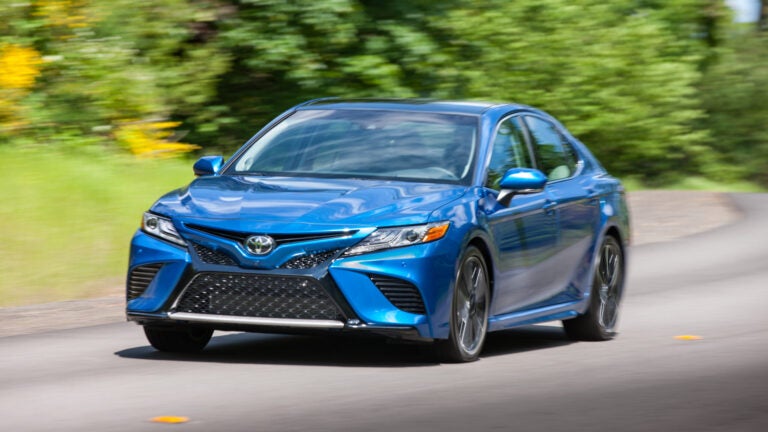 The Toyota Camry has been the bestselling car in America for the last 15 years. That's a long time at the top, so Toyota didn't hold back when it came time to introduce the all-new 2018 Toyota Camry. It truly is all-new with an updated design inside and out, three new powertrains, and the latest in safety technologies standard across the Camry lineup.
It all starts with what Toyota calls "TNGA," or Toyota New Global Architecture. The idea behind this design strategy is to continue the brand's reputation for building quality vehicles while making them more fun and more appealing. The Camry was always a great car and did the job, but it wasn't exactly exciting. Some might have called it boring, but the new Camry works hard to shatter that image.
Take a look at it and you immediately see how hard they worked to shed its reputation as a staid, unexciting sedan. There's more sculpting to the sheet metal, especially on the hood, and the car is longer, lower, and wider. These are the hallmarks of a sports car, which is exactly the excitement Toyota is aiming for with the Camry.
The interior gets a beautiful upgrade with available leather seats and new colors including a brilliant Cockpit Red that's anything but boring. Gauges are angled in the driver's direction, and the center console is redesigned with higher quality materials and an eye toward creating a more open, welcoming space for all passengers.
Toyota worked on ergonomics, positioning the driver's seat for optimum comfort and better road visibility. The rear seats are also redesigned to provide a nicer ride. The new seating is comfortable and supportive with minimal bolstering so larger occupants won't feel squished up front. Though not plush, the Camry's seats were well-suited to a full day of driving.
There's a choice of three new powertrains starting with a 2.5-liter, four-cylinder with 203 horsepower and 184 pound-feet of torque. The sporty XSE trim gets an extra three horsepower and two pound-feet of torque from the same engine. It's paired to a new eight-speed automatic transmission and gets an EPA estimated miles per gallon of 28/39 city/highway. The four-cylinder is available in all five trim levels — L, LE, SE, XSE, and XLE — and gets a slight boost in fuel economy to 29/41 in the base trim.
It had plenty of power and easily accelerated up to highway speeds. It was equally responsive when pressed for passing in heavy traffic, making it fun to drive. Yes, it's the good, ol' reliable Camry, but the handling and ride are much better than the last generation.
A wrong turn that was a wonderful mistake took us up the side of a mountain, and the switchbacks were no challenge at all. It's still a sedan, not a sports sedan, but Toyota delivers on the promise of a Camry that's finally fun. The ride is complemented by a quiet cabin with minimal road and wind noise.
Move up to the 3.5-liter V6, and you have 301 horsepower and 267 pound-feet of torque paired to the same eight-speed automatic transmission. It's available only on the XSE and XLE models and provides its extra horsepower at the price of fuel economy. EPA estimates are 22/33 for the XLE and 22/32 for the XSE. You get the same great driving characteristics as with the smaller engine, but with an even better response to a heavy foot on the gas pedal.
Hybrid fans have a Camry, too. It features a 2.5-liter, four-cylinder engine with 176 horsepower and 163 pound-feet of torque paired with an 88-kilowatt electric motor with a continuously variable transmission. If you're considering the hybrid, then you're limited to three trim choices. The SE and XLE have an EPA-estimated 44/47 city/highway while the LE is the superstar with 51/53.
The hybrid doesn't have quite the handling of its gas-powered cousins. The ride is heavier, and it doesn't slink through corners with quite the same vibrancy, but that's not to say it's no fun. It's different and not quite as sporty, but still a noticeable improvement over the last generation hybrid.
The 2018 Camry has Toyota's latest Entune 3.0 infotainment system along with App Suite Connect and navigation as standard features. There's a seven-inch touchscreen along with a six-speaker stereo system, but audiophiles will want the upgraded version. This adds a JBL audio system with nine speakers and offers a noticeable sound improvement over the base system. Siri Eyes Free, USB port, Bluetooth wireless connectivity, and an auxiliary audio jack are also standard on every Camry.
Along with new powertrains and a new look, the Camry also boasts the latest in safety technologies standard across the vehicle lineup. This includes Toyota Safety Sense with pre-collision and pedestrian detection, lane departure alert with steering assist, automatic high beams, and dynamic radar cruise control. Often these features are either unavailable or pricey add-ons for lower trims. Toyota deserves kudos for putting them on every Camry, no matter the trim level.
The base Toyota Camry L has a starting price of $23,495 with the top XSE V6 coming in at $34,950. Hybrid models run $27,800 up to $32,250. Competitive pricing is a large part of what makes the Camry such a big seller for Toyota. With its updated styling, improved drive, and exceptional standard safety features, the Camry continues to be a leader in its segment.
Nicole Wakelin is a contributor to BestRide.com and CarGurus.com; she can be reached on Twitter @NicoleWakelin.