Car Reviews
The 2017 Dodge Charger is the one for everyday driving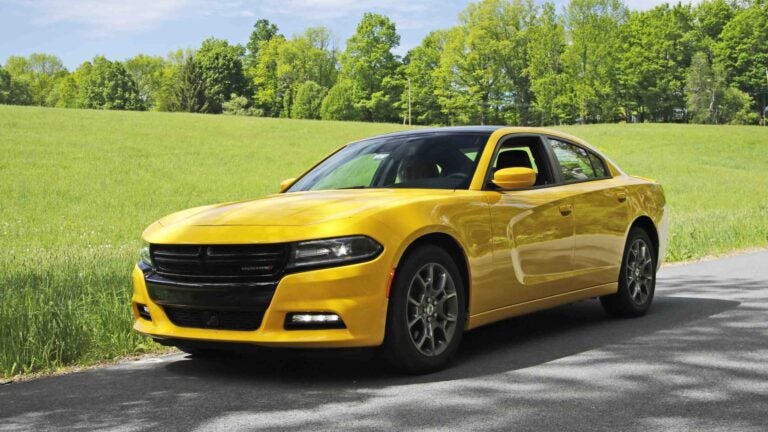 Maybe it was the color.
Today's test car is a bright "Yellow Jacket" yellow (duh!) 2017 Dodge Charger SXT Premium AWD with—did you doubt it?—lots of black trim.
As they say, you could see us coming. There's no hiding or blending-in with a car of this color.
People—bikers, pedestrians, other cars, motorcyclists—all had a similar reaction. They got out of our way.
It was like the Red Sea parting and not because we were blasting Ch. 63 praise music through the upgraded sound system.
Instead, maybe they thought it was one of the many Charger performance variants—a 707-horsepower Hellcat or the new 808-HP Demon.
It wasn't.
But even some hot-rod buddies asked if it were. They wanted it to be one of those beasts just to see and hear it.
That's because the Demon comes with amazing street cred. It's not that 808 horsepower rating, a number we repeat just because it's just so preposterous in this day and age. Instead, it's the documented ability to turn a 9.9-second run down a quarter-mile dragstrip with a 136 miles per hour speed at the finish. For old-school hot-rodders that's something like breaking the 4-minute barrier in running a mile.
So why did people make way for us? We're crediting a combination of the color and the car's silhouette, which now is associated with both law enforcement vehicles and high-performance vehicles.
The funny (ironic, not ha-ha) thing is that we had a pretty basic Charger.
It also turns out that it's probably the one I'd recommend buying.
When this "Yellow Bird" arrived in my driveway, I was not excited.
"Looks like a speeding ticket waiting to happen," was my first impression.
After a week of driving it in "super" early-summer weather, I've done a 180.
Frankly, I'd love to own this car.
It's made for a New Englander who needs a decent-sized vehicle for year-round driving.
Writing about a vehicle's steering, suspension, and powertrain, always is subjective.
For everyday driving, this one was perfect on all three fronts—steady steering, firm-but-comfortable suspension, smooth power.
We took friends for a midweek drive over hill and dale from Hampton, NH, to the Kingston (NH) Inn one evening.
The Charger had ample legroom all around, the perfect amount of power, and a comfortable ride as befitting its "large car" category even though it looks like a midsize vehicle.
FCA isn't putting out lots of new product these days.
Thus, we're inferring that they've put a lot of effort into making these current designs even better.
Our SXT has a base price of $33,090 (including destination).
The black painted roof (nice for our bumblebee edition) is $1,500.
A Rallye Group ($595) seems a value proposition, boosting horsepower to 300, adding an R/T trim badge (big for Dodge's MoPar aftermarket fans), spoiler, 19-inch black aluminum wheels, gloss black front fascia, and paddle shifters.
Decision time comes with the $5,995 premium package. It adds a full safety suite, including blind spot and rear cross-traffic detection, adaptive cruise control with emergency braking, full speed collision warning, plus lane departure warning with lane-keeping assist.
And there's more, including an 8.4-inch user-friendly nav screen, automatic high beams, seriously upgraded audio system, navigation, heated and ventilated front seats, heated rear seats and steering wheel, rain-sensing wipers and much more.
When folks ask about the car, they seem disappointed that the engine is FCA's proven 3.6-liter Pentastar V-6. It may not excite the gearheads, but it makes 300 horsepower and 260 lb.-ft. of torque and does the job smoothly, effortlessly and quietly (unless you really floor it creating a hint of the exhaust growl of its more powerful siblings).
Mated with a smooth eight-speed automatic and all-wheel-drive, this was a vehicle to inspire confidence under any conditions.
Friends and readers (often one and the same) regularly ask, "What car would you buy?"
It's a question I've never could answer because so many factors come into play.
But this one gets my "hate to see it go away" rating.
THE BASICS:
Price, base/as tested (with destination): $33,090 / $41,180
Fuel economy, EPA estimated: 18 city / 27 highway / 21 combined.
Fuel economy, Globe observed: 26.2
Drivetrain: 3.6-liter V-6, 8-speed automatic, all-wheel-drive.
Body: large, 5-passenger sedan.
THE SPECIFICS:
Horsepower: 300.
Torque: 264 pound-feet
Overall length: 198.4 inches
Wheelbase: 120.2 inches
Height: 58.5 inches
Width: 75.0 inches
Curb weight: 4,233 pounds
THE GOOD: Comfortable, lived-in, interior, user-friendly infotainment system, solid-and-safe feel on the road.
THE BAD: It's easy to whack your head getting into the rear seat; relatively small trunk space.
THE BOTTOM LINE: The Charger you want for everyday driving.
ALSO CONSIDER: Buick Lacrosse, Chevrolet Impala, Chrysler 300, Honda Accord, Kia Cadenza, Nissan Maxima, Toyota Avalon.
   Bill Griffith can be reached at [email protected] Follow him on Twitter @MrAutoWriter.