Car Reviews
First Drive: The all-new 2018 Hyundai Elantra GT
The Hyundai Elantra GT is an alternative for those who aren't ready to jump onboard the crossover train just yet.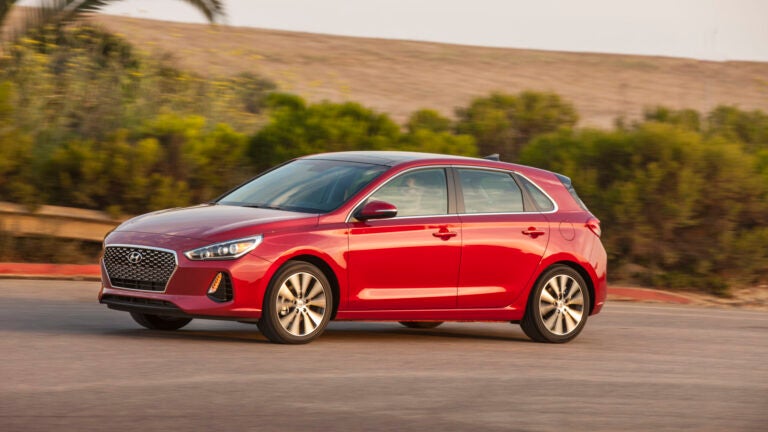 Crossovers are popular vehicles, thanks to their ability to easily carry cargo and quickly reconfigure to accommodate passengers. They're the middle ground between full-size SUVs and midsize sedans, but there's another choice: Compact hatchbacks like the all-new 2018 Hyundai Elantra GT offer the same utility for people who want a car that's more fun to drive.
The Elantra GT joins the all-new Elantra compact sedan lineup that was introduced last year. This is the sole hatchback version of the car and it has its own unique look. This year sees the GT getting lower and wider with a dose of European styling. Up front is Hyundai's new cascading grille design, which enhances the GT's sporty image.
It delivers on that image with a choice of two powertrains that both offer strong performance. First up is a 2.0-liter, four-cylinder engine with 162 horsepower and 150 pound-feet of torque. It comes paired to a six-speed manual transmission with the option for a six-speed automatic. The GT Sport offers a more powerful 1.6-liter, turbocharged four-cylinder engine with 201 horsepower and 195 pound-feet of torque. It gets the same six-speed manual or an optional seven-speed dual-clutch automatic transmission.
The base engine provides a surprisingly spirited drive. It doesn't feel like you're sacrificing or missing out. It easily moves the Elantra GT into highway traffic and is plenty capable of providing the necessary power for passing at speed. If that's not enough, then give the GT Sport with its extra horsepower a try. You'll be rewarded with even better acceleration and a quicker response. Especially under hard acceleration or when tackling a steep hill, you'll appreciate the extra power in the GT Sport.
That you can get the Elantra GT with either an automatic or a manual transmission will truly put a smile on your face. Sure, the number of people who can even drive a manual is dwindling by the day, but if you do know how to drive one, vehicles like the Elantra GT are your reward. It creates a connection between driver and car that you can't get in an automatic and makes this practical car pure fun.
Adding to the fun is a smooth ride and excellent suspension. It finds the balance between the stiffness of a sports car and the softness of a sedan. They tested the Elantra GT on the famous Nürburgring track in Germany, and it shows. This might not be a six-figure sports car – much more reasonable pricing should be coming soon – but it handles corners beautiful and stays planted to the road.
It's a fun little hatchback, but it has a practical side, too. Seating is comfortable and supportive without being stiff. Rear seat passengers, although not swimming in space, will find ample room for their knees unless exceptionally tall folks are sitting up front. Loaded with five passengers, there's still 24.9 cubic feet of cargo capacity in the trunk. Fold the 60/40 split rear seats down, and cargo capacity expands to 55.1 cubic feet, beating out competitors like the Volkswagen Golf and Chevy Cruze hatchback.
Standard features including a tilt and telescoping steering wheel, eight-inch high resolution infotainment touchscreen, Android Auto, and Apple CarPlay, all of which help to create a welcoming interior. Options like heated and ventilated front seats, dual automatic temperature control, leather seating surfaces, and a power driver's seat with lumbar support make the interior a truly nice place to pass the time.
The latest advanced safety features are also available, including blind spot detection with rear cross-traffic alert, lane change assist, and forward collision warning. This is in addition to standard safety features like LED daytime running lights, hill start assist, and brake assist.
The Hyundai Elantra GT is an alternative for those who aren't ready to jump onboard the crossover train just yet. It has the flexibility for carrying people or cargo along with the fun of driving a sporty hatchback. Distinctive styling and the latest in safety and technology features make this compact hatchback worth a second look.