Car Reviews
2018 Hyundai Sonata: A new design gives this sedan some fresh appeal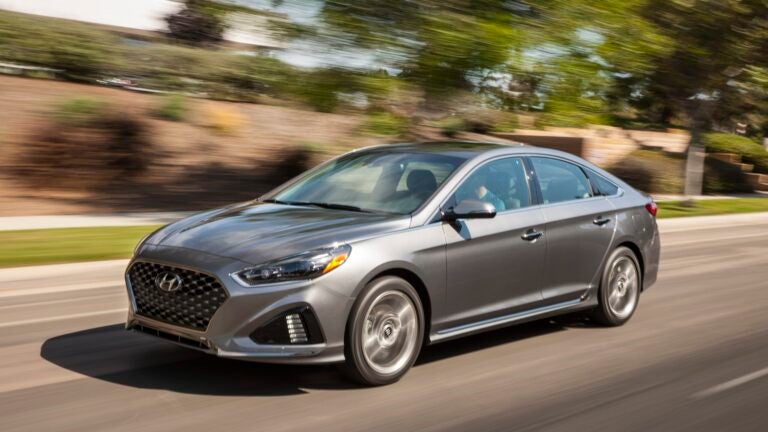 Sales of midsize sedans like the Hyundai Sonata have been steadily declining over the last few years. Pickup trucks and crossovers are now go-to purchases, which is something of a challenge for Hyundai. The Sonata accounts for 31 percent of all Hyundais sold in the U.S., and it's the most well known model in their lineup.
Rather than watch sales dwindle, Hyundai gave the car a significant refresh for 2018 to make it a more appealing and more well-equipped sedan.
The refresh includes major changes to the front and rear. Sit the new Sonata next to the outgoing model, and you'll see a more aggressive, sportier look for 2018. The hood is re-sculpted and the grille is now more upright. LED lighting gives it an edge and ensures the Sonata doesn't look past its prime. Instead, it looks bold and modern.
The face-lift continues inside with a redesigned steering wheel and a new layout for the touchscreen and controls. It's clean and unfussy, giving this affordable car a more premium presence. Also new this year is the addition of Apple CarPlay and Android Auto, Qi wireless device charging, and a rear USB port to keep everyone connected. The Hyundai BlueLink system, which connects remote services through smartphones, wearables, and smart speakers, is now included for three years as a standard feature.
Safety also gets a boost. Every 2018 Hyundai Sonata now comes with blind spot detection with rear cross-traffic alert as a standard feature. Intelligent LED headlamps are also available as well as lane-keep assist and attention alerts that detect when you're driving while tired, then warn you to take a break.
It looks better, has better connectivity, and offers new safety features, but Hyundai went a step further to improve the driving experience, too. The automaker refined the chassis and improved handling by making it a stiffer, more controlled ride. A day spent taking the Sonata through twisting California roads showed off its improved abilities. The steering was responsive and never heavy, making it easy to toss the Sonata through tight corners.
A selection of drive modes at the touch of a button allow further adjustment of the Sonata's drive. This isn't a sports car, but popping it into sport mode makes it more responsive and more fun for driving enthusiasts. There are also steering wheel-mounted paddle shifters on select trim levels to give even more control.
The wide range of trim levels can be a little overwhelming, but it all comes down to a choice of three engines with varying levels of features. The base SE is priced from $22,050 with a 2.4-liter, four-cylinder engine paired to a six-speed automatic transmission. It offers 185-horsepower with 178 pound-feet of torque. At $23,700, the SEL adds features like heated side mirrors, chrome door handles, and LED daytime running lights. The Sport, which is priced from $25,200, focuses on a sportier aesthetic with a chrome-tipped dual exhaust and sport appearance package. Your final choice with this engine is the Limited at $27,400, which is the most well-equipped, luxurious version.
Opt for the Eco trim, which is available later late summer, and there's a 1.6-liter twin-scroll turbocharged engine with 178-horsepower and 195 pound-feet of torque paired to a seven-speed dual-clutch automatic transmission. This trim level starts at $22,650. Your final engine choice is a 2.0-liter twin-scroll turbocharged, four-cylinder engine with 245 horsepower and 260 pound-feet of torque paired to an eight-speed automatic transmission. Pricing on this one starts at $27,600 for the Sport 2.0T or $32,450 for the Limited 2.0T.
This powertrain deserves special mention not so much because of its power, but because of its new transmission. The eight-speed automatic is completely new and offered only on this trim level. It shifts smoothly and is well timed, so you get all the power you need the instant you press on the gas.
Not only does it reward you by being responsive, but it does so quietly. There's nothing worse than hitting the gas hard and having the engine sound like it's not happy at all. You can hear the engine working in the Sport 2.0T, but it never intrudes angrily into the cabin. It's powerful yet composed at all times.
The Hyundai Sonata takes a big step forward for 2018. It combines key infotainment features, expanded safety features, and a nice design refresh with a range of engine choices, along with prices that fit the needs of every midsize sedan shopper.
Nicole Wakelin is a contributor to BestRide.com and CarGurus.com; she can be reached on Twitter @NicoleWakelin.