Car Reviews
The 2018 Infiniti Q50 has aggressive style and a sporty drive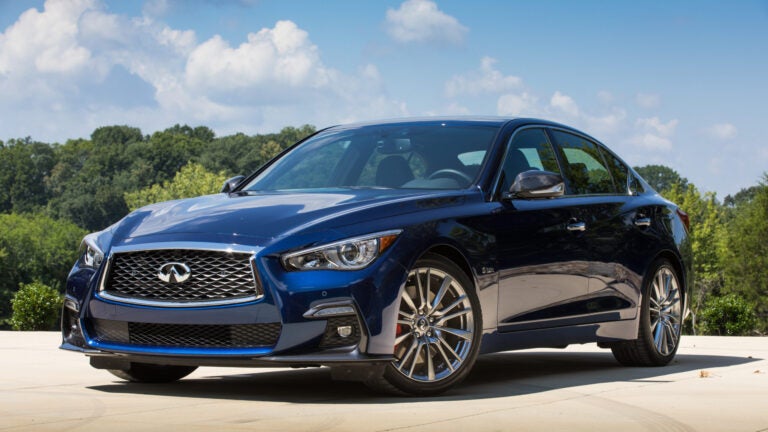 The Infiniti Q50 is the brand's best-selling vehicle, and for 2018, it receives a big update. The bulk of that update comes from a refreshed appearance inside and out.
Sedans aren't selling the way they used to, but the Q50 isn't simply a sedan. This is a luxury sports sedan, which actually means something with Infiniti. It's not just a matter of popping on a set of larger wheels and adding a few performance appearance packages. The Q50 is a sedan with genuine sports car characteristics.
Let's start with what's different: You'll notice a sharper design with a greater differentiation between the trim levels. The double-arch grille and exterior lighting have been modified across the Q50 lineup to make a stronger impression. The 3.0t Sport and Red Sport 400 trims have a more angular front bumper with wider, lower air intakes to reflect their performance focus. The Red Sport 400 also boasts 19-inch wheels as a new standard feature.
Inside, Infiniti enhanced an already beautiful cabin with a new sport-oriented shift knob and a new steering wheel molded to better accommodate natural hand positioning. Seating looks rich and welcoming, and it's also supremely comfortable with great support. There's ample bolstering that keeps you in place on sharp corners without squeezing you too tightly during more leisurely drives.
Infiniti is introducing a new naming structure beginning with the Q50. The new trim levels, which will be rolling out globally across the Infiniti brand lineup, are Pure, Luxe, Sport, and Red Sport 400. All trims are available in either rear-wheel or all-wheel drive. There's also a choice of four different powertrains, so there's something to suit every buyer and every budget.
The base engine is a 2.0-liter, four-cylinder with 208 horsepower and 258 pound-feet of torque, which is available in Pure and Luxe trim levels. A step up in performance is offered by a 3.0-liter, V6 engine with 300 horsepower and 295 pound-feet of torque. This engine is available in Luxe and Sport trims. A more powerful version of this engine is available only as the Red Sport 400 with 400 horsepower and 350 pound-feet of torque. Lastly, there's a hybrid version of the Q50 with a 3.5-liter V6 and a 50 kWh electric motor for a combined 360 net system horsepower. No matter the engine, the Q50 comes with a seven-speed automatic transmission.
There's also an available drive mode selector button on the center console that offers a choice of six settings to adjust steering response. Make it easy and comfortable with the standard setting, or sharpen up the response when you switch to sport mode. Simply toggling through the drive modes can make the same car drive differently depending on what you want on any given day. That's a lot of choices to make for one model, but it gives you the chance to get exactly the performance experience you want out of your Q50.
We spent our drive time in the Red Sport 400, which is the most powerful and performance-oriented of the lot. You might think Infiniti is all about luxury, but it also knows how to build a sports car, and this is the proof. It has all the trappings of a luxury sedan, but once you turn on the engine and put your foot on the gas, it's all about the drive.
Even the exhaust note is a thing to behold. It's aggressive and throaty, but not so much so that you'll be waking the neighbors. Steering is responsive, which lets you take corners as tight as you like while remaining confidently in control.
Pricing on the Q50 ranges from $34,200 for the base 2.0t Pure to $53,000 for the Red Sport 400 all-wheel drive. The hybrid Q50 is priced from $50,600. It's a luxury sports sedan that's still affordable, especially compared with the competition. Style, comfort, and performance make the 2018 Infiniti Q50 a solid choice in the luxury sports sedan segment.
Nicole Wakelin is a contributor to BestRide.com and CarGurus.com; she can be reached on Twitter @NicoleWakelin.