The Mercedes-Benz C300 Cabriolet is a shiny example of German luxury
Go ahead and drop the top.
Boston.com Cars is your go-to resource for coverage of local car news, events, and reviews. In the market for a car or truck? Check out our new car specials and used car specials curated by our local dealer network.
Mercedes-Benz has been a leader in the luxury car world for decades, so it's no surprise the automaker's latest C-Class cabriolet is a well-rounded machine. The 2017 Mercedes C300 4MATIC Cabriolet is one of three trim levels of this entry-level convertible, and despite being the least sporty of the three, it still has plenty of power.
If performance is the priority, the C43 comes with a 362-horsepower V6 and the C63 trims up the ante with a 469-horsepower twin-turbo V8. Our test car was a well-equipped all-wheel-drive model that stretched the starting MSRP from $52,900 to $65,195 after several optional packages.
The C300 is packed with technology inside and out, and the vehicle includes a 360-degree camera that alleviates any anxiety when it comes to park the pricey drop-top. The folding soft-top retracts in about 20 seconds, and wind noise is minimal, especially when AIRCAP is activated. With the touch of a button, the C300 simultaneously raises a panel above the windshield, and a mesh screen decreases wind noise and increases comfort.
It's a fun car to drive on twisty back roads, but it does feel compromising when navigating through bumpy cobblestone streets. There are adjustable drive modes, but Comfort mode seems to be the only reasonable option unless you find yourself on an empty runway or race track. The $720 Brilliant Blue Metallic paint on our test car caught a lot of attention while sitting in rush-hour traffic. "That's the flyest car around," a man told us on Mass. Ave.
What the experts are saying:
Boston.com Dealer Specials:
"The Cabriolet version of the C-Class gives customers looking for open-air thrills yet another reason to consider one of the top entry-level luxury vehicles around." — Akshay Anand, executive analyst, Kelley Blue Book
"The latest Mercedes-Benz C-class is the best yet, and the C300 4MATIC cabriolet might be the most versatile of the bunch. You can drop the top when it's warm, and there's all-wheel drive for when it isn't. All C-class cars are gorgeous inside and out, too." — Erik Johnson, executive online editor, Car and Driver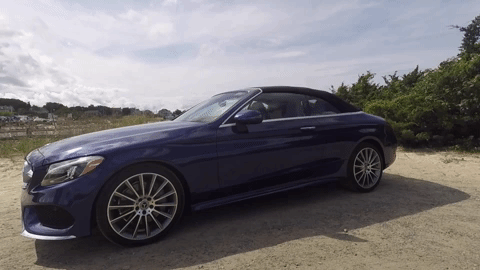 The Good:
The driver and passenger seats offer long-term comfort and extensive adjustability, including lumbar support. Our test car was equipped with heated and ventilated seats and AIRSCARF, which blows warm air onto your neck and shoulders.
The optional 13-speaker Burmester audio system immerses you in 590 watts of high quality sound.
Looks are always subjective, but our Brilliant Blue test vehicle received frequent compliments and seemed to grab attention while we sat in traffic.
The Bad:
The ride is too stiff around rough city streets, even in Comfort mode, and can be startling when crossing messy sections of the highway. The 19-inch AMG wheels on our test car look great, but are probably contributing to the stiff ride. Go with the stock 18s and save a few bucks.
The infotainment system is difficult to learn and poses a significant risk for distraction while behind the wheel. The unorthodox click-wheel and touchpad combination is sensitive and frustrating at times, but using voice commands can help bypass some of the difficulty.
The transmission is quick, but cannot be kept in manual mode. Using the paddle shifters can increase enjoyment while driving spiritedly, but the transmission will ultimately do what it wants regardless of driver inputs.
Under the Hood:
Engine: 2.0-liter, turbocharged inline four-cylinder
Transmission: 9-speed automatic
Drivetrain: 4MATIC All-wheel-drive
Power: 241-horsepower, 273 pound-feet of torque
Fuel economy: 22/29 miles per gallon city/highway; Globe observed: 23.2 miles per gallon
0-60 acceleration: 6.3 seconds
 Also Consider:
Audi A5 Cabriolet: The A5 is a great alternative partly because of its price, but also because of its superior trunk space. The A5 Cabriolet starts at just $48,600 whereas the BMW and Mercedes reach above $50,000.
BMW 4-Series Convertible: The popular 4-Series offers slick styling and a sporty ride. U.S. News & World Report ranks the 4-Series No. 1 in the luxury small cars class. Unlike the Audi and Mercedes, the 4-Series comes with a hard-top, but suffers from minimal rear leg room.