Car Reviews
The all-new 2018 Honda Accord aims to keep its title as a top-selling sedan
The new 10th generation Honda Accord proves sedans still have a place in a crossover-crazed market.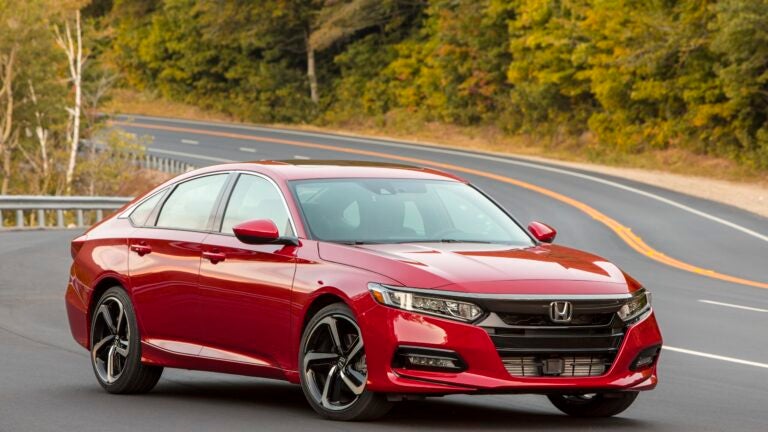 Sedan sales might be slowing as crossovers gain ground, but the Honda Accord is here to stay.
The Accord first arrived in the U.S. back in 1976 and this year enters its 10th generation with new styling, new powertrains, and a new interior. As the top-selling midsize car in America for the last six years, there was a lot at stake with this redesign. Honda had to get it right to keep its spot at the top.
The redesign starts with updated styling including a lower, wider stance that looks less like the boxy sedans of old and more like a sleek two-door coupe. The overall length of the Accord is slightly shorter, but its wheelbase grew by 2.16 inches to make the back seat roomier. Inside, it's all about the little things with a redesigned steering wheel that provides a more comfortable grip, improved armrest padding, and an available 12-way adjustable driver's seat.
There is also a veritable smorgasbord of powertrain choices from gas to hybrid and manual to automatic. The old engines, including the 6-cylinder, are gone and replaced by two turbocharged 4-cylinders. That's the kind of thing that can be cringe-inducing, but the key here is turbocharging. It picks up the slack and ensures the Accord is still a fun, responsive car to drive.
The base engine is a 1.5-liter turbocharged 4-cylinder with 192 horsepower and 192 pound-feet of torque paired to a 6-speed manual transmission in the Sport trim only. Manuals are quickly becoming a thing of the past, but the Accord has a good one. The clutch is light, and the shifter snaps right into gear. The rest of the 1.5-liter lineup has a continuously variable automatic transmission (CVT) that's admirably quiet. It has some of that tell-tale CVT whine, but it's nicely muted so it doesn't become intrusive.
The next choice is a 2.0-liter turbocharged 4-cylinder engine with 252 horsepower and 273 pound-feet of torque. It's paired to a 10-speed automatic transmission and again has the option for the 6-speed manual in the Sport trim only. Though both engines provide strong acceleration, the 2.0-liter is where the fun lives, particularly with the manual transmission. It's also the quieter ride with a smooth-shifting transmission that makes good use of the engine's power.
The final choice is the Accord hybrid, which isn't due to arrive until the middle of next year. It has a 4-cylinder engine along with an electric motor for 212 net system horsepower. We drove an early version of this car, so the powertrain wasn't yet as refined as it will be when it hits the market. Even in its early state, however, it was responsive. Press the gas and it moves, even on steep inclines at highway speeds.
Despite being a sedan, the Accord handles on the sporty side. Winding roads are fun, and steering is tight and on-center. This is a four-door sedan — not a sports car — but it sure aims in that direction. There's nothing dull or boring about the Accord.
A variety of trim levels from the base LX to the luxurious Touring provide increasing levels of comfort and convenience. Safety features also increase with higher trim levels, but every Accord has Honda Sensing as a standard feature. This includes collision mitigation braking, lane departure warning, road departure mitigation, active cruise control with low speed follow, and traffic sign recognition. There's also a multi-angle rearview camera with dynamic guidelines to help a driver to see exactly where the car is going to head in reverse.
Hybrid pricing hasn't been announced, but pricing for the base Accord 1.5 LX starts at $23,570 while the Accord 2.0 Touring comes in at $35,800. With updated styling in 12 trim levels, a variety of powertrain configurations, and a wide range of available features, the all-new 2018 Honda Accord is likely to continue its run as a top-selling sedan.