Car Reviews
The all-new 2018 Hyundai Accent proves affordable compacts don't have to be boring
The new Accent boasts available features that aren't often found at this price point.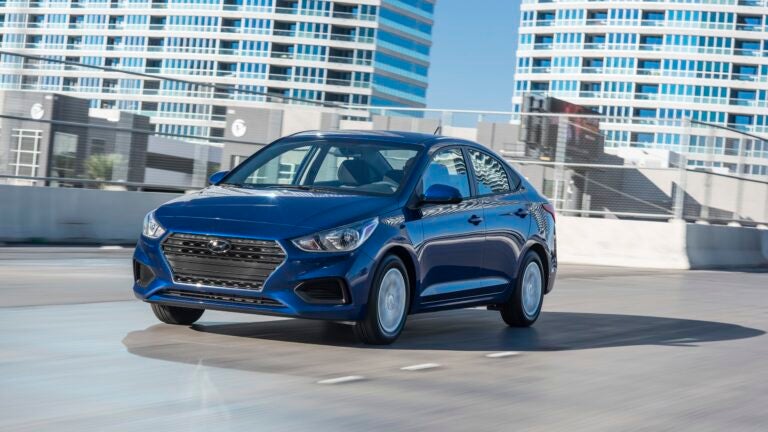 The Hyundai Accent is all-new for 2018 with updated styling, tech-savvy features, and a surprisingly fun drive that proves an affordable compact doesn't have to be boring. The new Accent also boasts available features that aren't often found at this price point.
Outside, the Accent has a new grille that gives this little sedan a sporty, fun look. Select trims feature LED signature daytime running lights, LED taillights, and projector headlights. It's not a sporty hatchback, but the Accent holds plenty of visual appeal.
The Accent is also slightly larger, which provides more room for cargo and passengers. This is a compact, so it's not expansive, but the front seats are very roomy with ample leg and shoulder room. Rear passengers have a snugger fit, yet all but the tallest folks will find enough room to get comfortable.
Standard on every Accent are 60/40 split-fold rear seats that make it easy to load longer cargo. Even without those seats folded, there's plenty of room in the Accent's trunk with a total of 13.7 cubic feet. This beats out the Ford Fiesta, which has 12.8 cubic feet and edges out the Toyota Yaris iA with its 13.5 cubic feet.
The Accent has a minimal yet attractive interior. There are lots of hard plastics, but they don't look or feel cheap, so the Accent feels like more than it costs. A 5-inch touchscreen with a four-speaker audio system is standard on the base SE. The SEL and Limited have a 7-inch touchscreen, six-speaker sound system, and dual USB charging ports. Top trims also come with Apple CarPlay and Android Auto.
Hyundai Blue Link is now enhanced with improved remote start. Since this feature is three times more popular in winter, Hyundai added control of the rear defroster and heated side mirrors to the mobile app. Blue Link integrates with Amazon Alexa and Google Home to make customization of the cabin even easier.
Safety improvements include upgraded airbags, increased front crumple zones, and new advanced safety technologies. A rearview camera with gridlines is standard, and higher trims have both a blind spot mirror and automatic emergency braking. Although automatic emergency braking is available only on the top Limited, that it's available on an affordable compact at all is commendable.
Power for the Accent comes from a 1.6-liter, four-cylinder engine with 130 horsepower and 119 pound-feet of torque. It's paired to a six-speed manual on the SE trim with the option for a six-speed automatic that's standard for the rest of the lineup. We tested the Limited with an automatic transmission and found it smooth and responsive.
This isn't a sports car, so don't expect impressive acceleration, but the Accent is no slouch. Acceleration is strong from a complete stop, and the engine noise isn't intrusive. More impressive is its response at high speeds, which can be problematic in many small cars. Not so with the Accent. Even at highway speeds, it doesn't take long to get moving. It does so smoothly, too, but the engine noise gets a bit loud at times.
Perhaps the most impressive part of driving the Accent is its handling. The expectation would be the typical lackluster economy car drive, but the Accent is something of a showoff. It maintains its composure even while taking tight corners hard.
The ride is smooth, especially given the very comfortable front seats. Hyundai worked to keep the cabin quiet and succeeded for the most part. Engine and wind noise are minimal, but road noise was more noticeable and somewhat tiring on rougher road surfaces.
Overall, the Accent offers great features, an enjoyable drive, and a comfortable cabin. Pricing has not yet been announced, but Hyundai aims to keep this an affordable compact car.
The 2018 Hyundai Accent is arriving in dealerships nationwide this month.