Car Reviews
2018 Mini Cooper S E Countryman ALL4 adds a plug-in hybrid option to the lineup
The 2018 Mini Cooper S E Countryman ALL4 combines the efficiency of a plug-in hybrid, the versatility of a crossover, and the signature style of a Mini.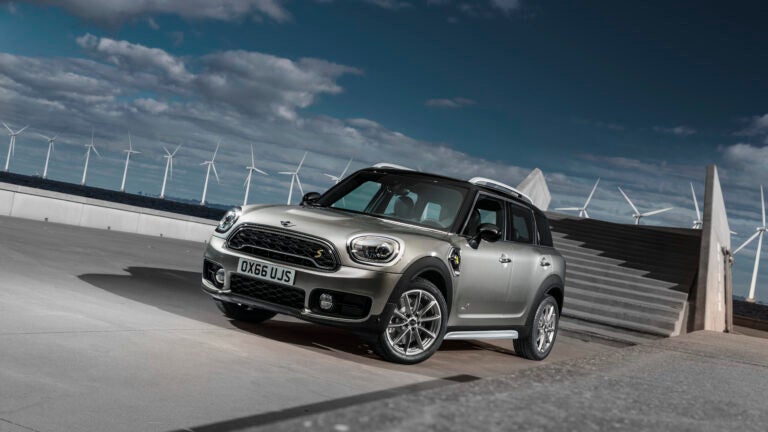 The Mini Cooper Countryman is a larger version of the Mini Cooper that stretches the car's dimensions into those of a compact crossover. It still looks like a Mini inside and out, but with more versatility. The Mini Cooper S E Countryman ALL4 expands the lineup even more with an all-new plug-in hybrid.
It wants everyone to know about it, too, with bold badging that differentiates it from the gas-powered variant. On the passenger side, the badge is just for looks, but on the driver's side, it pops open to reveal the charging port. There's also a third badge on the rear, making Mini's excitement about the plug-in impossible to miss.
Power comes from a 1.5-liter, turbocharged three-cylinder engine along with a 65-kilowatt electric motor. Together they produce 221 horsepower and 284 pound-feet of torque. This is paired to a six-speed automatic transmission that's smooth and provides even power delivery. Acceleration is strong with a 0-60 miles-per-hour time of 6.7 seconds that won't leave you struggling to merge with highway traffic.
Initially, the Mini Cooper S E Countryman ALL4 gets going purely on its electric motor then changes over to the combustion engine at highway speeds. The switch from electric to gas is notably smooth with neither harsh vibration nor excessive sound. Many hybrid engines sound horribly strained when suddenly forced to take over at speed, but the Mini Cooper S E Countryman stays composed without any noise intruding into the calm of the cabin space.
Three drive modes let you tinker with how the car uses its hybrid capabilities. Auto eDrive lets the electric motor do all the work at speeds up to 55 miles per hour, at which point the gas engine takes over. It will also switch to gas if the battery drops below 7 percent. Max eDrive takes the top speed up to 77 miles per hour with extra help from the gas engine during hard acceleration. Finally, there's Save mode, which focuses on keeping the battery level at over 90 percent.
It can go up to 12 miles in all-electric mode with a total range of 270 miles. Fuel economy — one of the big reasons to buy a hybrid in the first place — is an EPA-estimated 65 MPGe (miles per gallon equivalent) on gas and full electric or 27 miles per gallon combined as a hybrid. Although this is a plug-in, you could technically never plug it in, and the car will gradually recharge its 7.6kWh electric battery. If you do decide to use the plug, then it will fully charge in three hours with a 240-volt connection.
Inside, the style is pure Mini with rounded edges everywhere. The infotainment screen is a 6.5-inch circle in the middle of the dashboard, but an upgraded 8.8-inch screen, which is standard on the plug-in hybrid, is more of a centerpiece. It's a bit of a novelty and takes some getting used to, but it works as a part of Mini's signature style. This screen not only shows navigation and infotainment options, it also displays information on the drive mode, too.
Seating is comfortable for front passengers with an upright seating position that helps give a great view of the road, especially for shorter drivers. Although seating is comfortable, the standard Cooper S sport seats on this model have strong bolstering, which may prove snug for larger occupants. Rear seating is stiffer, but still offers a pleasant ride with room for three. It's not exactly spacious, though, so keep it to two people for longer trips.
Pricing on the base model starts at $36,800 and includes standard features that are often extras on other cars. These include a leather steering wheel and heated front seats, LED headlights with cornering, parking assist front and rear, automatic climate control, and ambient lighting. It's not a stripped down base model, but a fully-featured one that starts off with plenty of amenities.