Car Reviews
First drive: The all-new 2018 Jeep Wrangler is more in every possible way
A new look, new powertrains, and loads of new features.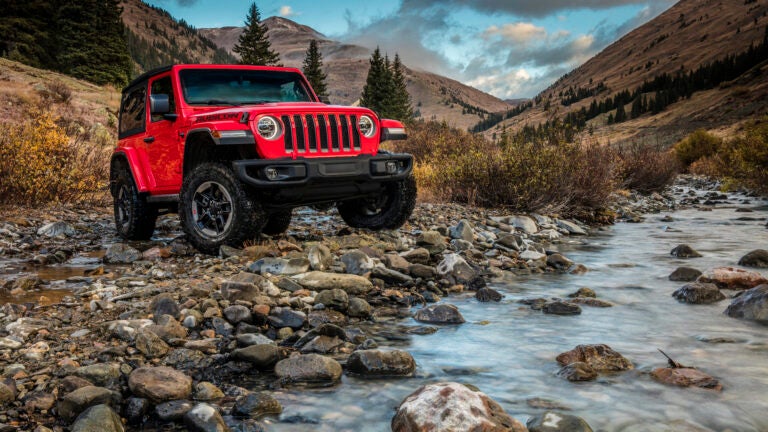 The Jeep Wrangler is one of the most recognizable cars on the planet. It's famous for its off-road prowess and for its legions of die-hard fans. It's Jeep's flagship vehicle, so when it came time to introduce an all-new Jeep Wrangler, there was a lot at stake.
Jeep's goal was to keep the Wrangler's signature style with updates to fit in with the rest of the Jeep lineup. This involved getting lots of feedback from customers who shared what they liked and what they didn't about the outgoing model. Jeep took that feedback and incorporated it into the new model, along with new powertrains, improved capabilities, and a better ride.
Style was key, so there's still that seven-slot grille, but with repositioned headlights that intrude into the outer slats. There's also a lower beltline to make the windows larger for increased visibility — something especially important for seeing off-road — and door handles that are easier to open.
Inside, the Jeep is more comfortable and more livable, too. Increased storage includes a net that extends the entire length of the door pocket and multiple spots in the center console for holding smartphones. Jeep also made the armrests longer and added lift-assist handles to make removing the doors easier.
The Wrangler has the fourth generation of Uconnect with Apple CarPlay and Android Auto and an available 8.4-inch touchscreen. You get two USB ports up front, two for rear passengers, and multiple 12-volt accessory outlets, so staying connected in the new Wrangler is no problem.
Expanded engine choices include a new 3.0-liter V6 EcoDiesel with 260 horsepower and 442 pound-feet of torque, which is due in 2019. Right now, only two engines are offered. There's a 3.6-liter V6 with 285 horsepower and 260 pound-feet of torque or a 2.0-liter turbocharged inline four-cylinder with 270 horsepower and 295 pound-feet of torque.
The V6 comes with either a six-speed manual or a new eight-speed automatic transmission. We spent some time behind the wheel of the V6 with the automatic and found the new transmission smooth and quiet. Power was good, but if you're looking for a spirited drive, then you'll want the turbocharged four-cylinder, which comes only with the automatic transmission. Hit the gas hard, and the vehicle merges effortlessly into highway traffic, making it the more fun of the two engines. The turbocharging makes up for the slightly lower horsepower, and the extra torque will serve you well off-road.
Although known for its off-road prowess, the Wrangler is a daily driver for lots of folks who spend most of their time on paved roads. The outgoing Wrangler was rough and loud on-road with handling that was borderline sloppy. The new Wrangler is a whole different story. It has better on-road manners with comfortable seating, even for rear passengers. Road and wind noise are also more muted and won't grow tiresome, even on a long-distance drive. It's a dramatic improvement.
Of course, the 2018 model is still as off-road ready as ever with skid plates and front and rear tow hooks standard. We had the chance to drive the Wrangler Rubicon through challenging terrain in the Arizona desert and walked away impressed.
The Rubicon handled loose gravel, large rocks, and steep inclines and descents without issue. There are two 4×4 systems available for that rugged terrain and a new two-speed transfer case with full-time four-wheel drive, which is a first for the Wrangler.
Other notable changes include a soft top that ditches zippers in favor of retainers, so side and rear windows quickly slide off and on, as well as a windshield that folds down with the removal of only four bolts and a new Sky One-Touch powertop that retracts a full-length canvas roof.
The all-new 2018 Jeep Wrangler maintains its off-road capability with smoother on-road driving and improved features. Starting price is $26,995 for the base 2-door Sport with the 4-door Rubicon coming in at $40,495. Expect it in showrooms this January.