Car Reviews
Here's an early look at the 2019 Range Rover P400e, a plug-in hybrid
Land Rover is embracing a fuel-efficient future with the Range Rover P400e plug-in electric hybrid.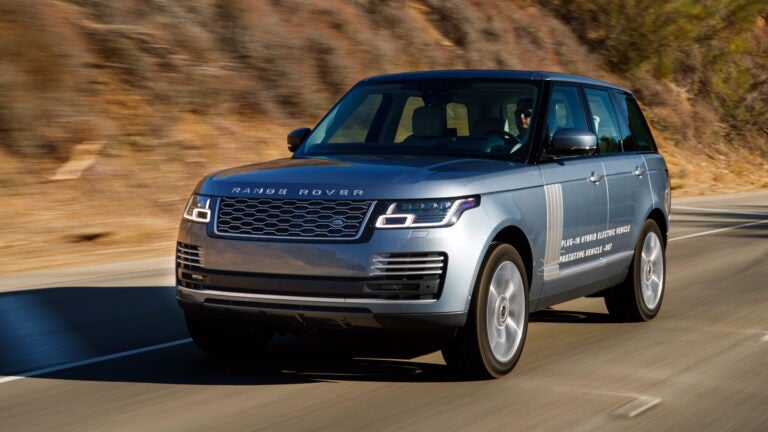 The 2019 Land Rover Range Rover P400e is a plug-in hybrid version of the iconic Range Rover, but it also ushers in design updates and improved capabilities. These updates include subtle exterior design tweaks, a stunning new interior, new LED headlights, a revised lower front valence, and a slew of new technology.
Upon entering the cabin, the most readily apparent update is the InControl ProDuo panel, which was first seen in the Range Rover Velar. This system consists of two touch screens, the lower of which has integrated dials that change depending on the menu layout. Dual-screen systems like this run the risk of being overly complicated, but Land Rover's take is intuitive.
Out back, Land Rover made the second-row seats wider and roomier. The opulent Autobiography trim features reclining rear seats with massagers and extending leg rests. The Meridian audio system provides fantastic sound, and you can also connect up to eight devices via 4G LTE Wi-Fi.
At the heart of this new model is a hybrid powertrain that consists of a 298-horsepower, turbocharged four-cylinder, electric motor-power, and a 13-kWh battery pack. It also features an onboard charging system and regenerative braking. The combined output is 398 horsepower and 472 pound-feet of torque sent to permanent four-wheel drive. You can drive the P400e in Normal, Sport, and full EV mode.
The P400e can travel up to 31 miles while in electric-only mode. If you want to preserve the battery power, the vehicle features a "Power Save" mode, which forces the system to engage the gas engine and retain battery power. In normal combined driving, the P400e returns a claimed 101 MPGe (miles per gallon equivalent).
The Range Rover P400e is a plug-in hybrid, and its charging port is hidden behind the Land Rover badge. The battery can charge overnight from a standard outlet or in 2 hours and 45 minutes using a special fast charger.
The Range Rover boasts one of the smoothest rides on the road. The turning radius is tighter than you might expect from a vehicle of this size. Visibility to all angles is fantastic. Like any Range Rover, the P400e has legit off-road chops. We took several trails to see what it could do, and the answer seems to be anything a conventional Range rover can do.
Even in all-electric mode, the motors moved the vehicle up steep grades with ease. The adjustable air suspension provided plenty of ground clearance for approach and breaker angles.
The most interesting aspect of the EV powertrain on the trail is its execution of hill-descent control, which maintains a slow rate of speed as a vehicle drives downhill. The driver can remove pressure from the pedals and simply focus on the trail ahead — sort of like cruise control for downhills. The P400e uses regenerative braking for an incredibly smooth, silent ride down.
The 2019 Land Rover Range Rover Hybrid is still a prototype. As such, pricing information is not available yet. We can expect pricing in 2018. The P400e is expected to hit dealerships sometime in the middle of next year.
As fuel economy and emission regulations become stricter all over the planet, automakers are responding with more and more new hybrids and electric vehicles every year. But these are niche vehicles, and they don't always have the most practical cargo space or packaging.
Hybrid versions of more practical vehicles — like the 2019 Land Rover Range Rover PHEV P400e — are a lavish method of environmentally-conscious driving for discerning customers.
George Kennedy is a freelance automotive journalist and automotive expert. You can reach him at [email protected] and on Twitter @GKenns101.