Car Reviews
The 2018 Honda Accord continues to raise the bar
Honda's family sedan is surprisingly upscale and high-tech.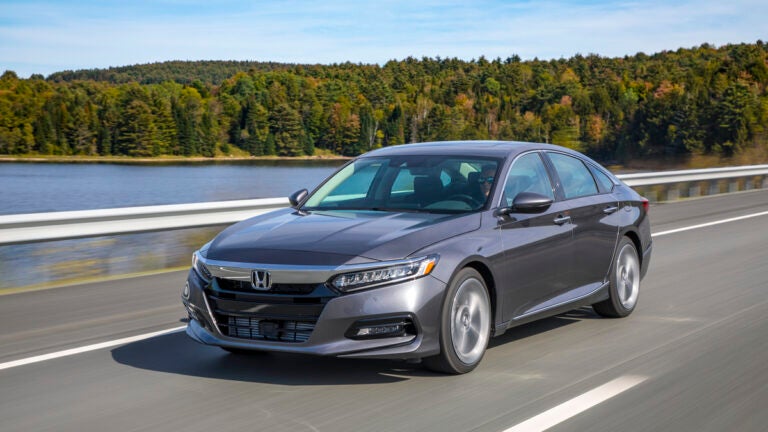 The Honda Accord has long been the cornerstone of the family sedan market in America. With a sterling reputation for reliability, Honda has been able to grow and improve the Accord in ways that have impacted the rest of its class. But that market has caught up, and the Accord, once again, had to raise the bar.
And it did.
The 2018 Honda Accord eschews the conventional appearance of its predecessor for a larger, head-turning design. This new look mimics high-end German luxury sedans from BMW and Audi. But it's what's inside that matters, and the cabin's improvements are outstanding.
The Accord's cabin blows away the competition with its clean, upscale look and artful use of woodgrain and contrasting colors. At the heart of the dash is a new infotainment screen, which is miles ahead of the outgoing generation. It also puts to rest one of the biggest gripes about the old Accord: That HondaLink infotainment system was a mess. It featured dual screens, lacked a tuning knob, and some years, did not even have a volume knob.
The new Accord redeems itself with an easy-to-use infotainment setup. It has a volume knob and a tuning knob. Graphics are crisp, and menu navigation is intuitive. It also comes with Apple CarPlay and Android Auto for enhanced connectivity.
The base engine on the Honda Accord is a diminutive 1.5-liter turbocharged inline four-cylinder that makes 192 horsepower and 192 pound-feet of torque. The Sport, EX-L, and Touring are both available with a 2.0-liter turbocharged inline four-cylinder that makes 252 horsepower and 273 pound-feet of torque.
Both engines send power to front-wheel drive. The base engine comes with a six-speed manual transmission or an available continuously variable transmission. The more powerful 2.0-liter turbocharged engine is available with either a six-speed manual or a new 10-speed automatic transmission.
The most efficient configuration of the Accord is the LX, EX, and EX-L with the continuously variable transmission, returning 30 miles per gallon in the city, 38 on the highway,  and 33 combined.
Fuel economy for our Touring test model with the 10-speed automatic transmission is 22 miles per gallon in the city, 32 on the highway, and 26 combined. In our week of combined driving, we observed an average fuel economy of 26.5 miles per gallon.
We drove the Sport 2.0-liter engine with the 10-speed automatic transmission. This engine replaces the V6 from previous years as the high-feature engine, and you may never long for that V6 again. For a family sedan, this vehicle's acceleration is simply fantastic. Its cornering is, too. Steering is well-weighted in all conditions, and there's a swift response to the steering inputs that reminds us of a performance sedan. The suspension excels at minimizing body roll and absorbing bumps in the road. A mid-size sedan does not need to exhibit any of these qualities, but this one does, which inspired confidence while driving.
Every trim of the Accord now comes standard with Honda Sensing, which includes forward-collision warning and avoidance as well as a lane-keeping system. This is in addition to standard features like a backup camera, tire-pressure monitoring system, vehicle-stability control, and front- and side-impact airbags.
Base MSRP for the 2018 Honda Accord is $23,570. An EX trim starts at $27,470, and the EX-L starts at $29,970. The range-topping Touring 2.0L comes in at $35,000. The Honda Accord has been assembled in Marysville, Ohio, for 35 years.
Under the Hood
Engine: 2.0L Turbocharged Inline-4
Transmission: 10-speed automatic transmission
Drivetrain: Front-wheel Drive
Power: 252 horsepower and 273 pound-feet of torque
MPG (city/highway/combined): 22/32/26
Also Consider: Toyota Camry, Hyundai Sonata, Nissan Altima, Kia Optima, Chevrolet Malibu, Ford Fusion