Car Reviews
The all-new 2018 Chevrolet Traverse aims to take on stiff SUV competition
Look out for significant changes and improvements to earlier Traverse models.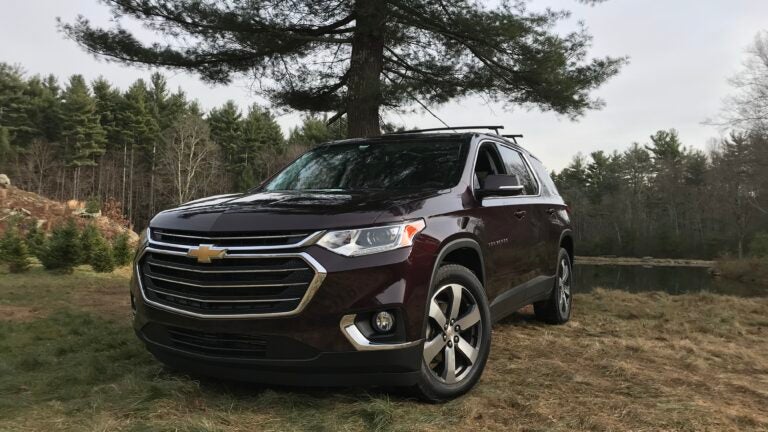 Boston.com Cars is your go-to resource for coverage of local car news, events, and reviews. In the market for a car or truck? Check out our new car specials and used car specials curated by our local dealer network.
The redesigned-for-2018 Chevrolet Traverse is one of four updated crossover and SUV models from the bow-tie brand, joining Trax, Bolt EV, and Equinox.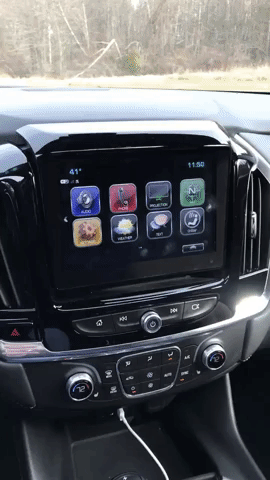 Improvements over the first- and second-generation Traverse models are significant. First, there's the updated drivetrain. Earlier models were equipped with outdated 3.5-liter V6 engines and six-speed automatic gearboxes, which crushed any hope of comfort while driving long distances. The new model has a 3.6-liter V6 paired with a nine-speed automatic transmission, which provides road-tripping bliss. In our time test-driving the Traverse, we found its form and function are all about comfort and control, especially given the major upgrades over the previous model.
The most obvious updates come in the form of overhauled styling. The new Traverse is offered in seven trims: L, LS, LT Cloth, LT Leather, RS, Premier, and finally, High Country, which adds a luxurious feeling that you otherwise might not associate with Chevrolet. An available 7- or 8-inch MyLink infotainment system supports Apple CarPlay and Android Auto, but responsiveness is lacking. After a few hours of use, plugging in and removing a phone prompted delays and necessary system restarts.  
The Traverse is a large SUV, and it has storage capacity to match. With 98.2 cubic feet of space behind the first row, 57.8 behind the second row, and 23 behind the third row, the Traverse can fit just about anything you throw into it. Those numbers award the Chevrolet Traverse "best-in-class" for cargo volume, according to U.S. News & World Report. The Traverse also offers 5,000 pounds of towing capacity when things don't quite fit inside.
What the experts are saying:
"Fully redesigned for 2018, the Chevrolet Traverse kicks off its new generation as one of the best in the class. Whether you buy it as a value-packed eight-seat SUV or roll with the versatile seven-seat version, you get gobs of cargo space and good-natured driving dynamics." — U.S. News & World Report
"The Traverse provides buyers a comfortable, well-equipped, mid-size, seven-seat SUV with excellent safety, value, and utility for the money. I especially like the reassurance of Chevrolet's OnStar, teen driver configuration, and onboard Wi-Fi availability." —Rebecca Lindland, executive analyst, Cox Automotive
The Good:
The nine-speed automatic transmission dramatically improves the overall ride quality compared with the earlier six-speed editions. This also improves fuel economy

, which the automaker says is 17 miles per gallon in the city and 25 on the highway. During our test, we observed 20.6 miles per gallon driving on a mix of interstates and cobblestones in Massachusetts. 

On the topic of fuel economy, Auto Stop is included within the redesigned 3.6-liter V6. This feature turns off the engine while stopped at a traffic light, and saves you money at the gas pump. It feels smooth compared with similar functionality in other vehicles, and allows for a more relaxed drive around the city.

Looks are subjective, but the redesign's smooth lines and aggressive front fascia mimic the looks of the Traverse's larger, more expensive Tahoe sibling. That's a great thing.
The Bad:
The Traverse received a five-star overall rating from the National Highway Traffic Safety Administration, but the Traverse lacks adaptive cruise control and automatic braking as standard equipment. 

There is no sportiness whatsoever. It's not a sports car by any means, but the "S" in SUV stands for "sport," right? Many vehicles in this segment highlight sportiness with tight steering and handling, but the Traverse does not.
Under the Hood:
Engine: 3.6-liter V6 (as tested), the new RS will feature a 2.0-liter turbocharged engine
Transmission: Nine-speed automatic with manual mode
Drivetrain: Front-wheel-drive, available all-wheel-drive (as tested)
Power: 310-horsepower, 266 pound-feet of torque
Fuel economy: 18/27 (front-wheel-drive), 17/25 (all-wheel-drive) miles per gallon city/highway. We observed 20.6 miles per gallon.
0-60 acceleration: 6.9 seconds (manufacturer estimate)
Also Consider:
Volkswagen Atlas: The Volkswagen Atlas is the way to go if you're looking for a sportier ride. The ride quality is smooth but still sharp around corners. Improvements in handling come with a sacrifice in power. The optional 3.6-liter V6 in the Atlas only puts out 276-horsepower compared to 310-horsepower from the American V6.
Mazda CX-9: Mazda's largest SUV is surprisingly exciting to drive, but like the Atlas, it's down on power compared to the Traverse — at least on paper. When you drive both, you quickly realize the CX-9′s turbocharged engine surges past the American's and German's with 310 pound-feet of torque, compared with an identical 266 pound-feet from both 3.6-liter V6s.