Car Reviews
The 2018 Volkswagen Passat gets a more powerful, turbocharged engine
The Passat is a reasonably-priced sedan with good features and a new turbocharged engine.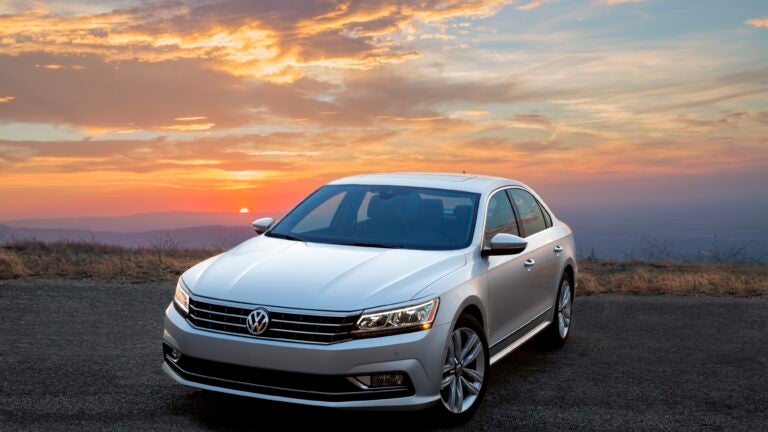 The Volkswagen Passat was all-new in 2016 with updated styling and upgraded infotainment features. Two years later, Volkswagen gives the Passat a new turbocharged engine to improve the vehicle's overall experience.
On the outside, the Passat is a modern sedan, but it doesn't stand out from the crowd. It's attractive and appealing without taking any risks that could alienate more reserved customers. It has more angles and shaper edges than the last generation, but it's not a car that immediately commands a lot of attention.
And that's OK, too. Sedan sales aren't what they once were, but take a seat inside the Passat, and it's quickly apparent why these vehicles aren't disappearing anytime soon. There's plenty of room for five passengers inside an expansive cabin. Even with the front seats pushed back, rear passengers won't find their knees squished, and there's plenty of headroom no matter where you sit.
Our test Passat was the fully-featured SEL Premium, which gives this mild-mannered sedan a better interior. It includes dual-zone automatic climate control, a leather-wrapped three-spoke steering wheel, ambient interior lighting, and footwell lights. Seating surfaces are leather, and the front seats are heated and six-way power adjustable with lumbar support for added comfort.
The roomy interior is matched by a roomy trunk. If cargo space is a priority, then you're probably looking at a crossover, but that doesn't mean you won't occasionally need to pack your sedan full of something other than people. The rear seats have a storage pass-through if you have longer items in the trunk but need room for four passengers, too. Those seats also split-fold 60/40 to expand the roomy 15.9 cubic feet of trunk space into the rear seat area.
The infotainment system in the Passat SEL Premium includes a 6.3-inch touchscreen with buttons along each side for commonly used features. It's an easy system to master, but the screen is on the small side and there's no larger option available. We also found it too low on the dashboard, so it took our eyes off the road, especially when using navigation. On the plus side, available Apple CarPlay and Android Auto make smartphone connectivity seamless.
The Passat also comes with a solid suite of safety features, even in base trim levels. There's standard adaptive cruise control, automatic post-collision braking, and multiple airbags across the lineup. All but the base model have forward-collision warning with autonomous emergency braking and blind-spot monitor with rear-traffic alert, which are still available as an option on the base Passat.
The SEL Premium and SEL Premium V6 add lane-departure warning, park distance control, and parking steering assist as standard features. Unfortunately, these aren't available at all on lower trims. Still, the range of standard and available safety features is strong throughout the Passat lineup.
Driving the Passat is more fun this year, thanks to its new turbocharged 2.0-liter four-cylinder engine. This is the base engine on all trims except the top SEL Premium V6. This new turbocharged engine has 174 horsepower and 184 pound-feet of torque and is paired to a six-speed automatic transmission. It's a solid engine and adds some pep to the Passat.
Acceleration is strong, so merging with high-speed traffic isn't a challenge, and it offers enough power to pass at highway speeds. The transmission is smooth and helps to manage power delivery for the best response possible. This isn't a sporty car, but the Passat has power aplenty when you need it.
This new engine also gets good fuel economy with an EPA-estimated 25 miles per gallon in the city and 36 miles per gallon on the highway. When gas prices increase, you won't feel the hit to your wallet quite so hard.
Also making sure you keep more of your money is the Passat's low price of entry: It starts at $22,995 for the base model, while the top SEL Premium V6 comes in at $34,650.