Car Reviews
All-new 2018 Jeep Wrangler adds capability and comfort
The new Wrangler keeps the stuff you loved and gets rid of a lot of the stuff you probably hated.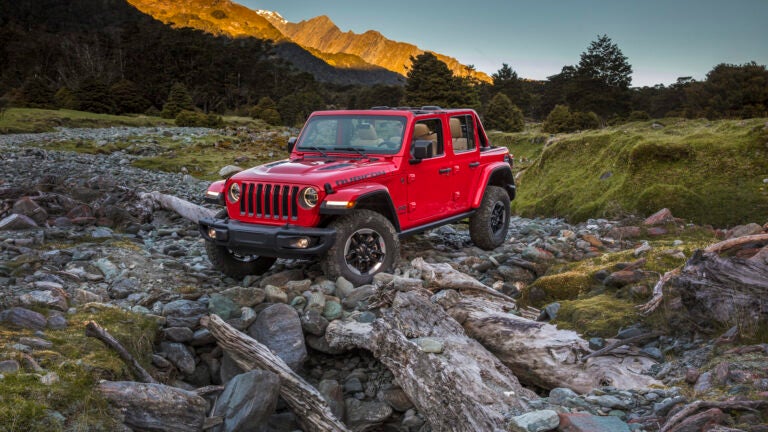 The Jeep Wrangler is all-new for 2018, and that's a big deal. This is the vehicle most people think of when they think of Jeep, and it has legions of die-hard fans worldwide. It needed an update, but Jeep had to be careful to stay true to what makes the Wrangler so popular in the first place.
Jeep took a look at the Wrangler's off-road capability and made it better. It also kept the Wrangler's instantly recognizable styling and gave it an update that moved the design forward without making it look like an entirely different vehicle.
Let's start with the Wrangler's new look. There's still a seven-slot grille up front, but the headlights now edge into it on either side, and the grille sweeps back for better aerodynamics. The windshield angle is also improved. Those who like the idea of folding it down — but not the 28 bolts that had to be loosened to make it happen — will be happy that it now requires loosening just four bolts. If you're planning to take off the doors, even that's easier. There's a new integrated lift handle so you don't end up dropping the door the second it's free.
Soft-top owners no longer have to struggle zipping up the canvas top, which was particularly challenging in cold weather. Those frustrating zippers are gone, replaced by retainers that let the rear and side panels slide into place. It takes only a few seconds and eliminates a common complaint from the old Wrangler. There's also a new Sky One-Touch powertop that will be available later this year. If you're looking to enjoy the open air, then the new Wrangler makes it easier than ever.
Inside, the Wrangler is more comfortable and versatile. The redesigned center console has more storage room. There's even a rubber pad under the hand brake, a perfect place to prop a smartphone and not worry about it sliding under the seats. There are more soft touch surfaces, longer arm rests, and longer door storage pockets. Two USB ports up front, two in the rear, and the fourth generation of Uconnect with Apple CarPlay and Android Auto keep you connected.
The Wrangler also has a vastly more comfortable ride on pavement. It was always a champ off-road, but on highways, it was loud and bouncy. The new Wrangler is quieter and smoother so you can enjoy that morning commute.
Off-road capability includes two 4×4 systems and, for the first time, an available two-speed transfer case with full-time four-wheel drive for the Wrangler Sahara. This lets you set it and forget it rather than having to manually switch over to four-wheel drive. Rubicon models get better articulation and suspension travel with an electronic sway-bar disconnect. During our test drive, we crawled over rocks that had us rather sideways, and the Rubicon didn't even flinch.
If you're craving a diesel, then you'll have to wait until 2019 when the 3.0-liter EcoDiesel V6 arrives. Until then, there's an all-new 2.0-liter turbocharged four-cylinder with 270 horsepower and 295 pound-feet of torque or a 3.6-liter V6 with 285 horsepower and 260 pound-feet of torque. A new eight-speed automatic is available with both engines, but a six-speed manual is standard with the V6 engine. We spent some time with both engines equipped with automatic transmissions.
The transmission has well-timed shifts that are smooth and make good use of each engine's power. Press on the gas and you won't be disappointed by the V6, but if you're looking for more aggressive response, then the new turbocharged engine is worth a test drive.
The all-new 2018 Jeep Wrangler makes a good thing better with improvements that will appeal to die-hard fans. Pricing starts at $26,995 for the two-door Sport. The four-door Rubicon starts at $40,495.