Car Reviews
The 2018 Genesis G80 is somehow cheaper and more luxurious than before
This sedan brings luxury features at a more affordable price.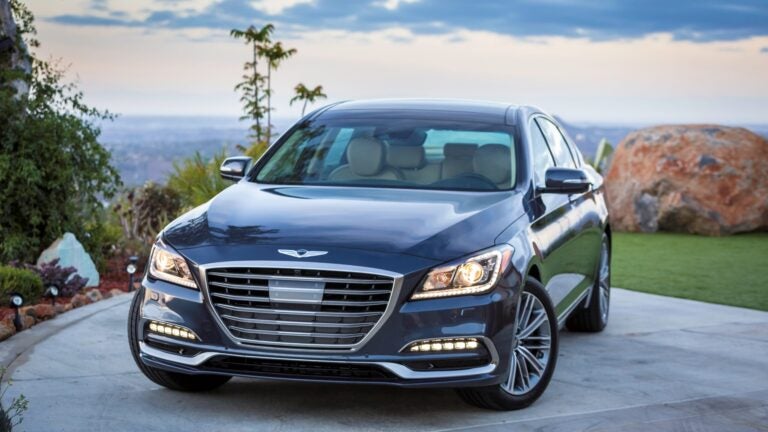 The Genesis brand launched for the 2017 model year, staking its claim in the luxury-car marketplace. Plenty of people haven't heard of it yet or still think of Genesis as only a model in the Hyundai lineup, but these cars aren't Hyundais. Genesis is an independent spinoff of Hyundai that adds a luxury brand to complement the more affordable Hyundai lineup.
The G80 is one of the more affordable Genesis sedans. It's still every bit a luxury sedan, starting with the design. This isn't a flashy sports car; it's an understated, elegant vehicle. It has attractive and somewhat tame styling that won't garner too much attention. This isn't about being brash. It's about relaxing and enjoying the ride.
There's a choice of three trim levels with rear-wheel or all-wheel drive available throughout the lineup and an eight-speed automatic transmission. Base models get a 3.8-liter V6 engine with 311 horsepower and 293 pound-feet of torque in Standard, Premium, and Ultimate trims. Those who crave more power have two additional engines: Choose from either a 3.3-liter turbocharged V6 or 5.0-liter V8, both of which are offered only in a single trim.
Our test car was the base 3.8 Standard with all-wheel drive and a starting price of $45,225. Usually, driving the base model of any car means it's short on features and comfort, but that's not the case with the G80. It comes packed with standard features that ensure it feels like a luxury car.
Leather seating surfaces are heated for front and rear passengers, and a heated steering wheel adds to the comfort in chilly temperatures. Front passengers get 12-way, power-adjustable seats that offer good support without getting too stiff. The rear seats are also comfortable, but as with most sedans, it's spacious for two adults and three just for short jaunts.
Other standard features include a hands-free smart trunk with auto open and an 8-inch touchscreen for the infotainment system with navigation, Apple CarPlay, and Android Auto.
The G80 is a feature-laden vehicle, and this extends to its safety offerings, too. While some brands reserve the most advanced safety features for higher trims only — or offer them solely as costly add-ons for lower trims — Genesis packs quite a few into the base G80. This includes automatic emergency braking with pedestrian detection, rear cross-traffic alert, lane-keep assist, lane-departure warning, and blind-spot detection.
Not only is the interior well-appointed, it's quiet, too. A luxury car should keep the outside world on the outside, and the G80 does a fantastic job of keeping road and wind noise from intruding into the cabin. No need to raise your voice to talk with rear-seat passengers, even during noisy, heavy rain storms.
Engine noise is also nicely muted. Press the gas, and the V6 responds quickly with brisk acceleration but without sounding angry. Merging with highway traffic is easy, and coaxing extra speed for passing is never an issue. The transmission enhances the ride with smooth shifts that passengers won't hear or feel. This is a luxury car, which means quiet is key. Also in keeping with its luxury car status is the ride quality. The suspension system made short work of pothole-covered streets and smoothed out rough pavement.
Genesis isn't the brand most people think of when they think of luxury cars. It's still new and unknown, but that doesn't mean it isn't a legitimate contender. The G80 offers a luxurious experience with more features at a better price. It's at dealerships now.