Car Reviews
The 2018 Mitsubishi Outlander PHEV is an affordable hybrid SUV
Twenty-two miles of range and plenty of storage make this an efficient, versatile vehicle.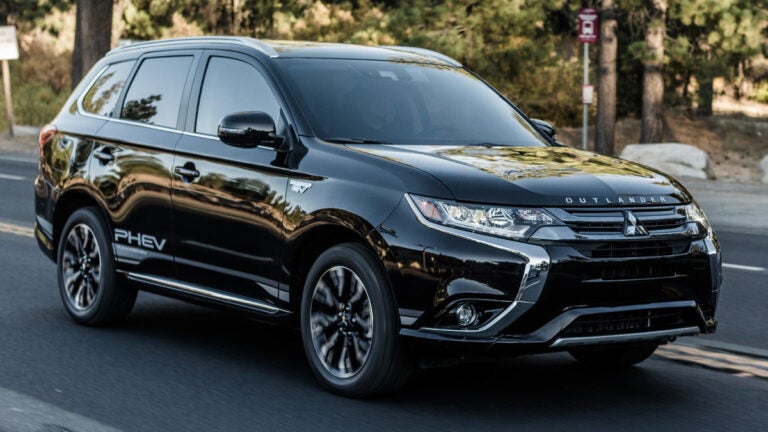 With the continued growth and evolution of electric vehicles and hybrids, some automakers have opted to create entirely new standalone vehicles with revolutionary designs. But if you prefer function over form in your hybrid, consider the 2018 Mitsubishi Outlander Hybrid PHEV.
Though based on an older platform, the Outlander PHEV employs a new, fuel-efficient plug-in hybrid drivetrain that makes it a clever, efficient alternative to versatile daily driving.
Despite its age, Mitsubishi has been quick to adopt apple CarPlay and Android Auto, giving it an edge on the rival Toyota RAV4 Hybrid. It is part of a standard 7-inch touchscreen infotainment system with Bluetooth hands-free calling and USB input.
The Outlander PHEV has a straightforward, spacious interior layout with decent rear seat space and good headroom and legroom. The Outlander PHEV features a 60/40 split-fold rear seat. With the rear seat up, it features 30.4 cubic feet of cargo space. With that seat folded, cargo space grows to 78 cubic feet.
The Outlander PHEV drivetrain combines a 2.0-liter four-cylinder engine, a 12kWh lithium-ion battery, and two electric motors — one at the front wheels and one at the rear. The result is an all-wheel drive setup that Mitsubishi calls Super All-Wheel Control.
The vehicle comes equipped with a charging cable that plugs right into a typical wall outlet. This will charge up the battery pack in 8 hours, though you can cut that in half with a DC Fast Charger. Using a Level 3 circuit charger, the Outlander PHEV can receive an 80-percent charge in just 30 minutes. Regenerative braking also captures energy, and it's adjustable using the steering wheel-mounted paddle shifters.
Unlike gas engines that need to rev to a specific power band to reach peak power, electric motors offer full torque at zero revolutions per minute. Combined with the regenerative braking, the Outlander PHEV is ideally suited for stop-and-go traffic. Acceleration is strong from a standstill, and braking is assertive.
Down next to the shifter are toggles to manage power, including the EV Mode button, which lets the drivetrain run in full electric power. Power Saver mode retains the current battery power at that moment, letting the gas engine do all the work generating the electric power. Twin Power Off-Road mode, as the name suggests, synchronizes both motors for clawing through tough conditions.
The Outlander PHEV has a 22-mile electric range and returns an EPA-estimated fuel economy of 74 miles per gallon equivalent (MPGe). When running on pure gas power, the Outlander PHEV has a combined fuel economy of 25 miles per gallon.
Drivers can use their smartphone to communicate directly with the Outlander PHEV. By using the remote control app and the Outlander PHEV's built-in Wi-Fi, you can monitor the vehicle status, manage the charging settings, and even turn on the climate control, so you can hop into a warm car in the winter or a cool car in the summer.
Standard safety features include a full array of front- and side-impact airbags, a backup camera, tire pressure monitoring system, and blind-spot warning system with rear cross-path detection. Moving up to the GT S-AWC trim adds adaptive cruise control, automatic high beams, forward-collision warning, and lane-departure warning.
Base MSRP for the 2018 Mitsubishi Outlander PHEV is $34,595 for the SEL S-AWC trim. The GT S-AWC starts at $40,295. Mitsubishi is putting its money where its air intake is, offering a 10-year, 100,000-mile powertrain warranty, including hybrid components.
An updated Outlander PHEV is already on the way for 2019 with an updated powertrain and a battery with 15 percent more life. But with the current 22-mile electric range and a base price under $35,000, the 2018 Mitsubishi Outlander PHEV is one of the most affordable ways to take home zero-emission driving in a midsize SUV.