Car Reviews
The all-new 2019 Hyundai Veloster is a fun, sporty hatchback
The Veloster walks the line between sporty and comfortable without going too far in either direction.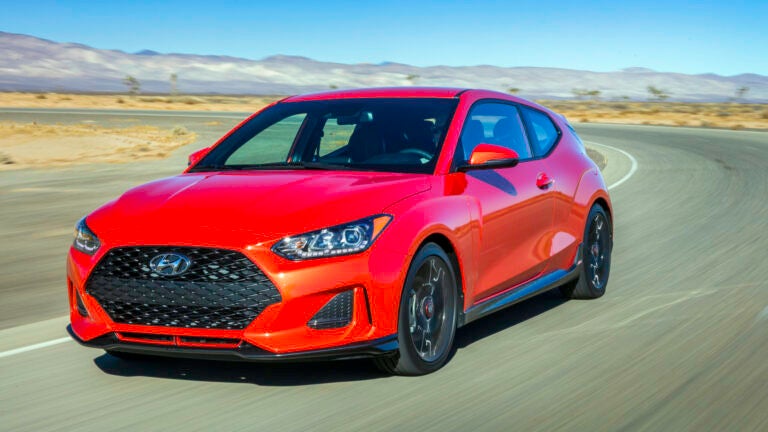 The all-new 2019 Hyundai Veloster shows off a new design inside and out, along with two available engines and improved connectivity options. There are lots of changes for this year's Veloster, but some things are still the same, like its three-door design that makes it stand out from other hatchbacks.
Look at the Veloster from the driver's side, and it's a coupe with only one door. On the passenger side, however, it gets two doors. Adding to its unique styling is the handle placement for that one-rear door. It's up high and lifts to the side rather than being low and lifting upward like a traditional door handle. Weird? Maybe. But it's a part of what makes the Veloster different and fun, and it perfectly suits the car.
The new grille gives the Veloster an aggressive face with available LED headlights and LED daytime running lights. It looks sporty with an angular design and functional air curtains. The roofline is lower, making it look more like a coupe and an available darkened roof provides a striking contrast, especially against its brighter paint options.
There are two different engines available starting with a base 2.0-liter four-cylinder with 147 horsepower and 132 pound-feet of torque. This is paired to either a six-speed manual or six-speed automatic transmission. Those craving a sportier drive will want to look at the Veloster Turbo, which has a 1.6-liter turbocharged four-cylinder. This engine produces 201 horsepower and 195 pound-feet of torque and is paired to either a six-speed manual or a seven-speed dual-clutch automatic transmission.
We spent our time in the Turbo and tried out both transmissions. Manual transmissions are losing ground to automatics as fewer people know how to drive them these days. Those who still enjoy shifting through the gears will find plenty to like about the Veloster.
Sporty hatchbacks often come with clutches that give your left leg a workout and shifters that make you fight for every gear. The Veloster takes a different approach with a light clutch and short-throw shifter that takes little effort. In fact, if you're new to manual transmissions or plan on teaching someone how to drive one, the Veloster is an excellent choice.
Adding to the Veloster's drivability is its ride and handling. Sporty hatchbacks usually come with stiff suspension systems that are unforgiving on rough roads. The Veloster has a suspension system that walks the line between sporty and comfortable without going too far in either direction.
It's stiff enough to easily push through winding roads, but compliant enough to not jar your spine when the road gets rough. Seating is also surprisingly comfortable for a sporty hatchback. The front seats are heavily bolstered to keep you in place without being too tight. The back seat, though not large by any stretch, can sit two people for quick trips. There's also 19.9 cubic feet for cargo behind the second row.
Standard infotainment features a 7-inch touchscreen so there's no having to deal with a too-small screen in base models, and Apple CarPlay and Android Auto come standard. A larger 8-inch touchscreen and Qi wireless charging are available on select trims.
There's also available Blue Link connected car services with a complimentary three-year subscription. This includes remote start with climate control, remote lock/unlock, car finder, roadside assistance, and stolen vehicle recovery. It can be accessed outside of the vehicle not just with a smartphone app, but with smartwatch apps and Amazon Alexa, too.
Safety is a priority with the Veloster. It features forward-collision avoidance assist, lane-keep assist, and driver attention warning as standard features. Blind-spot warning, smart cruise control, and forward collision-avoidance with pedestrian detection are available on select trims.
The Veloster 2.0 with the base engine is available in two trims with pricing ranging from $18,500 to $22,750. The Veloster Turbo is available in three trims starting at $22,900 and topping out at $28,150.