Car Reviews
The all-new 2019 Chevrolet Silverado has a brand-new look
The Silverado adds key features for towing and loading.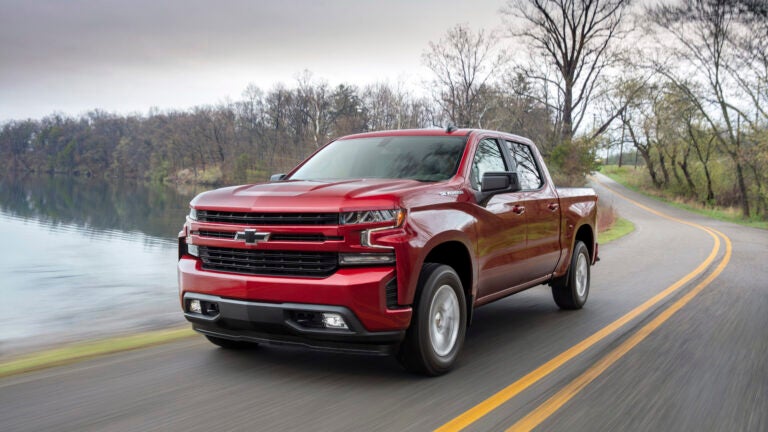 Chevrolet has been in the business of building trucks for 100 years and chose to celebrate with an all-new Silverado. It was no small debut when the automaker gave everyone a first look in December at a special event in Texas where the new Silverado was lowered onto a field from a helicopter.
Since then, Chevrolet has released more details on this new truck. The 2019 Silverado is fully redesigned with a new look and a huge lineup with eight basic-to-luxurious trims offering plenty of off-road capability, courtesy of the Trail Boss trims.
Chevrolet takes these trims and spreads them out into three groups. The first three —Work, Custom, and Custom Trail Boss — are high value. They're light on convenience features and come with more affordable price tags. In the middle are the LT, new RST, and LT Trail Boss. These are the high-volume trims Chevrolet expects most of its customers will buy. They offer a balance of features with a higher price but manage to keep from slipping into luxury car territory. Sitting at the top are the LTZ and High Country trims, which pile on the features at a premium price.
Here are more details on each of the trims:
Work Truck: The base Silverado has a unique "Chevrolet" graphic on the grille and tailgate, blacked-out trims, and 17-inch steel wheels. Inside are either vinyl or cloth seats and a 7-inch color touchscreen.
Custom: Wheels on the Custom grow to 20 inches, and there are LED signature taillamps with an available dual exhaust.
Custom Trail Boss: The first off-road trim in the lineup gets a 2-inch suspension lift, Z71 Off Road Package, locking rear differential, skid plates, Rancho shocks, 18-inch wheels, and Goodyear Duratrac off-road tires for tackling rugged terrain.
LT: Taking a more upscale approach, the LT gets chrome accents, LED reflector headlamps, and signature daytime running lights along with an 8-inch color touchscreen and available leather seats.
RST: This trim goes for a sporty vibe with body-color trim, full LED lighting, and up to 22-inch wheels.
LT Trail Boss: The second off-road trim in the lineup takes the enhanced capability of the Custom Trail Boss and combines it with the upscale features of the LT.
LTZ: Along with chrome accents, the LTZ gets power folding and heated side mirrors and standard leather trim for the interior.
High Country: This luxury Silverado has a two-tone grille and body-color accents. It also has standard chrome side steps and a power tailgate.
Towing is high on the list of reasons why people buy a truck, and Chevrolet makes towing easier in the new Silverado. Regardless of the trim, every Silverado 1500 has the myChevrolet trailering phone app that includes a pre-departure checklist and a glossary of terms for those new to towing.
The app allows drivers to conduct a light test on their own. Instead of having to activate all of the lights and have someone in back tell you whether they're lit, the app takes care of this from a phone.
The available Advanced Trailering System adds additional features including auto-parking brake. Think about how a vehicle moves ever so slightly when you take your foot off the brake after putting the gear selector into Park. This can be enough to move a truck so the hitch doesn't line up perfectly with the trailer. Auto-parking brake keeps this slight movement from happening so you stay lined up when you put the Silverado in park.
There's also hitch guidance with hitch view that uses the rear camera with guidelines to make lining up easier. Especially if you don't have a second person to coach you through the process, the rear camera makes lining up the hitch with the trailer less frustrating. There's even a trailer tire-pressure monitoring system that monitors the tire pressure in each of the trailer's tires.
The Advanced Trailering System includes app features that track mileage, fuel economy, and transmission temperatures when towing. It also lets a driver create and store up to five trailer profiles, so each can be separately tracked.
An available trailer camera package makes hooking up and driving a trailer even easier. It has three cameras that provide a 270-degree view using the standard rear-view camera combined with two cameras mounted in the side mirrors.
Every Silverado also has an industry-first trailering label inside the driver's doorjamb. It includes info on each truck's capabilities like maximum payload and maximum tongue weight. It's specific to the VIN so you know exactly what your truck is capable of handling.
Another priority for truck buyers is the size and versatility of the cargo box. The Silverado has best-in-class volume, box depth, and box length along with 12 fixed tie-downs. These tie-downs are now able to hold 500 pounds, which is twice as much as the last generation. Nine movable tie-down points are also available to perfectly secure any load.
Cargo-box space is greater than the outgoing model for all three box sizes with the long box now boasting 89 cubic feet for cargo. The bed is made of a higher-grade steel as well, making it stronger and more durable.
And, finally, there are four available tailgate variants. The standard tailgate is the typical lockable style that manually opens and closes. Your second choice features lift assist with a stamped logo on the back of the tailgate. Next up is the power lock and release tailgate, which includes an automatic release along with power locking.
At the top of the list is an industry-exclusive power up and down tailgate. This is optional only on the LTZ and standard on the luxurious High Country trim. It lets you raise and lower the tailgate using your key fob or touchpads on the tailgate itself. You can even operate the tailgate from inside the cab so you don't have to get out of the truck.
Priced from $29,795, the all-new 2019 Chevrolet Silverado is arriving on dealership lots now.