Car Reviews
The 2019 MINI Cooper SE Countryman All4 PHEV is fuel-efficient fun
A plug-in hybrid that's fun to drive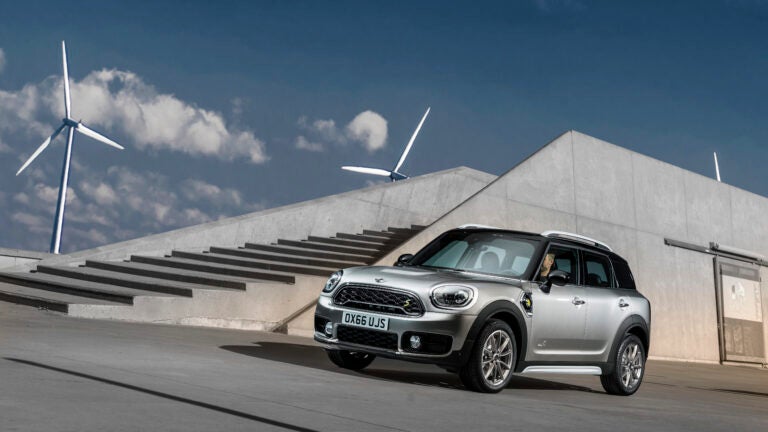 The MINI Cooper SE Countryman All4 PHEV is the first plug-in hybrid for the MINI brand combining the signature style of a MINI with the fuel efficiency of a plug-in hybrid.
It's subtle about its status as a PHEV — a plug-in hybrid electric vehicle — without any major design cues to differentiate it from the rest of the lineup. The only noticeable thing is the charging port door located on the front fender. There aren't any unnecessary embellishments to compromise its sense of style.
Power comes from a 1.5-liter twin-turbocharged three-cylinder engine with 134 horsepower and 162 pound-feet of torque along with an electric motor that adds 87 horsepower and 133 pound-feet of torque paired to a six-speed automatic transmission. The result is 221 net system horsepower with 284 pound-feet of torque. That's not a huge amount of horsepower, but then the MINI Cooper SE Countryman All4 PHEV isn't exactly a huge car.
It's a responsive vehicle with plenty of power for merging onto the highway, and it offers quick acceleration, which makes navigating heavy traffic a breeze. The transmission is also remarkably quiet and smooth, making for a pleasant ride. This is the kind of hybrid that makes you forget that fact and simply enjoy the trip.
MINI is known for building cars that drive well, and that reputation is alive with this vehicle. All-wheel drive is standard and handling is crisp and controlled with only minimal steering inputs required. The suspension system helps to keep the driver confidently in control even in more challenging driving conditions. It evens out rough pavement for a smoother ride, too.
Passengers will enjoy an attractive interior with supportive seats that feature moderate bolstering up front to keep you in place on tight corners. The rear seats are stiffer and, although there's room for three, they're a tight squeeze for more than two. It's also a snug fit in back when it comes to legroom. Even those on the shorter side won't find a lot of space for their knees.
Three available eDrive modes let you tailor how the powertrain works. Choose Auto eDrive, and the vehicle operates under electric power only at speeds up to 55 miles per hour unless there's hard acceleration. Max eDrive increases the all-electric speed to 78 miles per hour. If conserving the battery is a priority, then go with Save Battery mode, which strives to keep the battery charged to at least 90 percent.
One of the perks to a plug-in hybrid is great fuel economy. The MINI Cooper SE Countryman All4 PHEV gets an EPA-estimated 65 miles per gallon gasoline equivalent combined for gas and electric, and 27 miles per gallon for gas only. That's great fuel efficiency and it'll save money at the pump. You can also avoid stopping at the pump in the first place by relying more on electric power.
This MINI has 12 miles of all electric range and takes 3 hours 15 minutes for a full charge at a 240-volt charger. That's not fast enough to get a full charge if you plug-in during a quick errand, but it's more than enough to get your charge while you're at the office or at home.
The base Classic trim starts at $36,900 and includes a standard 6.5-inch infotainment screen, panoramic roof, and six-speaker audio system. There are also unique screens in the infotainment system that control how the car charges and see how efficiently you're driving.
The Signature adds features, including forward-collision warning and emergency braking for a price of $39,400. At the top of the lineup is the Iconic with a price of $44,400. This trim includes an 8.8-inch touchscreen, navigation, leather seats, and Apple CarPlay, but Android Auto isn't available.
The MINI Cooper SE Countryman All4 PHEV adds an attractive and fun plug-in hybrid to the MINI lineup. Its high starting price is an obstacle, but it compensates by offering good long-term affordability with its fuel economy. You can find the MINI Cooper SE Countryman All4 PHEV in dealerships now.